Event Start Date
Jun 05, 2019
**CRN members can use code CRNMember to receive a discount!**
---
Ensuring product safety must be a priority for any responsible dietary supplement company—especially marketers aiming to enhance consumer confidence in their new products. This webinar will provide insights on how companies can improve regulatory compliance by implementing a "360-degree," holistic approach to product safety that integrates pre-market ingredient screening and assessment with post-market surveillance. Using the right safety assessment methods for new dietary ingredients (NDIs) and existing ingredients alike, with consideration of their use in specific product formulations saves time and resources. Post-market data on existing products can signal potential safety problems and can also inform the development of new products, in particular multi-ingredient products. By leveraging both pre-market and post-market activities, companies can ensure their products meet FDA's safety standards and their consumers' expectations.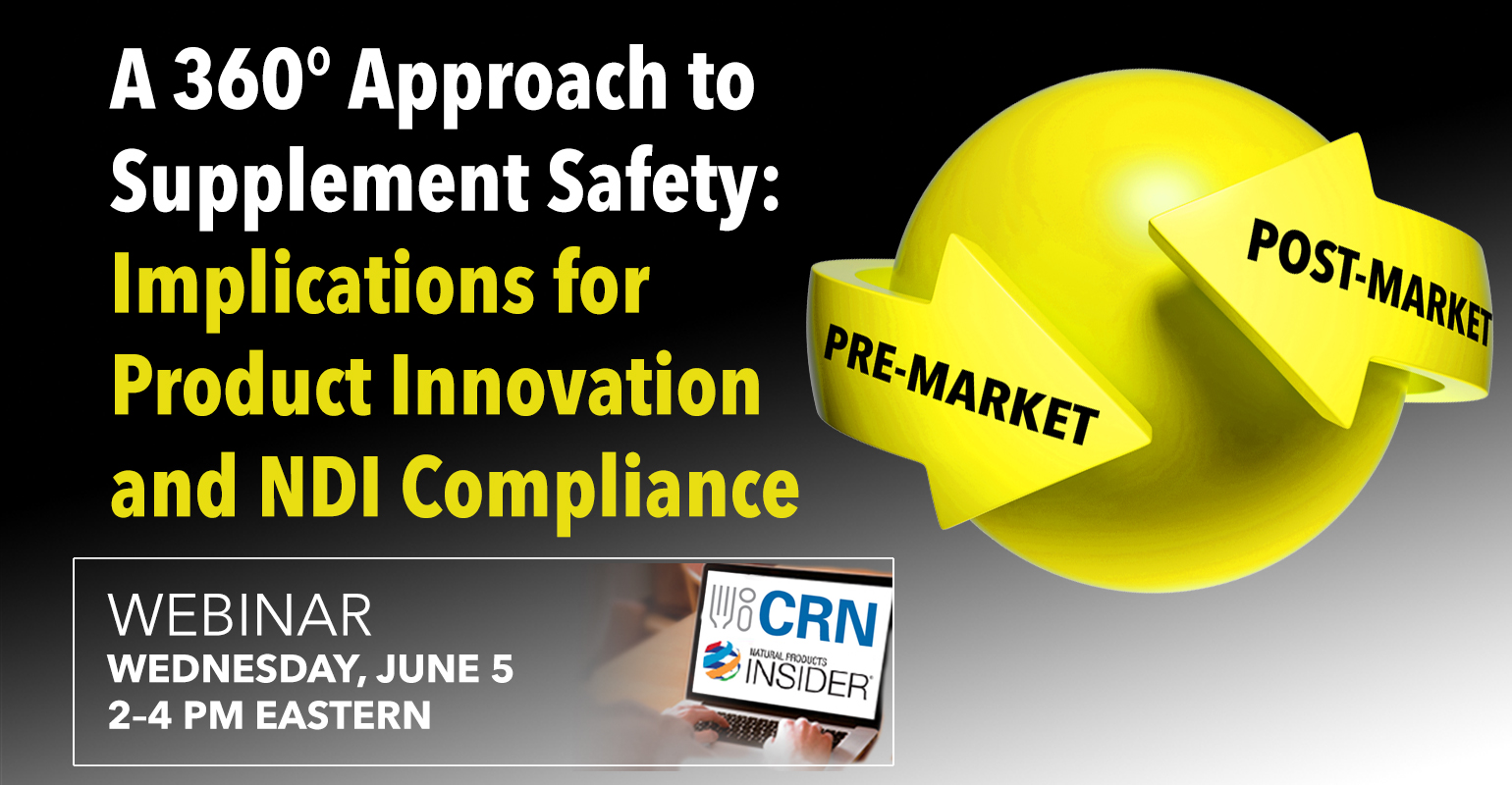 ---
Moderator:
Join CRN's Andrew Shao, Ph.D., Interim Senior Vice President, Scientific & Regulatory Affairs, as he moderates this webinar co-hosted by CRN and Informa.
Learn more about webinar presenters here.
---
Our presenters will discuss:
Regulatory requirements for ensuring product safety and conducting post-market surveillance
Pre-market approaches for evaluating ingredient safety and implications for NDI compliance
Leveraging post-market surveillance to inform product innovation
Integrating pre-market and post-market activities to enhance product performance in the market
---
Who should attend?
Chief Scientific Officers and Research & Development professionals
Regulatory and quality assurance professionals
Product safety professionals
---
Webinar presenters:
CRN Moderator
Andrew Shao, Ph. D.
Interim Senior Vice President, Scientific & Regulatory Affairs, CRN
---
Pre-Market Approaches for Ingredient Safety: Implications for NDI Compliance
with
Amy Roe, Ph.D.
Proctor & Gamble; Botanical Safety Consortium Steering Committee
---
Leveraging Post-Market Surveillance to Inform Product Innovation
with
Rick Kingston, PharmD
SafetyCall
---
Integrated Safety Approach Examples
with
Jiang Hu, Ph.D., DABT, Herbalife Nutrition
and
Kristy Appelhans, N.D., Herbalife Nutrition