AUGUST 31, 2022 — UNLOCKED EDITION —
New economic report details billions in U.S. health care cost savings linked to dietary supplement use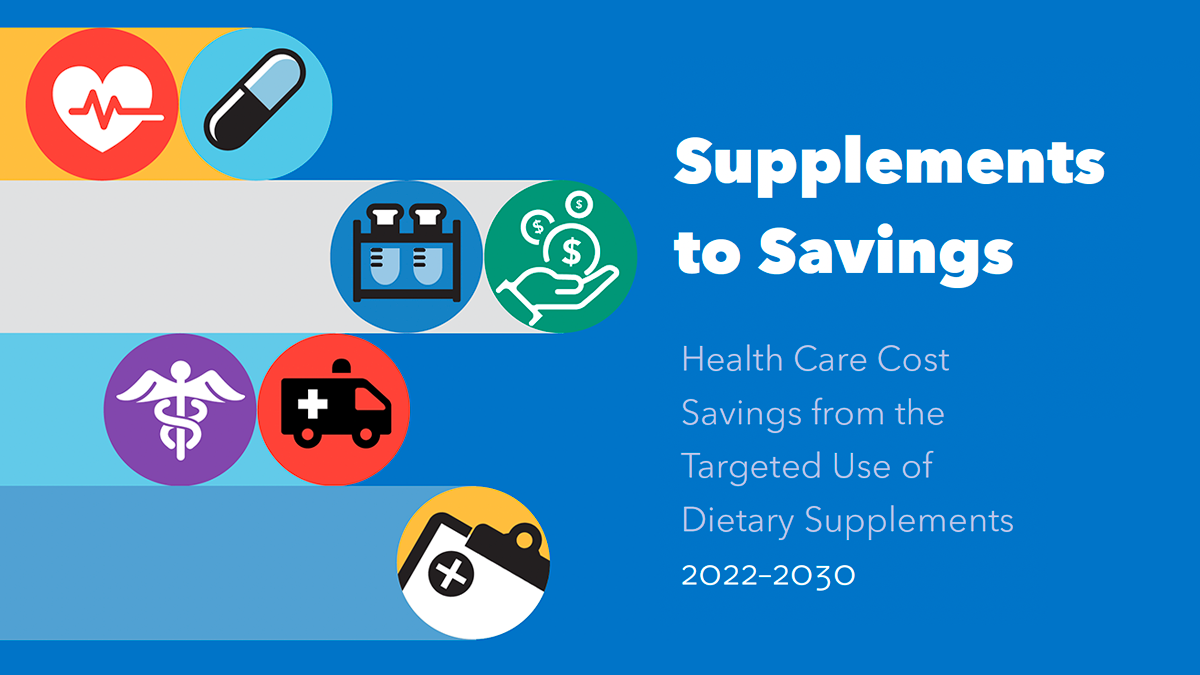 The CRN Foundation today released a new economic report, "Supplements to Savings: U.S. Health Care Cost Savings from the Targeted Use of Dietary Supplements, 2022–2030." The report, investigated and written by research firm Frost & Sullivan details how billions of dollars in potential U.S. healthcare costs can be realized through dietary supplement use.
The report provides evidence that the use of certain dietary supplement ingredients by specific populations can reduce the direct and indirect medical costs associated with several chronic diseases and conditions—coronary artery disease, osteoporosis, age-related macular degeneration, cognitive decline, irritable bowel syndrome, and childhood cognitive development disorders.
The Supplements to Savings report:
Estimates $59 billion in health care cost savings at current supplementation rates.

Reveals the nine supplements and intake levels needed to realize the additional billions in healthcare savings.

Explains the target populations for supplementation.
"Identifying at-risk populations early and providing targeted nutritional interventions like dietary supplements is a cost-effective approach," to lowering societal health care costs, said CRN Senior Vice President of Scientific and Regulatory Affairs Andrea Wong, Ph.D.
By the numbers: More than 75% of the nation's healthcare spending is for people with chronic conditions, according to the U.S. Centers for Disease Control and Prevention. In addition to healthcare spending, these chronic diseases cost the U.S. more than $260 billion annually in lost workforce productivity. The U.S. invests less than 3% of total healthcare expenditures on preventive care services.
"When it comes to healthcare spending for chronic disease, an ounce of prevention is worth billions of pounds of cure," added Meirovitz.
---
Five pillars define scope of White House Conference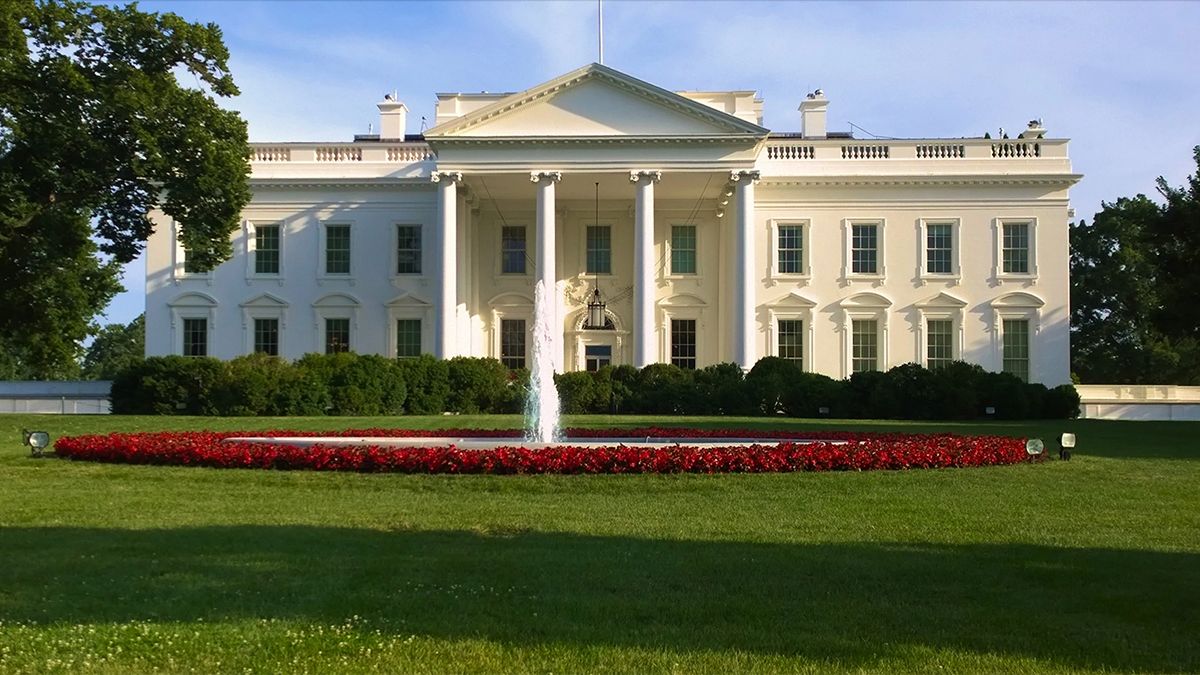 The Biden-Harris Administration will announce a national strategy that identifies actions the government will take to prompt the public and private sectors to take action where food, hunger, nutrition, and health intersect, at the upcoming White House Conference on Hunger, Nutrition, and Health on Sep. 28.
To help identify contributions that can be taken by all parts of society, five pillars have been announced to define the scope of the Conference, including:
Improve food access and affordability—end hunger by making it easier for everyone to access and afford food.

Integrate nutrition and health—prioritize the role of nutrition and food security in overall health, including disease prevention and management, and ensure that our health care system addresses the nutrition needs of all people.

Empower all consumers to make and have access to healthy choices—foster environments that enable all people to easily make informed healthy choices, increase access to healthy food, and more.

Support physical activity for all—make it easier for people to be more physically active, increase awareness of the benefits of physical activity, and conduct research on and measure physical activity.

Enhance nutrition and food security research—improve nutrition metrics, data collection, and research to inform nutrition and food security policy.
"In the days before, during, and after the Conference, we are encouraging partners like you—anti-hunger and nutrition advocates; community-based organizations; food companies; the health care community; trade associations; universities; philanthropy groups; local, state, territory and Tribal governments; and others—to host your own events nationwide," stated the U.S. Department of Health and Human Services. Download the toolkit to start planning a satellite event.
What's next: CRN's Nutrition Access Task Force has called on all CRN members to accept the Chairman's Challenge to #Act4Access through September—Hunger Awareness Month. The challenge aims to improve nutrition and health by increasing access to better nutrition and education. 
---
OmniActive joins CRN members in #Act4Access Chairman's Challenge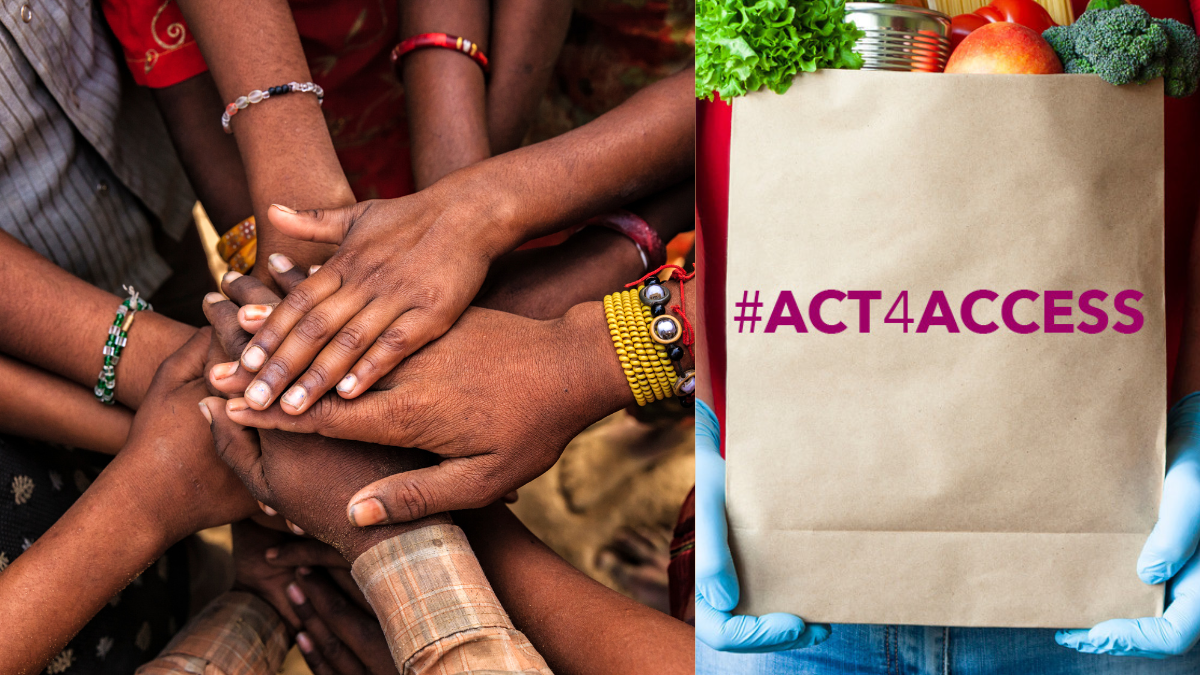 Join your CRN member industry colleagues in accepting the Chairman's Challenge to #Act4Access.
OmniActive is the latest CRN member inspiring others and ensuring access to good health and nutrition for all. The OmniActive team shared a video about their work to jumpstart good vision in India.
Through the company's Improving Lives Foundation, they have partnered with Vitamin Angels to help provide vitamin A supplementation for 50,000 children in need.
Inspire other CRN members to take action in fighting hunger by sharing your experience. To help you share, CRN's Nutrition Access Task Force asks you to:
CRN will compile member efforts and share as part of our story when planning next steps for the task force and #Act4Access campaign. More details to come during our Nov. 16 webinar.
---
Don't miss SupplySide West's 25th anniversary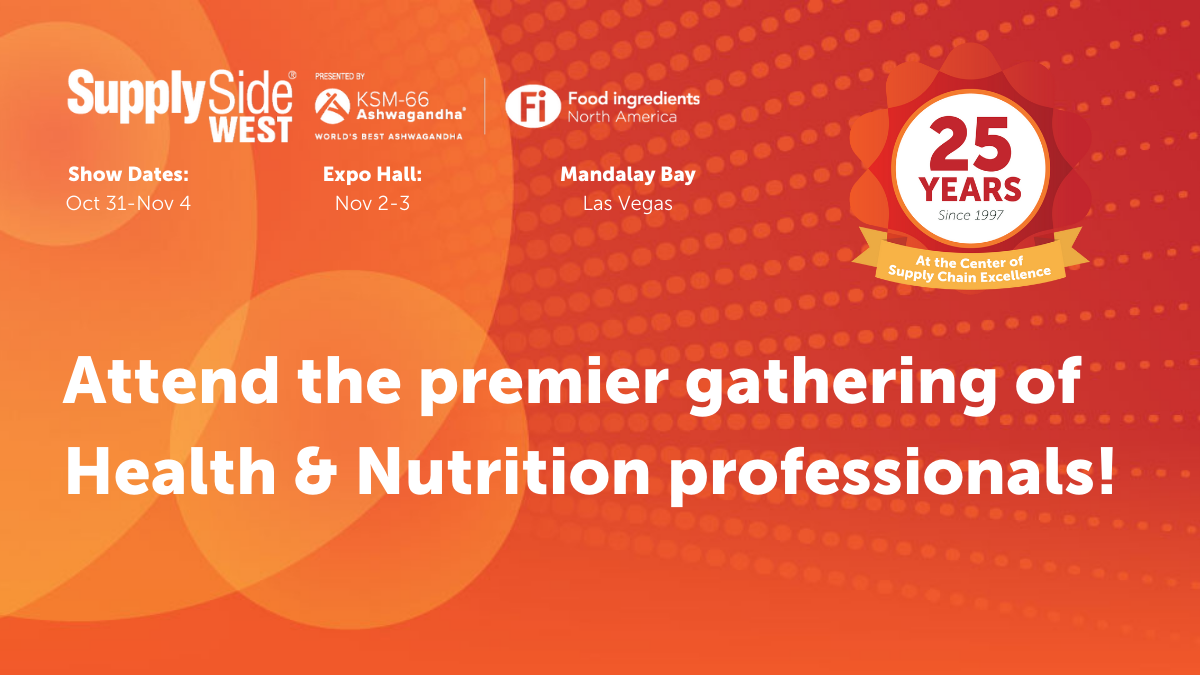 Join your industry colleagues Oct. 31–⁠⁠Nov. 2, in Las Vegas for the 25th anniversary of SupplySide West.
Why it matters: This must-attend convention of health and nutrition professionals connects buyers and suppliers from every end of the industry. Participants gain insight on top ingredients and technologies driving trends in the supplement industry.
Explore new sources for your ingredients and services with the 1000+ exhibitors—check out the floor plan ahead of time. Find the right new connections among 16,000+ attendees in the health and nutrition industry.
Learn from 110 hours of education, with topics including:
Exploring the microbiome: Science, innovation, and delivery

Sustainability: Accelerating your business journey

State of dietary supplement regulations and litigation: 2022 update

Sports nutrition's rebound and regrowth

Supply chain strain causing business interruption

And more! Access all the education sessions here.
SupplySide events are shaped by the science and strategy around the development of finished products driving global business economy. 
Go all in: Register before Sep. 9 for best rates!
---
---