DSM spotlight
Supporting the needs of people and planet through the power of nutrition: Q&A with DSM's Eric Choban
A CRN SPONSOR SPOTLIGHT
As an end-to-end partner in the dietary supplements industry, DSM truly champions the power of nutrition in creating brighter lives for all. We speak with Eric Choban, who was recently appointed DSM's Regional Vice President for Health Nutrition & Care North America, to get his take on the latest consumer trends and explore how DSM is helping brands and producers bring innovative, purpose-led products to market with speed and agility.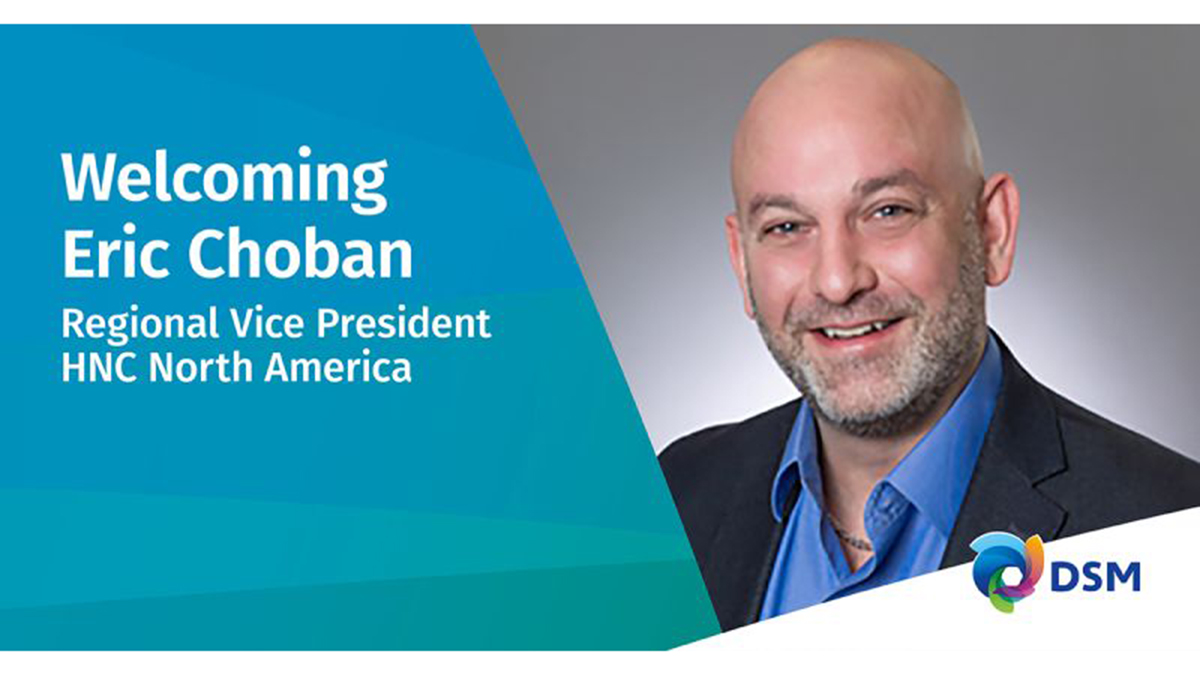 How have consumer attitudes toward immune health changed in the last few years? 
It is no secret that immunity remains a top health concern, with 65% of consumers saying they are more worried about their immune health since COVID-19. To help these consumers support their immunity needs, it's important to provide solutions that are effective, science-backed and fast-acting. For this reason, DSM has developed ampli-D®—a more bioavailable form of vitamin D that has been clinically proven to raise vitamin D levels more effectively than vitamin D3 and D2. Vitamin D—alongside other nutrients such as vitamin C—has been shown to play an important role in the immune system, and so this new innovation offers exciting appeal for consumers looking to bolster their immune health.  
DSM has also recently launched OPTIMMUNITY™, a curated micronutrient blend leveraging expert panel recommendations to support robust immune function. 
How can supplement brands and producers meet the emerging brain health trend?
Globally, brain health is a significant concern across all life stages. In a recent global survey, 60% of consumers reported feeling concerned about their own brain health, while 65% worry about their children's brain development. Solutions supporting brain health, such as DSM's algal-based life's™OMEGA omega-3s, are expected to grow in popularity. 
DSM's life's™OMEGA range offers meaningful levels of algal-sourced EPA and DHA in a single, quality source. Omega-3s EPA and DHA are well-recognized for their brain health benefits, and by delivering higher omega-3 EPA and DHA concentrations DSM's life's™OMEGA solution can help to meet this need. What's more, the life's™OMEGA range offers diverse sustainability claims that appeal to younger consumers, while DSM's proprietary manufacturing process delivers superior production efficiencies and attractive economic factors to support business growth. This means brands can develop products that meet the widest possible range of health benefits and appeal to a new generation of omega-3 consumers—all without impacting the marine ecosystem. 
Are there any innovations in DSM's portfolio that could transform the gut health segment?
Consumers are beginning to understand that gut health goes beyond digestion issues and relates to our overall health and wellbeing. We've leveraged our extensive expertise in supporting health from the gut to develop cutting-edge innovations such as science-backed probiotics, digestive enzyme solutions and HMOs for a wide range of nutritional benefits. Our Glycare™ HMOs, for instance, are unique specialty prebiotics naturally found in human milk. These HMOs have been shown to offer exciting health benefits in early life nutrition. Emerging science also suggests that HMOs may help improve digestive health, promote a healthy microbial balance, and reinforce the gut barrier. 
What other areas are you focusing on from an innovation perspective?
There are four billion undernourished people globally. To help tackle these micronutrient deficiencies, DSM has committed its experience and technical expertise to provide affordable and accessible nutritional solutions for all.
In addition, many of our brands are seeking innovative, efficacious solutions to support the optimal health and development of mothers and infants during the first 1,000 days of life. DSM's extensive infant and maternal nutrition portfolio, including our life'sDHA®, Metafolin® and HMO products and blends, can meet these needs. 
How is DSM helping brands launch new consumer-inspired innovations to market?
At DSM, we believe every partnership has an impact and every product has a purpose. We're proud to be an end-to-end partner for our customers, supporting them throughout the product development process—from ideation to launch—and leveraging our extensive expertise to define and differentiate their products. With our sustainable, science-backed nutrient premixes and market-ready solutions, DSM can help streamline manufacturing processes so our customers can bring new, purpose-led innovations to market faster.
Apart from supporting consumer health, what else inspires DSM's work?
At DSM, we're all incredibly passionate about creating brighter lives for all—#DoSomethingMeaningful is at the heart of our purpose and driving force as a business. That's why I'm delighted we recently launched an exciting new charity initiative to support the Community FoodBank of New Jersey (CFBNJ) at this year's SupplySide West event in Las Vegas, Nevada. This is part of our #WeAre campaign, which is all about reconnecting our employees with DSM's purpose and celebrating what makes us happy to be part of DSM.
CFBNJ is an organization dedicated to fighting hunger and poverty in New Jersey—a cause very close to our hearts. CFBNJ does a fantastic job of providing Food, Help and Hope and this initiative will help more people get the essential nutrition they need for a better future. 
Within DSM, we're also deeply committed to championing strong cultural values that support our mission to create greater value for our customers, shareholders, communities, wider society, and for each other. As part of our purpose-led approach, our DSM culture compass is a framework that represents our cultural direction and destination, while we each find different ways to bring it to life in our respective day-to-day roles. There are six key elements that help us define the culture we want to build and guide our day-to-day interactions and decisions. We're courageous, caring, collaborative and we stand for taking responsibility, championing sustainability and delivering value. We work exceptionally hard to make sure these elements truly come to life across all levels of our organization.
To discover more, visit www.DSM-dietarysupplements.com.
---
---