MVM Response 111220
Response to misguided multivitamin study speaks to consumers, industry + spotlight on vitamin D
NOVEMBER 12, 2020
CRN response to multivitamin study provides actionable advice for consumers and additional talking points in trade press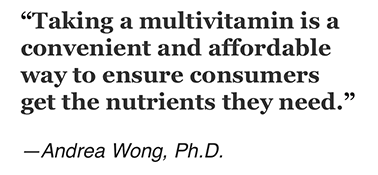 CRN's Andrea Wong, Ph.D., senior vice president, scientific & regulatory affairs made clear to consumers the value of multivitamins in a widely-quoted response to Monday's British Medical Journal study calling into question the real benefits of taking these products.
Dr. Wong noted, "the findings of the recent study in no way discount the multivitamin's many benefits in combatting insufficient nutrient levels and promoting optimum health, nor does it provide basis for consumers to reconsider their decision to take a multivitamin or to take one in the future." 
Multivitamins are a low-cost, healthy choice for consumers
Dr. Wong further explained that multivitamins "are not intended to serve as magic bullets for the prevention of serious diseases," but that the low cost of a multivitamin at about a dime a day makes it "a healthy choice to help consumers get the recommended levels of nutrients essential to everyday life, activity and body function," as quoted in NutritionInsight.
HealthDay News also quoted Dr. Wong saying, "The conclusions of the study are a disservice to the public and should not influence consumers' decision to take a multivitamin or other dietary supplement product." 
Additional discussion in trade press provides stakeholder talking points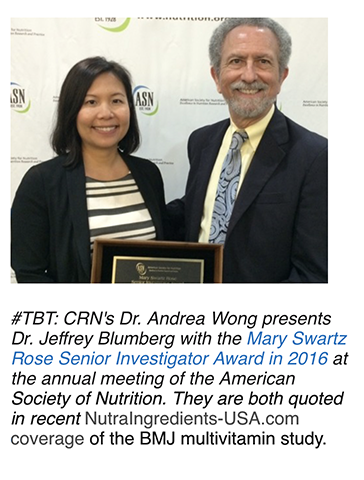 Dr. Wong's remarks were in included in coverage from Nutraceuticals World and Chain Drug Review, among other industry trade press outlets. In NutraIngredients-USA.com, her analysis of the study appeared alongside commentary from other experts, including Jeffrey B. Blumberg, Ph.D., of the Tufts University Friedman School of Nutrition Science and Policy, who spoke last month at CRN's SCIENCE in Session. 
Dr. Blumberg agreed that "the structural shortcomings of the study swamp any hope of reasonable conclusions." He observed that 50% of the discussion in this study was on its limitations, but that didn't seem to keep the authors from drawing some strong conclusions.
In separate coverage from NutraIngredients.com, Dr. Wong outlined several of the study's limitations, offering talking points for stakeholders (below).
---
BMJ MVM Study Limitations
The results are based on survey data, so rather than being determined by a clinician, all measured outcomes are self-reported and less reliable. ​

The study does not capture the composition of the multivitamin or multimineral products reported by respondents or the duration or frequency of consumption. ​

It is impossible to know which products were taken or how often respondents took them over the 12-month period covered by the survey, or even how long the subjects had previously been on their regimens. 

The cross-sectional design of this study only provides a snapshot in time of multivitamin use and health outcomes, preventing any determination of causality.
---
CRN supports ongoing efforts to highlight global attention to vitamin D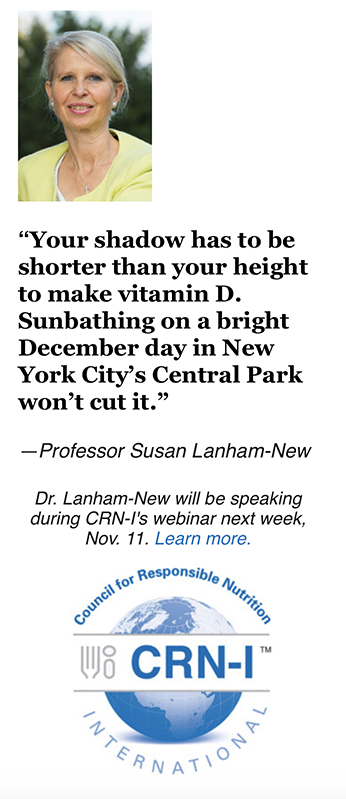 After reviewing options for highlighting industry leadership around vitamin D and COVID-19, CRN's Vitamin D Study Task Force, formed in September, is exploring different tactics to amplify messaging around this key nutrient.
In addition, current CRN programs are highlighting the value of vitamin D in health promotion during these times. As noted in a recent Wall Street Journal article, "researchers around the globe are investigating whether vitamin D, known as the sunshine vitamin, can help reduce people's risk of catching the new coronavirus and even aid in treating patients with COVID-19." The article quotes Professor Susan Lanham-New, of the University of Surrey, Guildford, UK, one of two presenters for the upcoming webinar in CRN-International's (CRN-I) fall educational series, taking place next Tuesday, Nov. 17.
CRN-I events are known for convening international experts on relevant topics. Past CRN-I symposium speakers Manfred Eggersdorfer, Ph.D., (also a speaker at CRN's SCIENCE in Session this year)and Heike Bischoff-Ferrari, M.D., MPH,are co-authors of a recently released white paper on nutritional status in supporting a well-functioning immune system for optimal health with a recommendation for Switzerland.
For questions about the Vitamin D Study Task Force, contact CRN's Luke Huber and for questions about the CRN-I educational series, contact CRN's Jim Griffiths.

Coming soon: A new way to stay connected to CRN and your supplement industry colleagues
CRN members will soon have a new, streamlined way to stay updated on association activities, including key committee meetings and resources, as well as dietary supplement industry news with the "CRN Connect" mobile app. Developed to better curate "need-to-know" information and elevate CRN communications beyond email in-box clutter, the app is slated for release in mid-December. Learn more here—and contact Gretchen Powers if you would like a sneak peek as a beta tester.
QUESTIONS ABOUT THE CRN DAILY SUPPLEMENT?