---
Q&A with Yadim Medore of Pure Branding
---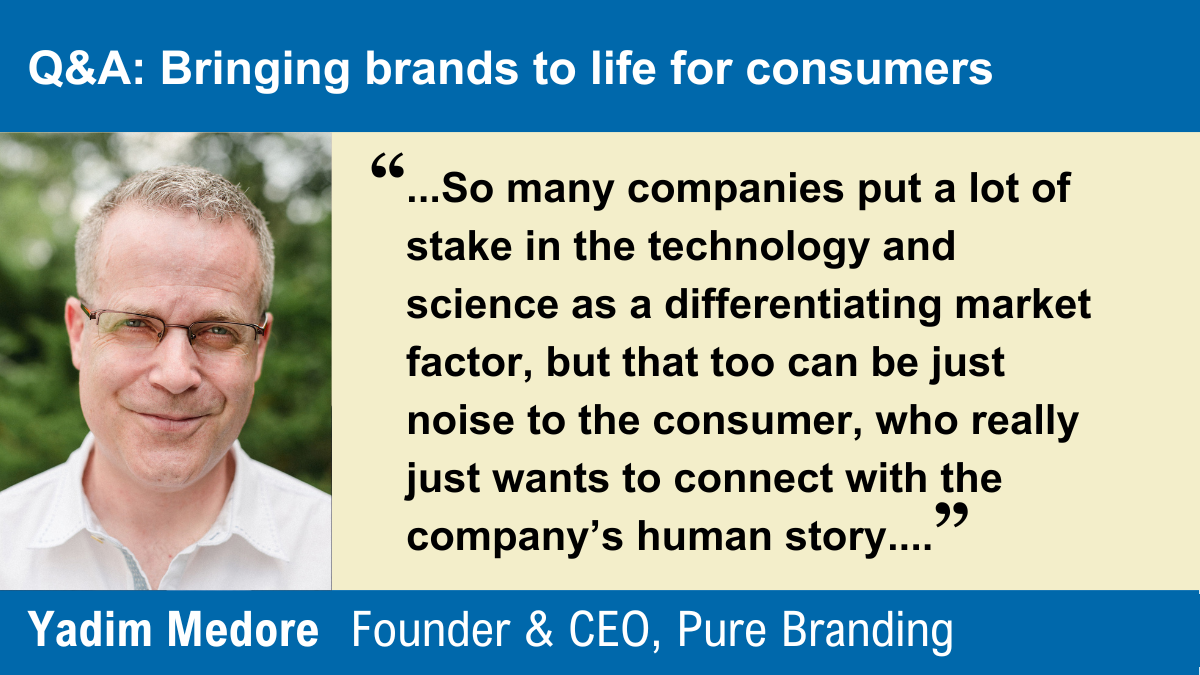 Q: How did you get started in the supplements space as a brand consultancy?
Yadim: I started Pure Branding over 20 years ago, and at that time we were focused on the larger natural products sector. A few years in we were working across food and beverage, personal care and dietary supplements. Quickly we started to recognize that the typical dietary supplement company was underserved and had a much more complex brand and marketing needs. The market was underdeveloped in terms of its sophistication or understanding of how consumers behave and how to develop brands that speak emotionally. And so, we made the decision to shed all other clients and began working exclusively with dietary supplement brands.
Q: Beyond making a living, what about this kind of work gets you out of bed in the morning?
Yadim: Supplements and herbs have made a profound personal impact on my health, so it brings me great joy to help science-driven supplement companies transform into beloved brands. Ones that consumers will care so deeply about, they'll come to see that brand as the only one in that space, even if there are a lot of other choices the consumer could make. 
Q: Is that why companies in the supplement space seek you out? 
Yadim: Quite often a brand, which could be decades old or just starting out, comes to us and says, "We don't understand who our customer is." With legacy brands, they come to us because the market is changing so rapidly that they have issues around a lack of differentiation and relevancy. Sometimes we see lost direction. That can happen often when a founder exits, or is acquired by a large multinational. We see some brands seeing decreasing ROI.
Q: What's changed?
Yadim: There's been this upstart of new direct-to-consumer brands that have entered the space in the late 2010s. And those brands have entered completely differently than the historical legacy brands in the space because they have a much more sophisticated understanding of consumer and brand. Because they're often targeted at a single need state, they can build the whole brand around that need in a much more emotive way. 
Q: What are the most common mistakes you see supplement brands making? 
Yadim: That's easy. Leading with the science is number one. Science is obviously critically important because it ensures that products are efficacious, that you're using the right ingredient in the right dose. But when everyone is making the same claims, science becomes the cost of entry at best and just noise to the consumer at worst. Supplement brands forget that consumers are much more influenced by emotional drivers than they are with rational ones. 
Q: What else?
Yadim: We used to say that one of the biggest challenges companies had to overcome was a resistance to transparency, but now transparency is just table stakes. These days you see claims of transparency, but the demonstration of it is shallow. I often tell our clients that saying you're transparent is kind of like saying you're cool. Like you don't say you're cool, right? It's something you demonstrate by your behavior. 
Q: When we talk about transparency, are we talking about being transparent in terms of what is contained in the product, or is the discussion bigger than that?
Yadim: I think a lot of companies think it's just about what's on the label. But there's so many layers to it. It could be about how close we are to our sources, our environmental footprint and sustainability. It could be about the company leadership. What's the corporate culture? Does the company have people behind it? There are so many supplement companies where there's no people in the brand identity. It's not human. It's a faceless factory. Transparency should be about storytelling, about picking an issue that resonates with the consumer and owning it.
Q: Good overall brand advice for a company that might be wrestling with some of the issues?
Yadim: Companies need to ask themselves, "What's that bigger mission that everyone in that company gets up in the morning to serve?" And for so many, the articulation of that mission is generic and not very compelling. There is truth about why a brand was founded that sometimes needs to be unearthed. When that truth is examined, it can be differentiating. So many companies put a lot of stake in the technology and science as a differentiating market factor, but that too can be just noise to the consumer, who really just wants to connect with the company's human story.
Since 1999, Founder and CEO of Pure Branding Yadim Medore has transformed science-driven supplement companies into beloved brands through smart strategy, research & activation. Pure Branding has led business-transforming strategies for dozens of leading dietary supplement brands including Gaia Herbs, MegaFood (acquired by Pharmavite), Nature's Sunshine, NeoCell (acquired by Clorox), Nordic Naturals and Standard Process. Pure Branding led the brand strategy for and was an early investor in the digitally native, personalized nutrition startup Persona Nutrition, acquired in 2019 by Nestlé Health Science.