UNLOCKED FROM THE OCTOBER 5, 2023 EDITION OF THE CRN SUPPLEMENT MEMBER NEWSLETTER
PLUS ADDED INDUSTRY TRADE PRESS COVERAGE: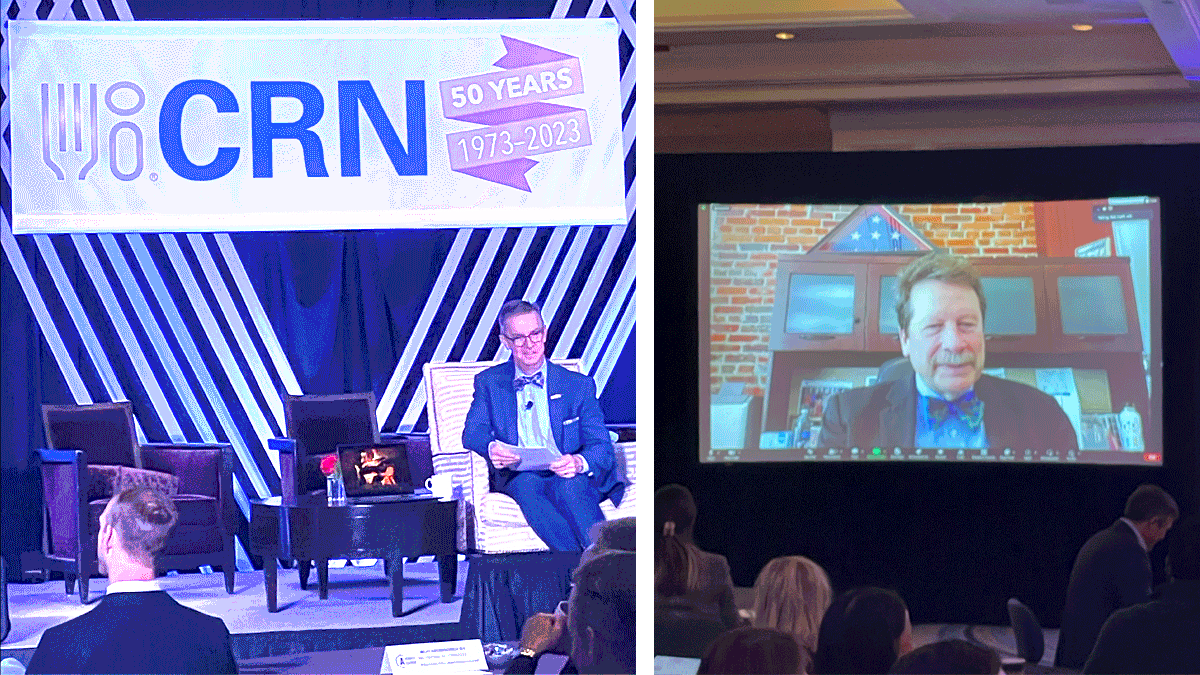 FDA Commissioner Robert M. Califf, M.D., joined CRN President & CEO Steve Mister for a virtual fireside chat as the opening session at the Now New Next conference yesterday.
What they're saying: "When I walk down the aisle, I see a lot of these structure/function claims, and I have no idea what they mean," said Dr. Califf. "Maybe you understand it, you'll have to explain it to me one day. In my view, if you ingest something, it either makes your health better, it makes it worse, or it has no effect. And we know how to measure whether health is getting better. It's not a secret. The structure/function claim, that's the law and so we're going to play by the rule book."
Mister pressed the Commissioner, speaking of claims and playing by the rule book, on the matter of enforcement against bad actors.
"The Food Drug & Cosmetic Act says that the claims that are made on dietary supplement labels have to be truthful and not misleading to consumers. They have to be substantiated," Mister said. "One of the frustrations for so many people in this room is that there are products out there that are making really crazy claims…They're not structure/function claims. They're disease claims—and yet FDA is the organization that could enforce those requirements. So I really would like to get into the enforcement aspect of it. What is the role of FDA where you have these products in the market that are clearly illegal and the industry doesn't have the guns and badges to enforce it? We can do things for ourselves, but we can't enforce it against the bad actors."
Dr. Califf responded with a call for more industry support for FDA resources. "We've got industries that come to the table and work hard to get the support that's needed for FDA to allocate the people that are needed to get the job done. And I'm not seeing that from your industry side. I'd really like to see a lot more of that. And we would do a lot more of the work."
Mister pushed back with facts about the dietary supplement industry's robust and effective efforts in support of FDA.
"It was the industry that very much pushed in the 2015–16 timeframe to elevate the Office of Dietary Supplement Programs," Mister said, recalling it was previously a division of the Office of Nutritional Products, Labeling, and Dietary Supplements.

"We pushed very hard to get it elevated to an office level," Mister added. "And then for the last seven years, every year the industry has gone to bat to get more appropriations. And we have more than doubled the amount of designated appropriations from Congress to dietary supplement issues."
Mister reiterated concerns about FDA's proposed reorganization "after years of trying to build an infrastructure at the agency to increase the regulation and enforcement of supplements" and that the changes "may actually mean moving backwards."
Dr. Califf replied that "this is not going to be made smaller in terms of the efforts at FDA... you've got a $60 billion industry. It's got a lot of good people in it, but it's got some bad players. We've got to work together so that the good players get rewarded, the bad players get punished."
---