app
Download 'CRN Connect'
    
Log in with your CRN member username (company email) and password.

With CRN's app you can:
Filter your newsfeed based on committee involvement.

Track CRN events/industry and set your schedule.

Get in touch with your association colleagues via messaging.

Engage with your CRN member colleagues through comments and forums.

Access a growing library of resources.

Shape your CRN member experience with your feedback.
—And never miss a Daily Supplement edition again! 
Start using 'CRN Connect' today in two easy steps:
Questions? Not sure you are a member or in CRN's database? Please Contact Gretchen Powers.
2. Download app and log in
    
---
IMPORTANT:
Before downloading and logging in to 'CRN Connect,' you must reset your password via CRN's new web-based Member Portal to help ensure a proper connection to your data.
Click here to reset your password in the portal. You will receive an email with a password reset link. Click that link to reset your password. Note: You must accept CRN's Privacy Policy/Terms of Use/Code of Conduct to proceed with the reset.
Sample password reset email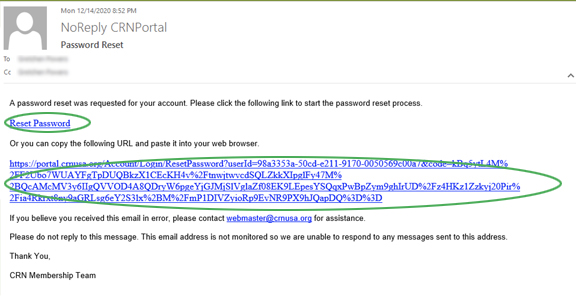 Reset password screen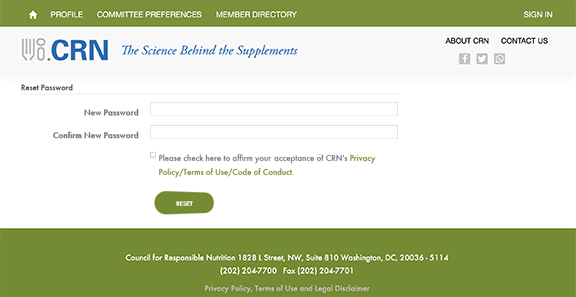 ---

Download the 'CRN Connect' mobile app from your app store:
Be sure to allow notifications and location tracking for best results. Log in to the app with the credentials you just reset in the above step. (Do not attempt to create an account, a new account will not connect with your data.)
---
Now that you have the app downloaded, here are some key areas to explore to get you acquainted with its features.
Note, some features are accessible to CRN members only. Events attendees, see how to use the app to participate in session Q&As and connect with other attendees to schedule meetings and more.
Other things you can do with the app:
Check your 'Groups.'
At the top of your newsfeed, click "My Groups" to see which active applicable CRN committees, working groups, and task forces you are signed up for. Your groups determine the content you see in your newsfeed. Check off different groups to filter your feed, or leave the list unchecked to view them all. To join groups open to new participants, visit the Committee Preferences tab of the online members-only portal. Contact CRN's Gretchen Powers (gpowers@crnusa.org) with questions about your committee involvement. Check out our quick intro video for details. 
---
Set up your profile.
Access your profile via the "More" option at the bottom of your screen. Edit your job title as needed, then add a photo and a few lines about yourself by scrolling down to the "Bio" area. CRN will enhance profile capabilities going forward, so please send your feedback to gpowers@crnusa.org.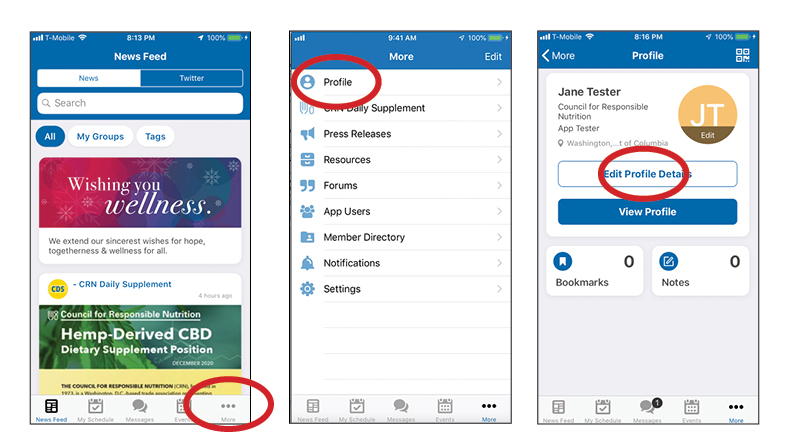 ---
Explore your newsfeed, events calendar and resources.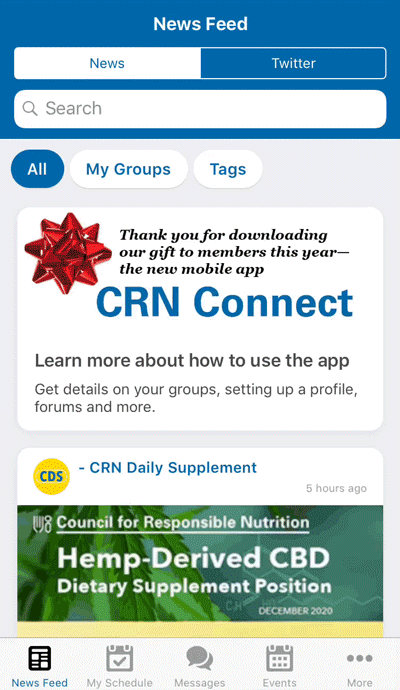 By clicking menu items at the bottom of your screen, you can filter "Events" by your groups, add them to "My Schedule," and send them to your phone's calendar. 
"Resources" folders, accessible via the "More" option at the bottom of the screen, are determined by group involvement. Resources for all members, such as information on the Supplement OWL and other self-regulatory initiatives, are located here. 
Send feedback on what other resources you'd like to see to your CRN group staff liaison or gpowers@crnusa.org.
---
Say 'hello' in one of our forums.
The "All CRN Watercooler" is a great place to start. During CRN's annual events, check out the "Science in Session" and "Now, New, Next" forums, as well. There are also forums set up for each of the standing committees. Please remember to abide by the same code of conduct you would for engagement with CRN events.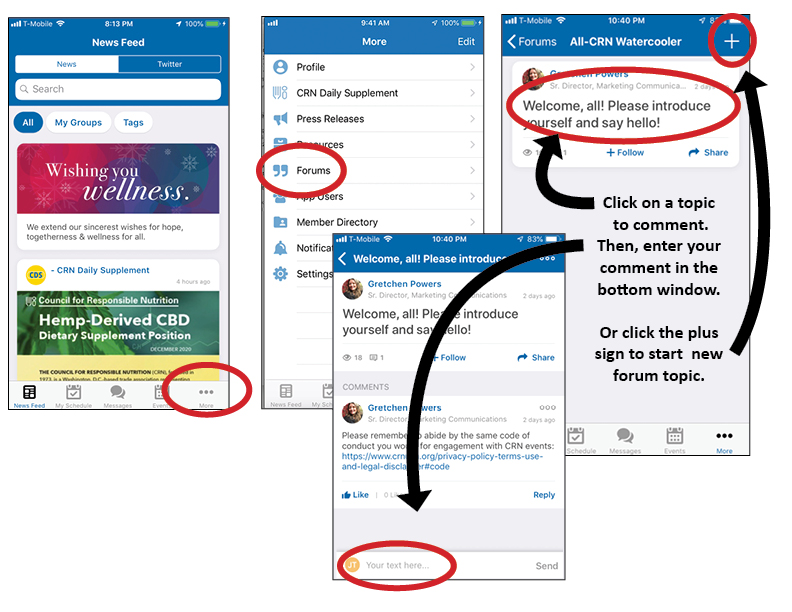 ---
Invite your colleagues to join you and connect with other app users.
"CRN Connect" is more fun with friends! Try out messaging and sharing features with your company colleagues before branching out to other CRN members. Add team members who join you on the app to your "favorites" and message as a group to share your favorite CRN content. Or, make notes to help you remember details about new contacts.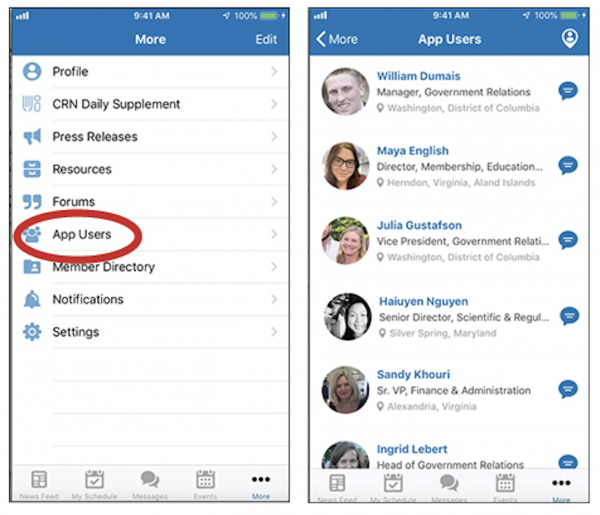 ---
Use the portal to join committees and update your profile
Watch this quick how-to video on using CRN's online portal via our new app's "Resources" tab to self-select onto committees, working groups and task forces. This can also be done outside the app via the web here. Please note, to REMOVE yourself from a group, please contact Gretchen Powers.
Questions? We're here to help!
Need help getting set up with CRN's app? Have questions or comments? Please contact Gretchen Powers (gpowers@crnusa.org) for assistance. The video guides are also available via a YouTube playlist.