Event Start Date
Oct 30, 2020
Event End Date
Oct 30, 2020
Event Start Time
6:30 AM ET
Event End Time
8:00 AM ET
-
In response to the COVID-19 pandemic, CRN-I will be holding a series of webinars in lieu of its annual in-person symposium, typically held in conjunction with the Codex Committee on Nutrition and Foods for Special Dietary Uses (CCNFSDU) meeting.  Addressing anticipated topics and building on past CRN-I symposia, the series will include discussions on the role of targeted nutrition to support a healthy lifespan and on developing a framework for establishing reference values for bioactives. Learn more and register via the CRN-I website. Contact Jim Griffiths for information.
Science-based Policy: Targeted Nutrition for all ages and the role of bioactives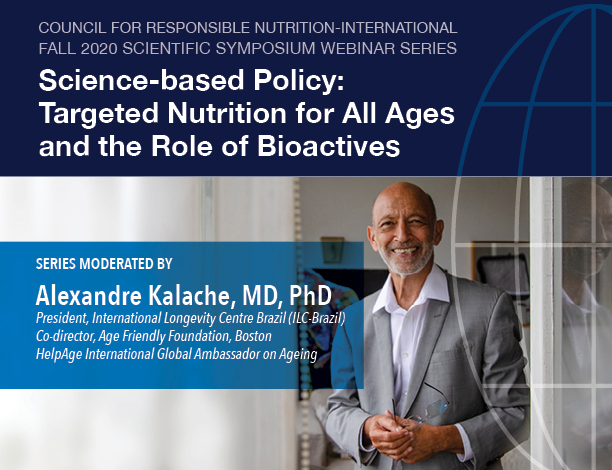 Globally longevity has been increasing, however not only do inequalities remain, but more importantly, real and perceived "health" has not always kept pace.  If we live longer but are suffering extensive and extended morbidities, as well as depressed mental, physical, and social  status, then should a long life measured by number of years, months and days be the only goal?  Since 2010, CRN-I has sponsored and organized annual scientific symposia at the Codex CCNFSDU meeting to provide current scientific thinking, academic research, and public health policy considerations, complimentary for national delegates.  This year, our three virtual webinars will examine healthy ageing and health promotion throughout the life-course, targeted nutritional elements that are backed by scientific research, and several well-studied bioactive constituents that may eventually be recognized for their public health promoting opportunities. Please join us by registering to virtually attend one or all of the "Science-based Policy: Targeted Nutrition for All Ages and the Role of Bioactives" webinars.
The first webinar will take place October 30 covering:  
Non-communicable disease prevention in elderly:  Promoting health through the lifecourse  
João Breda PhD, MPH, MBA
Head, WHO European Office for Prevention and Control of Noncommunicable Diseases & Programme Manager Nutrition, Physical Activity and Obesity, Division of Noncommunicable Diseases and Promoting Health through the Life-course
Role of omega-3 fatty acids during development
Susan Carlson, PhD
Associate Dean for Research, Program Director, Doctorate in Medical Nutrition Science, AJ Rice Professor Nutrition, University of Kansas Medical Center
Moderated by:
Alexandre Kalache, MD, PhD
President, International Longevity Centre Brazil (ILC-Brazil)
Co-director, Age Friendly Foundation, Boston
HelpAge International Global Ambassador on Ageing
Learn more and register via the CRN-I website.
Read about webinar II here and webinar III here.