Event Start Date
Dec 15, 2020
Event End Date
Dec 15, 2020
Event Start Time
2 pm Eastern
Event End Time
4 pm Eastern
$99 for CRN members (use code 'CRN99'—membership will be verified)
$149 for non-members
Share the knowledge and the savings
Once registered, you'll receive a code in your confirmation email to share with two colleagues.
 
Capsules, tablets, gummies, powders, liquids...the vast range of available delivery forms available today has never been greater. This variety is being driven by consumer interest in expanding alternatives that fit their varied lifestyles and preferences. They want unique products that address their individual needs. Some want new, fun or more simplified delivery forms, while others insist on the "tried and true."
At the same time, these delivery forms pose unique challenges for formulators and technical affairs personnel charged with manufacturing these products. Increasingly complicated formulations, shelf life considerations, machinery limitations, excipients, and packaging can all influence delivery form choices. FDA threw the industry a curve ball in 2019 with a study concluding that nearly 20% of the adverse events for dietary supplements between 2006 and 2015 indicated swallowing problems or choking issues. To address and reduce these incidences, companies are examining how their delivery forms can impact swallowing. All these issues create new delivery form opportunities and challenges for companies as they respond to consumer demands, make products safer, and address technical issues. Delivery forms really do matter!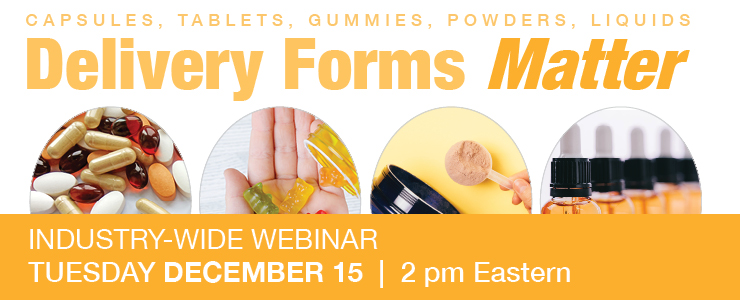 Join CRN and Natural Products Insider Dec. 15 at 2 pm Eastern and hear from an expert lineup of presenters to explore the range of issues delivery forms pose:
What research tells us about changes in consumer preferences for how they take their supplements
What the data developed by FDA can tell us about choking and swallowing issues related to supplements
How industry can respond with careful considerations for swallowing issues when developing new products
The technical manufacturing challenges for formulators and product engineers and breakthroughs in capsule and gummy manufacturing that address these needs
Quality considerations like shelf stability that can impact delivery forms
Moderator:
Andrea Wong, Ph.D.
Senior Vice President, Scientific & Regulatory Affairs
CRN
Speakers:
Justin Kalafat
Scientific Business Development Manager
ACG North America, LLC
Michael Hartman, Ph.D.
Vice President, Research & Development
Plexus Worldwide
Michael J. Kerins, Ph.D.
Toxicologist
The Procter and Gamble Company
Diane K. Ray
VP Strategic Innovation
Research America, Inc. DBA Natural Marketing Institute
Erik Bauer
Senior Technical Services Manager
Kerry
Kristen Farr
R&D Program Scientist
Church & Dwight
More about our webinar presenters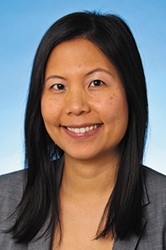 Andrea Wong, Ph.D.
Senior Vice President, Scientific & Regulatory Affairs, CRN

Dr. Wong joined CRN in 2013. She plays an integral role in CRN's science and regulatory affairs department, responding to emerging scientific and regulatory issues as well as advocating for science-based nutrition. Dr. Wong also provides scientific expertise in evaluating research relevant to the benefits and safety of ingredients and dietary supplements, and in support of CRN's nutrition policy activities. She leads proactive, self-regulatory initiatives, including the development of best practices guidelines for industry on product labeling and formulation. Prior to joining CRN, she worked as a senior scientific and regulatory consultant for the highly respected consulting firm Intertek Cantox, formerly Cantox Health and Sciences International, in Ontario, Canada. Dr. Wong has published in scientific journals, including Regulatory Toxicology and Pharmacology. Dr. Wong earned her B.S. in Life Sciences from Queen's University in Kingston, Ontario, and her Ph.D. from the University of Toronto, Ontario.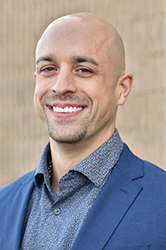 Justin Kalafat
Scientific Business Development Manager, ACG North America, LLC
Justin Kalafat is responsible for collaborating with the pharmaceutical industry for capsule business. Prior to joining ACG in 2014, his background includes degrees in chemistry and roles within the generic pharmaceutical industry in quality control and procurement. His experiences enables key strategies to be developed with customers, R&D focused institutions and universities on the technical aspects of capsules as a dosage form solution.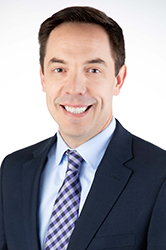 Michael Hartman, Ph.D.
Vice President, Research & Development, Plexus Worldwide
Passionate about all things nutrition, health and wellness, Dr. Michael Hartman serves as the Vice President of Research & Development at Plexus Worldwide. An accomplished scientist and respected authority on nutrition science, Dr. Hartman analyzes the validity of the latest scientific research and leads an innovative team of Plexus scientists to leverage the most exciting findings to further the company's product development goals. A Ph.D. in the emerging field of exercise physiology, who has conducted extensive research on how nutrition can influence human performance, Dr. Hartman has been involved in the dietary supplement industry for nearly 20 years and has spent the past decade operating in the direct sales channel. He is driven to promote the benefits of science-based nutritional health to all individuals. Dr. Hartman lives in Scottsdale, AZ with his beautiful wife, two awesome sons, and infant daughter.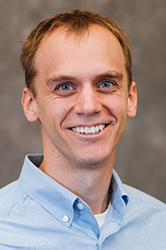 Michael J. Kerins, Ph.D.
Toxicologist, The Procter and Gamble Company
Dr. Kerins is a toxicologist specializing in dietary supplements at the Procter & Gamble Company where he leads the safety evaluation of botanical extracts, vitamins/minerals, and fish oils in global brands and products like Seven Seas, Richelet and Evion. He is also responsible for the safety of various OTC drugs sold globally. At P&G, Dr. Kerins serves as a company expert on solid dose delivery form and carcinogenesis. Prior to coming to Procter & Gamble, Dr. Kerins' research examined the roles of iron and xenobiotic response in the development and treatment of kidney cancers. In addition to the above focus, Dr. Kerins' professional experience in the consumer health sector has been highly interdisciplinary in nature ranging from development of adult incontinence products to medical device design controls. His work has resulted in multiple academic publications and a patent.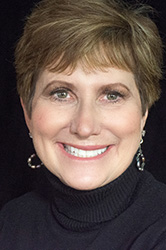 Diane K. Ray
VP Strategic Innovation, Research America, Inc. DBA Natural Marketing Institute
Diane brings 30 years of market research, new product development and strategic innovation expertise to her role at Natural Marketing Institute. Her corporate career spans technical product development, market research and international business development with work in over 40 countries.Diane brings her skill to a broad range of initiatives in the Sustainability, Health & Wellness and Healthy Aging sectors working with Fortune 20 companies, Start-ups, Retailers, VC firms and NGO's. Diane is a Certified Product Development Professional and holds an MBA in International Business from the Wharton School of the University of Pennsylvania and a Bachelor's Degree in Chemical Engineering.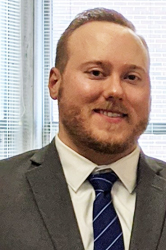 Erik Bauer
Senior Technical Services Manager
Kerry
Erik is the Senior Technical Services Manager for Kerry's ProActive Health group. He is a microbiologist with an M.S. in Food Science & Human Nutrition from the University of Illinois.  Erik has been with Kerry 6 years, focused on fermented ingredients, food protection, and health ingredients. During this time, he provided expertise in industrial fermentation, food manufacturing, process development, and process engineering. Erik moved into his current role in Spring of 2019, bringing strong microbiology knowledge and application science to help aid customers in implementing both Wellmune® and GanedenBC30® into their finished products.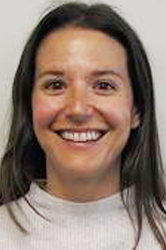 Kristen Farr
Program Scientist: Vitamins, Minerals and Supplements, Church & Dwight
An avid product developer and innovator with 12+ years of experience in the CPG industry, Kristen is currently a Program Scientist at Church & Dwight where she leads new products design and formulations for the #1 brand of gummy vitamins. Kristen has a strong track record of partnering with cross-functional teams to create unique products that meets the many need states of our consumers.  We use traditional vitamins and minerals along with new cutting age ingredient in our product launches.  With experience across a broad range of product categories including, branded, regional, global, B2B, food service and DTC, Kristen is competent in areas from highly indulgent products to highly functional ones. Prior to C&D she spent many years at Mars Chocolate NA in product development and enjoys applying the knowledge of delighting consumers from confectionary products into the dietary supplement space.