Event Start Date
Mar 01, 2022
Event End Date
Mar 01, 2022
Event Start Time
2 pm Eastern
Event End Time
3 pm Eastern
Join us for our next webinar, co-hosted with Natural Products Insider and open to the public.
Consumers are demanding their products be more environmentally sustainable—including the packaging. 
Data from a 2021 Adweek/Morning Consult survey shows 77% of respondents believe "consumer-packaged goods (CPG) companies hold the primary responsibility of ensuring that their products and packaging are recyclable and do not contribute to pollution" and that 59% of respondents think companies that "fail to enforce recyclable packaging and minimize overall environmental impact should be financially or legally penalized." In addition, data from the NYU Stern School in partnership with IRI showed sustainable products accounted for over 50% of the market growth (2015–2019) even though they only comprise about 16% of the overall market in terms of number of products. These products also command a 39% price premium over conventional products. 
Dietary supplement brands are taking the lead using less packaging, finding more environmentally-friendly materials, and exploring additional recycling opportunities—and even re-use of containers. 
Solutions that are creative and compliant
Innovation and creativity are proving to be critical in responding to consumer demands and setting new benchmarks to follow. It's important to remember, that, in addition, as a regulated category, specific FDA requirements apply because dietary supplement containers are food contact surfaces. 
Join us to hear from these experts in the field about how they are navigating the demand for sustainable packaging and practices and maintaining compliance with regulations:
CRN's Luke Huber, ND, MBA, VP Scientific & Regulatory Affairs, will moderate.
Learn about:
The intersection of new packaging materials and initiatives with FDA requirements for supplement packaging
Developments regarding bio-based polymers, compostable and degradable polymers, as well as recycled materials
Industry initiatives to reduce/reuse packaging, including recyclable/recycled materials and reducing packaging in the waste stream
Policy initiatives to reduce packaging waste and develop infrastructure to handle recyclable containers
A novel and growing program for reusable packaging
Register via Natural Products Insider. $149 | $99 for CRN members with code.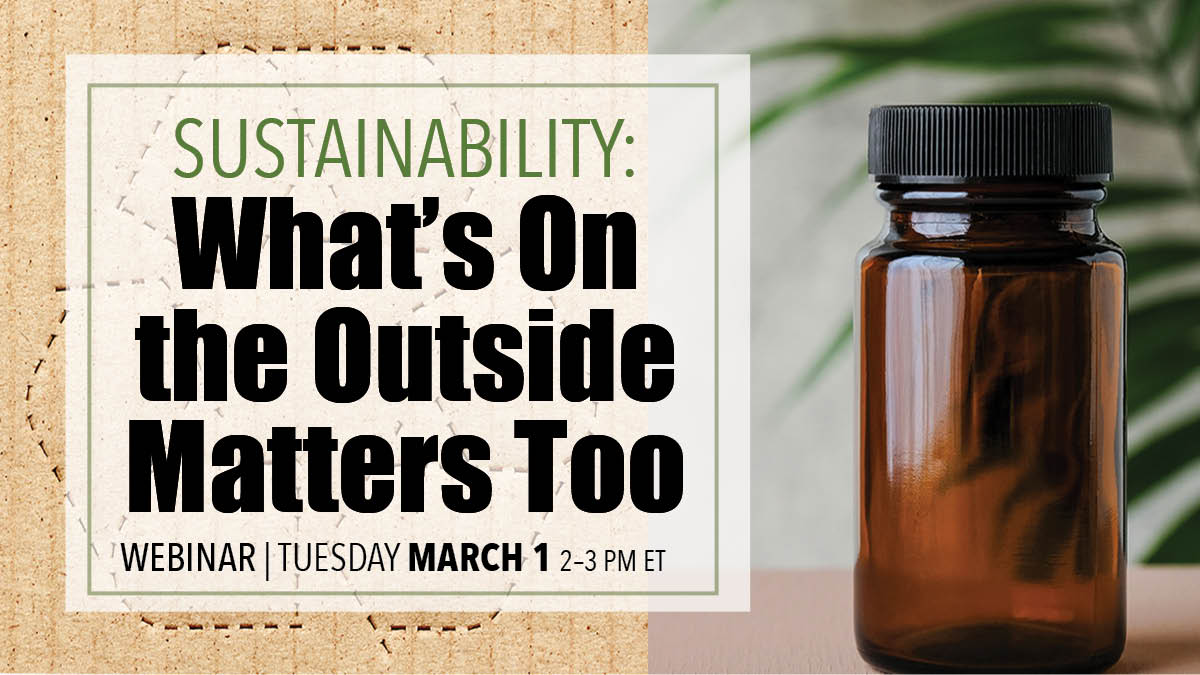 More about our webinar presenters
Jeff Keithline Partner, Keller & Heckman

Jeff Keithline is a partner in Keller and Heckman LLP's food and drug law practice. He counsels clients in establishing the suitable regulatory status of their products in the United States and European Union. He guides clients when developing innovative legal and sound scientific strategies for their products, ultimately broadening their market share. Jeff specializes in the regulation of food-contact materials throughout the world, and is an expert in the regulation of recycled material, as well as state and local restrictions applicable to packaging materials.
 
Nicole Flaherty Senior Manager, Sustainability and Packaging Design, Nestlé Health Science

Nicole Flaherty is the Senior Manager of Sustainability and Packaging Design for the Professional Brands at Atrium, a Nestlé Health Science company. Her top responsibilities include designing innovative and sustainable packaging, solving for recyclability challenges in packaging, assessing overall brand GHG and environmental impacts, engaging fellow colleagues in sustainability, and ensuring the Professional Brands meet their sustainability targets. Nicole began her career at Douglas Laboratories in 2004, after graduating from LaRoche University with a Bachelors' Degree in Graphic and Communication Design. As her career evolved, she discovered a passion for community, sustainability, and problem solving which has helped build the foundation needed in her current role with packaging and sustainability. Previously Nicole has participated in community projects with Fineview Citizens Council and Grounded (formerly GTECH), and currently holds a position on the LaRoche University Design Advisory Board
Annika Greve Director, Business Development, North America, Loop

Annika Greve heads up the North American Business Development team for Loop, TerraCycle's circular reuse platform that launched in 2019. TerraCycle is known for eliminating the idea of waste and Loop enables consumers to purchase products in reusable packaging. She leads the TerraCycle brand and retail strategy for the North American market, focusing on new partnerships. 
John Hewitt Vice President, Packaging Sustainability, Consumer Brands Association

John Hewitt is vice president, packaging sustainability, at the Consumer Brands Association. Hewitt leads the packaging sustainability efforts on behalf of the CPG industry, bringing extensive knowledge of the recycling system and years of state and federal policy experience. With a combination of association, political and agency experience, Hewitt has worked on many successful ballot initiatives, legislative and regulatory measures. In addition to his professional experience, he has sat on several non-profit boards and was an elected school board member for nearly 12 years. Hewitt joined the Consumer Brands Association from the California Department of Food and Agriculture (CDFA), where he served as both special counsel to the secretary and as the agency's general counsel.
Luke Huber, ND, MBA, VP Scientific & Regulatory Affairs, CRN

Dr. Huber focuses on CRN's scientific affairs and nutrition policy activities that support the appropriate role for dietary supplements and functional food in health promotion and disease prevention. He has over 20 years of experience in the dietary supplement industry leading product development, scientific and technical affairs, clinical research, and regulatory affairs. In his prior roles, he has been a leader in product innovation and scientific initiatives. Most recently, Dr. Huber held the position of global R&D director, VMS with Reckitt. Prior to Reckitt, he held senior scientific & technical leadership roles at prominent companies within the dietary supplement industry.Dr. Huber received his doctorate of naturopathic medicine from Bastyr University in Bothell, WA, completed his residency at Cancer Treatment Centers of America in Zion, IL, and earned his MBA with honors from University of Massachusetts at Amherst.