Washington D.C., September 29, 2020—The Council for Responsible Nutrition (CRN), the leading trade association for the dietary supplement and functional food industry, today issued results of the 2020 CRN Consumer Survey revealing that for the fourth year in a row, nearly three-quarters of Americans report taking dietary supplements. Though this year's percentage, 73 percent, does indicate a decrease in usage by four percentage points from the high-point in 2019, it is still proximate to data from the three previous years (77 percent in 2019, 75 percent in 2018, 76 percent in 2017) and reflective of an upward increase since 2015 (71 percent in 2016, and 68 percent in 2015). 
Additionally, results of CRN's COVID-19 survey reveal that two in five (43 percent) supplement users changed their supplement routine since the start the pandemic—including 91 percent of this subset who mention increasing their intake in some way. Though the proportion of supplement users in the COVID-19 survey also pointed to a dip in overall usage when compared to last year's consumer survey (76% vs. 77% in 2019), results of this survey help to demonstrate, along with increases in sales market data, that a substantial segment of supplement users are taking more products. This includes users who are adding new supplements to their regimen, increasing the dose(s) and/or frequency of usage, and more, especially in the vitamin and mineral category.

"When factoring in all survey variations, the ongoing pandemic, and viewing the data in the context of the last recession, (64 percent in 2008 and 65 percent in 2009), four percentage points is not a major decline," said Chris Jackson, senior vice president, public affairs, Ipsos. "Other recently conducted surveys demonstrate that Americans are continuing to practice social distancing behaviors, and some continue to experience furloughs or work suspensions and to struggle affording household goods. All of these factors could be tied to limited retail access to supplements for consumers, sustained behavior changes causing consumers to feel less of a need for specialty supplements, and less disposable income to purchase products overall."
Supplement usage among Americans remains in the three-quarters range and behavioral attitudes regarding confidence and trust in the industry, trust in doctors and primary care physicians (PCPs), and healthy habits from supplement users versus non-users are all in line with data collected in past surveys. Among American supplement users, female adults, adults aged 35+, adults with a higher household income, and adults with a college degree were most likely to report taking supplements.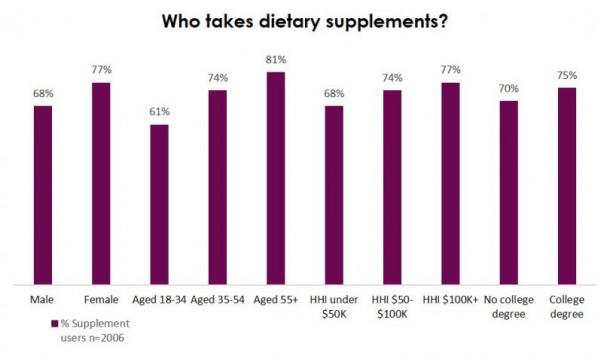 When consumers were asked their reasons for taking dietary supplements, data demonstrate that more consumers are taking dietary supplements to support immune health. While overall health and wellness benefits remains the most cited reason to take dietary supplements by all users (40 percent), immune health has replaced energy as the second most popular reason, with 32 percent citing this factor as why they take supplements (up from 27 percent in 2019). Further, immune support is the number one reason to take dietary supplements for users aged 18-34 (38 percent). Following immune support, users report taking supplements to fill nutrient gaps in their diet (25 percent); to support heart health (23 percent); and for hair, skin & nails (22 percent). 
With respect to the types of supplements being taken, CRN's 2020 survey found that vitamins & minerals continue to be the most frequently mentioned supplement category with consumers, with nearly all supplement users reporting usage in the past year (98 percent). While usage for vitamins and minerals remains strong, usage has dipped for niche ingredients and categories. The second most popular category is specialty supplements (46 percent versus 52 percent in 2019); followed by herbals & botanicals (44 percent versus 50 percent in 2019); and sports nutrition (30 percent versus 36 percent in 2019). The weight management category remains rather steady (19 percent versus 22 percent in 2019).
"We've witnessed from CRN's COVID-19 survey that the pandemic has not only encouraged the majority of Americans to be more conscious of their health and wellness, but the crisis has also forced consumers to adapt to the current reality and change some of their previous lifestyle behaviors," said Brian Wommack, senior vice president, communications, CRN.  "Results from the 2020 survey continue to demonstrate an intensified focus on ingredients to support overall health and wellness and immunity.  More consumers are working from home, avoiding the gym, experiencing shopping restrictions and juggling financial difficulties. So while we are witnessing dips for niche ingredients and categories, usage is steady among vitamin and mineral supplements, signaling an intensified focus on ingredients to support overall health and wellness." 
In light of the pandemic, CRN's 2020 survey takes a closer look at specific ingredients supplement users are taking to support their immunity, mental health, sleep health and energy. When it comes to supplements taken for mental and sleep heath, melatonin, magnesium and CBD were among the most popular ingredients. Data also revealed that vitamin C (61 percent), the multivitamin (57 percent), and vitamin D (47 percent) are the top three ingredients users are taking to support their immune health. Other high profile immune ingredients like zinc, probiotics and elderberry also ranked among the top 10 list of immunity ingredients according to the 2020 survey.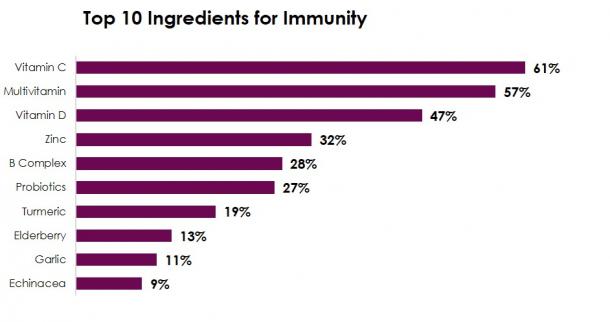 Other new data in the 2020 survey include expanded questions on probiotics and delivery form preferences. This year's data includes the specific reasons probiotic users take these products and what is most important to consumers when it comes to their preferred delivery methods. CRN members and non-members are able to purchase the results of the latest CRN Consumer Survey on Dietary Supplements again this year. To learn more about both the COVID-19 and 2020 surveys, register for CRN's virtual conference, Now, New, Next, to hear survey insights and trends from over the years.  For more information, or to purchase the 2020 survey, contact Holly Vogtman (hvogtman@crnusa.org).
About the Survey
Conducted annually since 2000, the CRN Consumer Survey on Dietary Supplements has served as the leading resource for statistics on usage of dietary supplements. The 2020 survey was fielded Aug. 27-31, 2020, by Ipsos, and was funded by CRN. The survey was conducted online in English and included a national sample of 2,006 adults aged 18 and older living in the United States, including 1,471 among those who are considered supplement users. The precision of Ipsos online polls are measured using a credibility interval. In this case, the poll has a credibility interval of plus or minus 2.5 percentage points for all respondents, and plus or minus 2.9 percentage points for supplement users.
Note to Editor: 
About CRN: The Council for Responsible Nutrition (CRN), founded in 1973, is a Washington, D.C.-based trade association representing 180+ dietary supplement and functional food manufacturers, ingredient suppliers, and companies providing services to those manufacturers and suppliers. In addition to complying with a host of federal and state regulations governing dietary supplements and food in the areas of manufacturing, marketing, quality control and safety, our manufacturer and supplier members also agree to adhere to additional voluntary guidelines as well as to CRN's Code of Ethics. Visit www.crnusa.org. Follow us on Twitter @CRN_Supplements and LinkedIn. 
About Ipsos: Ipsos is the world's third largest market research company, present in 90 markets and employing more than 18,000 people. Our passionately curious research professionals, analysts and scientists have built unique multi-specialist capabilities that provide true understanding and powerful insights into the actions, opinions and motivations of citizens, consumers, patients, customers or employees. We serve more than 5000 clients across the world with 75 business solutions. Founded in France in 1975, Ipsos is listed on the Euronext Paris since July 1st, 1999. The company is part of the SBF 120 and the Mid-60 index and is eligible for the Deferred Settlement Service (SRD).