Washington, D.C., January 28, 2019 —The Council for Responsible Nutrition (CRN), the leading trade association for the dietary supplement and functional food industry, today announced that CRN president and CEO, Steve Mister, and Scott Bass, partner, Sidley Austin LLP, will co-chair the 7th Legal, Regulatory, and Compliance Forum on Dietary Supplements, produced in collaboration with American Conference Institute (ACI). The conference will take place in New York City at the Intercontinental New York Times Square on June 18–20.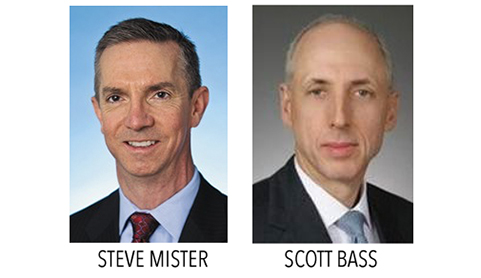 "From social media marketing to tariffs on ingredients, and from CBD sales to new auditing requirements from retailers, this industry is facing many new and unique legal challenges. I'm excited that CRN and ACI are again collaborating on what's become known as a 'must-attend' forum for executives in the dietary supplement space," Mr. Mister said. "Scott and I are currently developing the program with ACI, selecting top experts from industry, government, and academia to educate attendees about the latest legal, regulatory, and compliance obligations for dietary supplement and functional food products and their ingredients. This year's agenda promises a 'can't-miss' event."
The conference, which has grown each year, attracts both in-house and outside counsel, regulatory compliance personnel, QC specialists and government relations professionals, all interested in how the regulations impact business decisions and how to develop long-term strategies for maneuvering these challenges. In addition to the main symposium, attendees will have the opportunity to choose elective workshops to customize their experience and augment their learning. Workshop topics will be announced in upcoming weeks along with agenda details.
Mr. Bass heads Sidley Austin's Global Life Sciences team, coordinating pharmaceutical, medical device, food and dietary supplement matters in the U.S., Europe, and Asia. He is ranked internationally among the top authorities on FDA-related enforcement and regulatory issues and was the lead industry negotiator and one of the principal drafters of the Dietary Supplement Health and Education Act of 1994 (DSHEA). Mr. Bass is widely regarded as a visionary thinker for how dietary supplements are regulated to balance consumer safety with providing broad consumer access to these products.
Mr. Mister has been president and CEO of CRN for nearly 14 years. During his tenure, CRN has been instrumental in enacting the adverse event reporting law for dietary supplements, the Designer Anabolic Steroid Control Act, and defeating several efforts in Congress that would have over-regulated dietary supplements, limiting consumer access. Mr. Mister drove the launch of the Supplement OWL, the industry-wide online registry of dietary supplement labels. He is a member of the U.S. Chamber of Commerce's Association Committee of 100, holds a Certified Association Executive (CAE) distinction, and is active in the American Society of Association Executives (ASAE). Prior to joining CRN, Mr. Mister served in several legal and legislative roles for over a decade at another association, most recently as Associate General Counsel, and as an attorney in the Washington, D.C., law firm Wiley, Rein & Fielding.
Early-bird registration is now open and CRN member companies can use the discount code provided on CRN's website to receive a 10 percent discount on registration fees. The conference has sold out in recent years, so early booking is encouraged.
Sponsorship opportunities are available. Please contact sponsorinfo@americanconference.com.
The Council for Responsible Nutrition (CRN), founded in 1973, is a Washington, D.C.-based trade association representing 150+ dietary supplement and functional food manufacturers, ingredient suppliers, and companies providing services to those manufacturers and suppliers. In addition to complying with a host of federal and state regulations governing dietary supplements and food in the areas of manufacturing, marketing, quality control and safety, our manufacturer and supplier members also agree to adhere to additional voluntary guidelines as well as to CRN's Code of Ethics. Visit www.crnusa.org. Follow us on Twitter @CRN_Supplements, Facebook, and LinkedIn.