MARCH 4, 2021
WASHINGTON—The Council for Responsible Nutrition (CRN), the leading trade association for the dietary supplement and functional food industry, today announced the launch of a new Supplement OWL (Online Wellness Library) website to further increase industry transparency.
The updated design prioritizes user experience, welcomes a broader registry audience and enables easier industry participation in the voluntary product listing. 
The Supplement OWL website now provides clear navigation for each of three different user groups – business participants, such as brand owners and suppliers, supplement users, and regulators. "We prioritized upgrading user experience," said Gretchen Powers, CRN's senior director of marketing and member experience. "These enhancements help users, like consumers and regulators, find the information they need quickly and easily."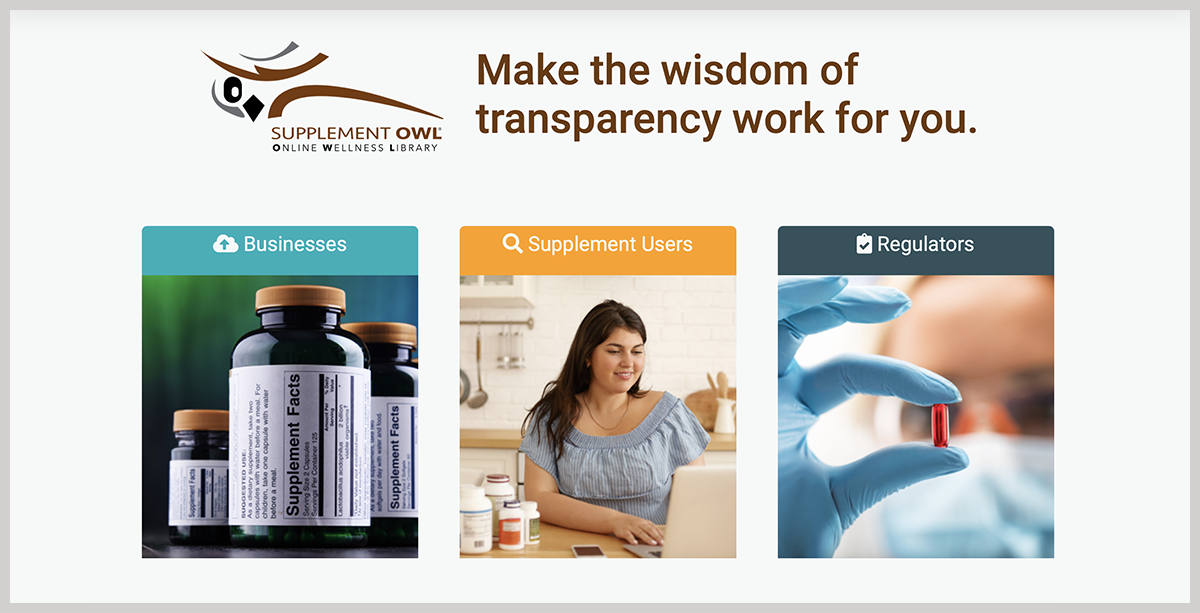 As the dietary supplement industry's groundbreaking self-regulatory product database, the Supplement OWL has served as a resource for regulators, retailers, industry, and consumers since 2017. The new website represents the next phase of the Supplement OWL, following on a previously announced series of upgrades to the back-end aspects of the registry to ease entry of product information. Today's announcement illustrates attention to the front-end look and feel to improve overall user experience. Already in use by manufacturers and suppliers, the Supplement OWL's new design creates a richer, more complete picture of the dietary supplement marketplace for supplement users and regulators. 
The new improvements to the Supplement OWL will enable regulators to more easily access important product and manufacturer information, promoting accountability to consumers and the broader industry. Business participants can now add their products to the database more easily – using tools that they have been requesting – and now with a cleaner, more attractive interface. For supplement users, the OWL helps them easily identify products, their ingredients, and the companies behind them. 
"Broad industry participation in the Supplement OWL is critical," said Luke Huber, ND, MBA, vice president of scientific and regulatory affairs at CRN. "This self-regulatory initiative serves as a model for mandatory product listing, proposed by FDA and supported by CRN and other responsible stakeholders in the industry."
CRN urges all companies that market dietary supplement products to participate in this critical self-regulatory initiative. For more information about the Supplement OWL, visit www.SupplementOWL.org or email SupplementOWL@crnusa.org. 
The Council for Responsible Nutrition (CRN), founded in 1973, is a Washington, D.C.-based trade association representing 180+ dietary supplement and functional food manufacturers, ingredient suppliers, and companies providing services to those manufacturers and suppliers. In addition to complying with a host of federal and state regulations governing dietary supplements and food in the areas of manufacturing, marketing, quality control and safety, our manufacturer and supplier members also agree to adhere to additional voluntary guidelines as well as to CRN's Code of Ethics. Visit www.crnusa.org. Follow us on Twitter @CRN_Supplements and LinkedIn.