---
NEW DATA FOR 2022–2030
---
From our 2012 Report:
Use of specific dietary supplements in targeted populations not only provides health benefits, but also offers significant savings for health care costs, according to report, "Smart Prevention—Health Care Cost Savings Resulting from the Targeted Use of Dietary Supplements," issued by the economic firm Frost & Sullivan, through a grant from the Council for Responsible Nutrition (CRN) Foundation. The report examined four different chronic diseases and the potential for health care cost savings when U.S. adults age 55 and older diagnosed with these chronic diseases used one of eight different dietary supplement regimens. It demonstrated that supplementation at preventive intake levels in high-risk populations can reduce the number of disease-associated medical events, representing the potential for hundreds of millions of dollars—and in some cases billions—of savings. 
This economic report demonstrates that the use of specific dietary supplements among those consumers that are at a high risk of experiencing a costly disease-related event can lead to a positive health care cost savings.
---
Infographics & Press Releases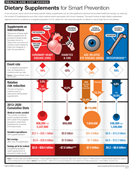 New Economic Report Finds Dietary Supplement Usage Helps Reduce Individual and Societal Health Care Costs 
---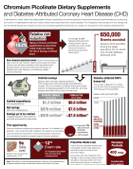 Chromium Picolinate
Chromium Picolinate Supplements to Help Manage Diabetes Is a Discussion Worth Having with Your Health Care Practitioner 
---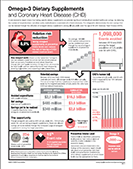 Omega-3
Be Good to Your Heart: Supplement with Omega-3s  
---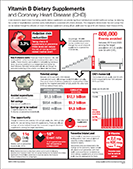 Vitamin B
Roses Are Red. Violets Are Blue. Vitamin B Supplements Are Beneficial for Heart Health—and Wallets, Too
---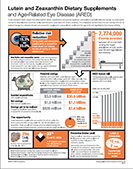 Lutein and Zeaxanthin 
Smart Prevention in Sight with Eye-Health Dietary Supplements    
---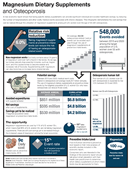 Magnesium
Magnesium and Your Bones: Partners in Health and Finance
---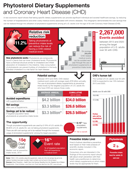 Phytosterols
Phytosterol Supplements Help Protect Your Heart—and Wallet                           
---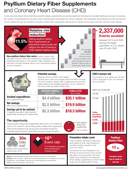 Psyllium
Significant Health Care Cost Savings Could Be Realized through Use of Psyllium Dietary Fiber 
---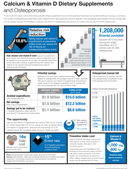 Calcium & Vitamin D 
New Economic Report Points to Additional Reasons to Supplement with Calcium & Vitamin D 
---
Download individual chapters: