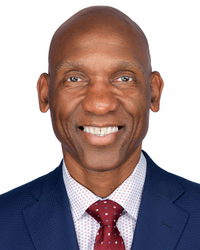 Senior Director, Communications
202-204-7665 / cmuckle@crnusa.org
Craig Muckle is an accomplished, award-winning communications professional with more than 35 years of experience in corporate public relations and/or government affairs roles. In November 2021, he accepted the Director of Communications position with the Council for Responsible Nutrition (CRN), the leading trade association for the nutritional supplements industry.
Prior to joining CRN, Muckle spent nearly three years as manager, public policy for the Archdiocese of Washington following an 18-year tenure as Safeway's Eastern Division Manager, Public Affairs and Government Relations. His previous corporate experience also includes employment with Rite Aid, BET and ESPN in addition to serving as an adjunct professor in Howard University's School of Communications from 2014 to 2016. His areas of specialty include media, government and community relations; strategic communications; writing; consensus building and collaboration; and event planning.
 The native of West Haven, Conn. holds a Bachelor of Arts degree in Communications from the University of Dayton and is the father of three children.