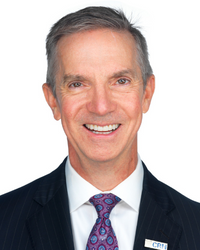 President & CEO
202-204-7676 / smister@crnusa.org
Steve Mister has been President & CEO of the Council for Responsible Nutrition (CRN), the leading trade association for the dietary supplement industry, since 2005. Under his leadership, CRN has experienced increased membership each year, doubled its annual budget, sharpened its strategic focus to advance the industry, and launched new initiatives that increase industry responsibility and provide consumer education. During Mr. Mister's tenure, CRN has been instrumental in enacting the adverse event reporting law for dietary supplements, the Designer Anabolic Steroid Control Act, and defeating several efforts in Congress that would have over-regulated dietary supplements, limiting consumer access. Mr. Mister led the association to launch the Supplement OWL, an industry-run online registry of dietary supplements and their labels. He is a member of the U.S. Chamber of Commerce's Association Committee of 100, holds a Certified Association Executive (CAE) distinction, and is active in ASAE.
In addition to his role as President of CRN, Mr. Mister is the President of the CRN Foundation that has housed several of the association's consumer education and self-regulatory programs. Among the Foundation's achievements are the creation of a highly successful consumer wellness education campaign (Life…supplemented), a program with the National Advertising Division of the Council of Better Business Bureaus to review supplement advertising, and an economic report on healthcare cost savings from the targeted use of specific supplements prepared by Frost & Sullivan. Mr. Mister also serves on the steering committee of the Dietary Supplement Quality Collaborative (DSQC) and served as vice chair of the International Alliance of Dietary Supplement Associations (IADSA) 2018–2022.
Prior to joining CRN, Mr. Mister served in several legal and legislative roles for over a decade at the Consumer Healthcare Products Association (CHPA), completing that tenure as Vice President and Associate General Counsel. Mr. Mister also worked as an attorney in the Washington, D.C., law firm Wiley, Rein & Fielding in the general litigation, government ethics, and federal election law practice groups, and had a stint on Capitol Hill as a media relations assistant for former U.S. Senator Charles McC. Mathias, Jr.