JULY 13, 2022
WASHINGTON—The CRN Foundation's Vitamin D & Me! campaign has won the 2022 NutraIngredients-USA Editors Award for Industry Initiative of the Year. The campaign's website was created to make consumers aware of the research being conducted to examine the relationship between vitamin D and COVID-19. The CRN Foundation is managed by the Council for Responsible Nutrition (CRN), the leading trade association for the dietary supplement and functional food industry.
"We are absolutely delighted to be recognized for our work helping people make informed decisions to maintain their health," said CRN President & CEO Steve Mister, who also serves on the CRN Foundation Board of Directors. "The swift and devastating impact of the COVID-19 virus forced all of us to seek out ways to boost our immune systems. Vitamin D & Me! was our opportunity to serve the public with science-backed information on how vitamin D supports the immune system. Thank you, NutraIngredients-USA, for this award and for validating our efforts to inform the public." 
Launched in 2021, Vitamin D & Me! made consumers aware of the health benefits of vitamin D by sharing research summaries and video interviews with the nation's leading vitamin D researchers and clinicians. CRN associate member Nutrasource, a leading nutraceutical and pharmaceutical life sciences services company, was the foundation's partner for scientific content development.
Vitamin D & Me! was the only campaign supported by the supplement industry to share unbiased, scientifically-backed information about the connection between vitamin D and COVID-19. To date, the initiative's website has tracked and summarized more than 100 clinical studies on vitamin D and COVID-19.
"Our goal was to reach the demographic most vulnerable to the effects of COVID, Americans ages 55 and up—and our message connected with 5.8 million of them," said CRN's Senior Director of Communications, Kendall Ridley, who oversaw the outreach campaign. "The CRN Foundation's program ultimately impacted countless Americans courtesy of local television coverage, national radio via SiriusXM's "Doctor Radio" show, and more than 980 media outlets across the United States."
The next phase of Vitamin D & Me! will focus on outreach to dietitians and nutritionists from more than 65 national retailers at Shopping for Health, taking place July 24–27 in Salt Lake City, Utah, along with a coordinated digital outreach campaign.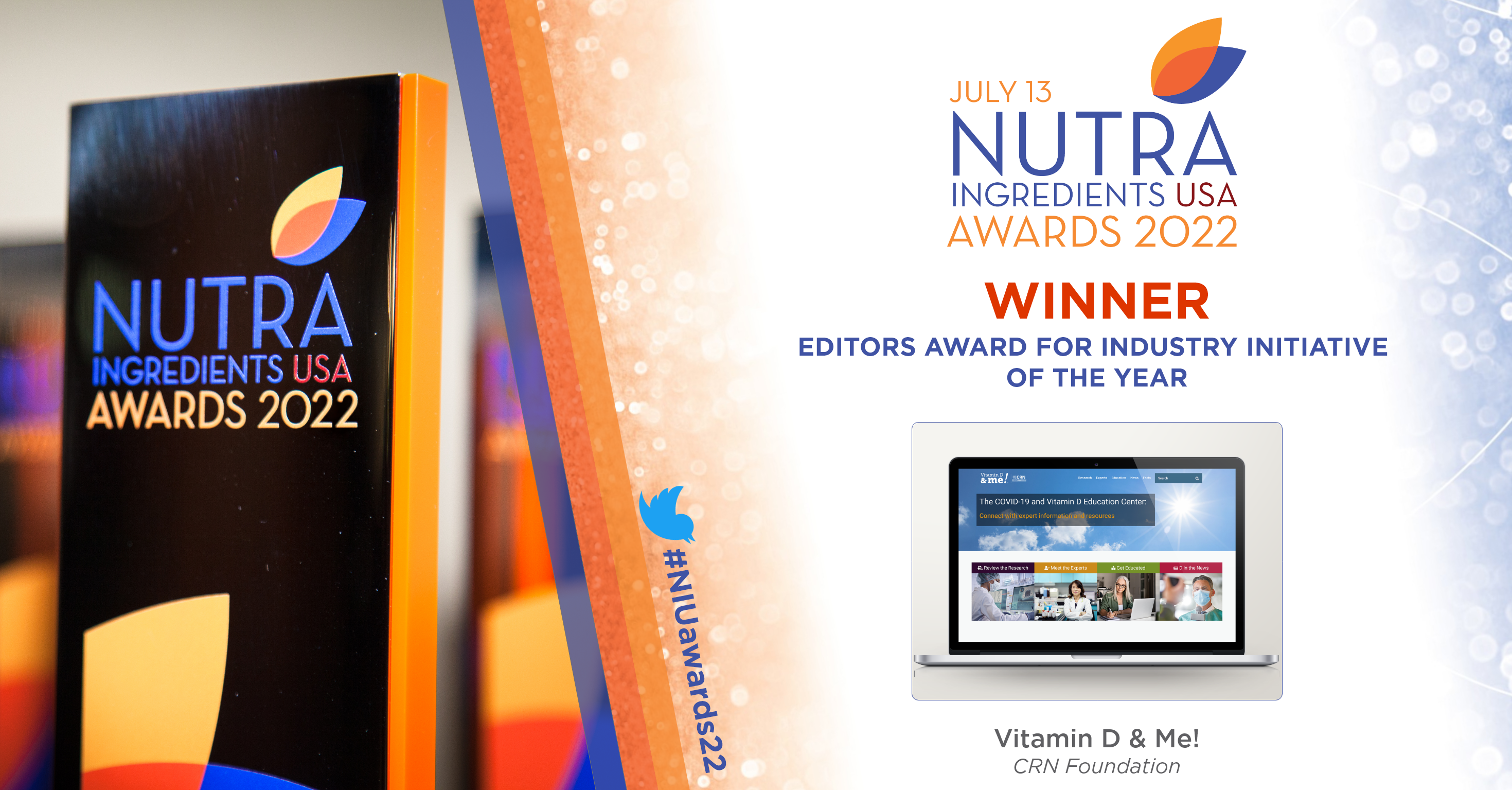 The Council for Responsible Nutrition (CRN), founded in 1973, is a Washington, D.C.-based trade association representing more than 200 dietary supplement and functional food manufacturers, ingredient suppliers, and companies providing services to those manufacturers and suppliers. In addition to complying with a host of federal and state regulations governing dietary supplements and food in the areas of manufacturing, marketing, quality control and safety, our manufacturer and supplier members also agree to adhere to additional voluntary guidelines as well as to CRN's Code of Ethics. For more information, visit www.crnusa.org. Follow us on Twitter @CRN_Supplements and LinkedIn.