CRN strongly supports the creation of a mandatory product listing (MPL) housed at FDA to provide transparency to regulators, retailers and consumers alike.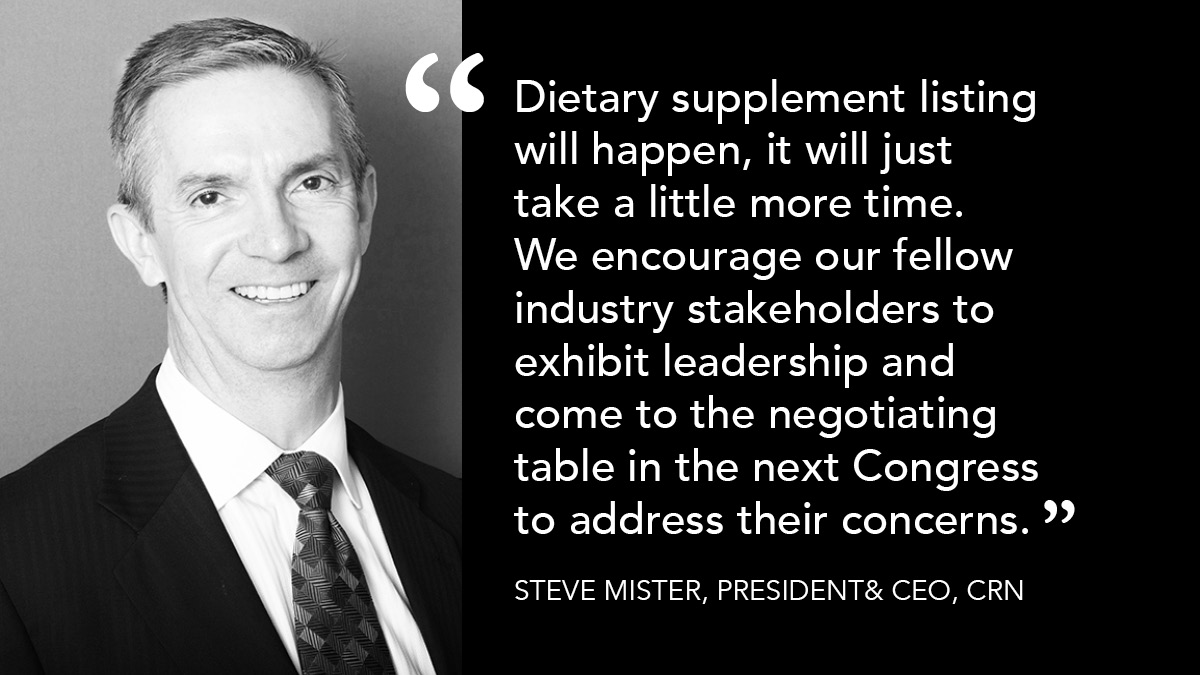 ---
---
SEPTEMBER UPDATE
NEW: CRN Disappointed, but Remains Committed to Product Listing for Dietary Supplements
Congressional leadership with jurisdiction over the FDA user fee reauthorization process have aligned on a version of the FDA Safety and Landmark Advancements (FDASLA) Act that does not include dietary supplement Mandatory Product Listing (MPL), diagnostics, or cosmetics.
What's next: There is still a chance for MPL to be part of an end-of-year omnibus package. CRN will continue to work to find a legislative vehicle for MPL while advocating for the priorities our board of directors affirmed. "There is still some very strong interest in doing these other FDA-related things before the end of the session," said CRN's President and CEO Steve Mister, commenting in coverage from NutraIngredients-USA.
---
AUGUST UPDATE
CRN is still at the table negotiating the details of mandatory product listing (MPL) legislation, President & CEO Steve Mister assured members in an open letter to the industry, as reported by Nutrition Insight and Nutritional Outlook.
---
Help CRN advance efforts to enact federal legislation that would establish an MPL for dietary supplements in the U.S. market. Contact your elected officials—be heard! Find your member of Congress.
---
Recent publications on policy-making details:
JUNE 14 UPDATE: CRN Steadfast to Secure Responsible Mandatory Product Listing for Dietary Supplements
MAY 27 UPDATE: CRN Objects to Missing Protections in FDA Safety and Landmark Advancements Act
---
---
LEARN MORE ABOUT MANDATORY PRODUCT LISTING FOR SUPPLEMENTS:
Additional resources and coverage:
More: 
Things to Know About Mandatory Product Listing
Catch up on CRN's thought leadership on MPL in the articles below:
Stop the sale of bogus supplements as a cure or treatment for COVID-19 
by Julia Gustafson with Liz Richardson of The Pew Charitable Trusts in The Hill 
A Mandatory Dietary Supplement Registry: Transparency as 'disinfectant'
by Steve Mister in RAPS Regulatory Focus
Mandatory Product Listing: Beneficial, or Burdensome?
by Steve Mister in WholeFoods Magazine
CRN has supported MPL for years, see this video from 2020: