JANUARY 3, 2023
CRN Welcomes Passage of INFORM Consumers Act
WASHINGTON, DC—The Council for Responsible Nutrition (CRN), the leading trade association for the dietary supplement and functional food industry, responded to the Dietary Supplement Listing Act's exclusion from the end-of-year Omnibus package.
Now that the ink has dried on the final Omnibus legislation, the CRN team is, of course, disappointed that Dietary Supplement Listing, as revised by Senator Richard Durbin (D-IL) after extensive negotiations with CRN, was not included in the massive end-of-year package. Dietary supplement listing could have advanced FDA's oversight of the marketplace and demonstrated the industry's commitment to be held accountable among retailers and consumers. The absence of full industry support of a listing in the 117th Congress is a missed opportunity.
CRN is nevertheless encouraged by the inclusion of language in the Agriculture/FDA Appropriations Committee report that accompanies the legislation which states: "The agreement supports FDA's proposal to require that all products marketed as dietary supplements be listed with FDA. The agreement believes that FDA's authorities over products marketed as dietary supplements should be clarified to facilitate enforcement against unlawfully marketed products."
This bi-partisan, bicameral report language indicates there is still substantial interest in Congress to address the gap in enforcement tools which hampers FDA's oversight of the $56 billion dietary supplement industry.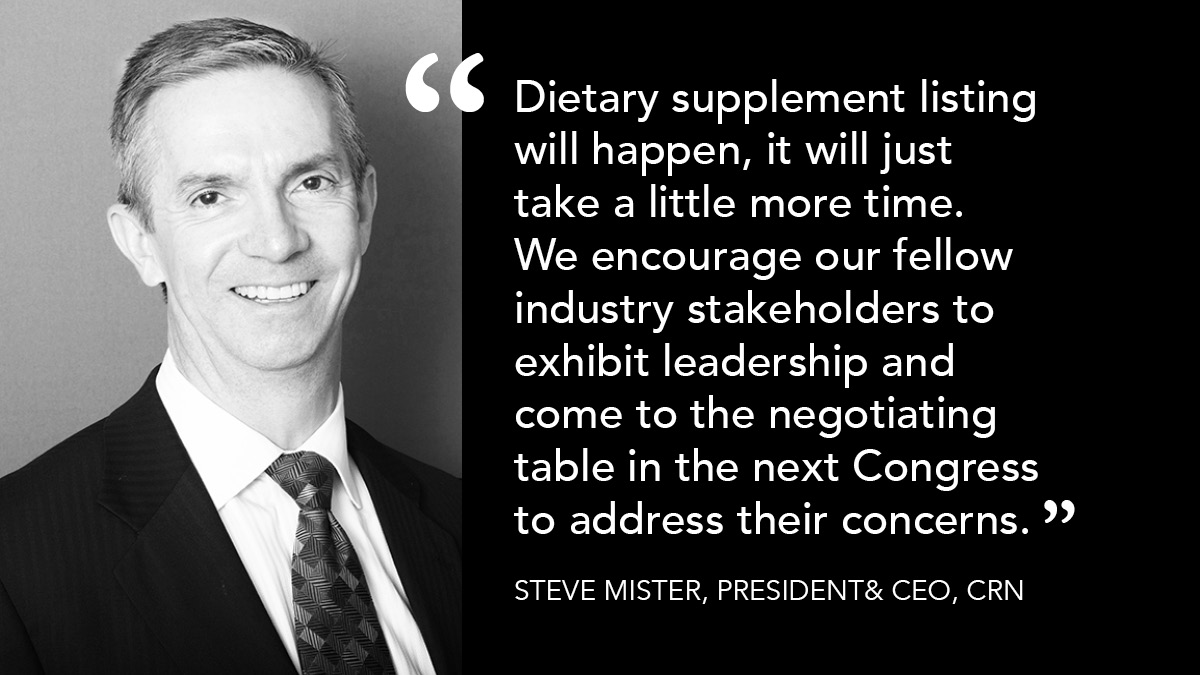 CRN President & CEO Steve Mister stated:
"Dietary supplement listing will happen, it will just take a little more time. We encourage our fellow industry stakeholders to exhibit leadership and come to the negotiating table in the next Congress to address their concerns.
"As FDA has repeatedly stated, it cannot regulate what it can't see, and dietary supplement listing will illuminate the dark corners of the marketplace by requiring all dietary supplement labels to be enrolled with the agency when these products come to market. Responsible companies across this industry have complained for years about lax enforcement of DSHEA—it's disheartening that when the chance to provide a meaningful tool to FDA was presented, it didn't receive more widespread support.
"Much disinformation has been propagated by the opponents of a dietary supplement product registry. We are confident that, with time, many of these opponents will appreciate its benefits. Reputable companies will be advantaged by that level of transparency and the ability to identify and protect themselves against the very actors that vex responsible players today.
"Retailers are looking for ways to self-regulate and curate the products they offer for sale; consumers want to know the products they purchase are visible to regulators. CRN looks forward to advancing these goals with our continued support for dietary supplement listing."
Regarding other legislation passed that will help protect consumers, CRN is pleased that the INFORM Consumers Act was included in the end-of-year Omnibus package. This legislation, which CRN supported, is critical to ensuring that consumers may purchase safe products from online marketplaces. With the enactment of this policy, online marketplaces will now be required to verify the identity of high-volume third-party vendors; this will help to combat the sale of counterfeit and illicit products.
The Council for Responsible Nutrition (CRN), founded in 1973, is a Washington, D.C.-based trade association representing more than 200 dietary supplement and functional food manufacturers, ingredient suppliers, and companies providing services to those manufacturers and suppliers. In addition to complying with a host of federal and state regulations governing dietary supplements and food in the areas of manufacturing, marketing, quality control and safety, our manufacturer and supplier members also agree to adhere to additional voluntary guidelines as well as to CRN's Code of Ethics. For more information, visit www.crnusa.org. Follow us on Twitter @CRN_Supplements and LinkedIn.