CRN's Supplemental blog is a platform for unique takes on supplement industry issues. See our editorial guidelines and contact Craig Muckle to contribute.
NOVEMBER 3, 2022 |   Join the conversation on LinkedIn and Twitter   
CRN and staff posts are intended for the education of the public, our industry, and our members. CRN welcomes differences of opinion and debate. We reserve the right to moderate comments containing misinformation or disrespect.

By Mike Meirovitz, Director, Government Relations, CRN
The CRN Now, New, Next symposium was my first in-person conference since before the pandemic. Being one of the newest additions to CRN's staff joining earlier this year, I came to Phoenix uncertain of what to expect. Up until that point, I had only "met" many of our members through email exchanges and/or Zoom meetings. Ironically enough for me, the conference was held at the Arizona Biltmore, an amazing venue I last visited for exactly 10 years ago in October 2012. At the time, I was a graduate student and was doing some work for a smaller metro Washington, D.C.-based trade association, thus I was no stranger to these types of events. But my main takeaway from Phoenix this time around was clear — what struck me the most about those four days in Arizona is just how much CRN sets itself apart from other organizations. 
When I started at CRN, the one message I consistently heard from my colleagues is that the best part of working here is our membership. This was certainly proven to be true during the conference as members were welcoming, kind, and engaged around CRN's initiatives. The last point is most significant because all our members understand the importance of collaboration to address issues and challenges facing the dietary supplement industry. As my role focuses on public policy, I truly enjoyed conversing with members about their legislative concerns and getting a sense of how what happens in Washington and/or state capitals around the country impacts them on a personal level. In one of the more poignant moments of the conference, I recall someone saying that it does not matter that those in attendance represent competing companies and organizations. CRN provides the platform to work as one industry and solve problems together.

I also found the flow of the conference to be quite unique. The sessions reflected urgent issues which need to be addressed, but not all specific to dietary supplements. Speakers included a renowned economist, the host and moderator of Face the Nation, an executive who had worked for SpaceX, Facebook, Google, and more. The topics ranged from the CRN Foundation's recently released Supplements to Savings report to rethinking nutritional foods to sustainable packaging.
The conference itself rarely included breakouts meetings or isolated working groups instead providing all attendees with the same experience via the main singular program. The afternoon activities were more social in nature, allowing attendees to get to know one another outside of a professional setting.  What better way to bond than an early morning fun run (Spoiler alert…I walked) golf, fitness classes, and perhaps most notable, the opportunity to volunteer together at a local food bank. Prior to the official kickoff of the conference, I was told that we would all be tired and worn out by the end of the week, which is certainly what one would expect. But I left Phoenix energized and inspired, and grateful to be advocating on behalf of such a special industry.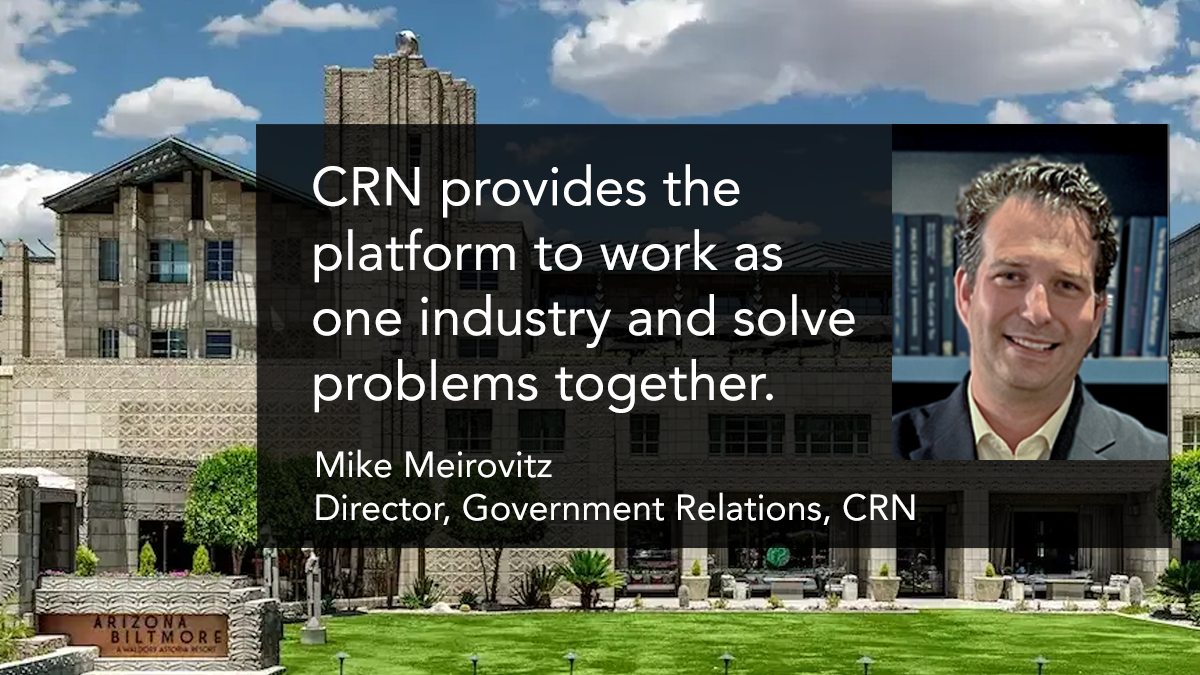 CRN's Now, New, Next was unlike any conference I had ever attended before. And I cannot wait to see everyone again next year at the Ritz-Carlton, Laguna Niguel in Dana Point, California, for our 50th anniversary event!
Mr. Meirovitz is responsible for managing federal and state policy initiates on behalf of CRN's members. He has spent over a decade in various government relations roles, having worked for two prominent lobbying firms and a trade association. Throughout his career, Mr. Meirovitz has represented a diverse group of clients including Fortune-500s, local governments, innovative small businesses, and start-up companies. Learn more about Mike...
Join Mike live on LinkedIn for the next "Washington Watercooler" November 15 at 12:30 pm Eastern—joined by CRN President & CEO Steve Mister and CRN Vice President, Government Relations, Julia Gustafson.