—Registration now open for annual dietary supplement and functional food industry events, 'Science in Session' and 'Now New Next'—
JULY 24, 2023
WASHINGTON – The Council for Responsible Nutrition (CRN), the leading trade association for the dietary supplement and functional food industry, will host its anticipated annual events, "Science in Session" and "Now New Next" at the Ritz-Carlton, Laguna Niguel, in Dana Point, California, Oct. 3–6.
Early bird registration with special pricing is available through Aug. 4.
"Supplement industry leaders seeking to drive responsible, sustainable business growth should make sure they have a seat at CRN's 2023 events," said Bruce Brown, annual conference chair, CRN board of directors chair-elect, and vice president, Supplement, End Use Market, Kerry. "By participating in the Now New Next sessions, your business gains a crucial edge. Anyone in this industry who is looking to embrace the opportunities that exist in our sector right now, and to ensure their business is set up to compete in a sustainable and socially responsible way, will be at this event."
---
---
Now New Next is CRN's signature business conference, taking place Oct. 4–6, with a welcome reception the evening of Oct. 3. The event will feature keynote speakers offering unique perspectives connecting society, technology and wellness, including: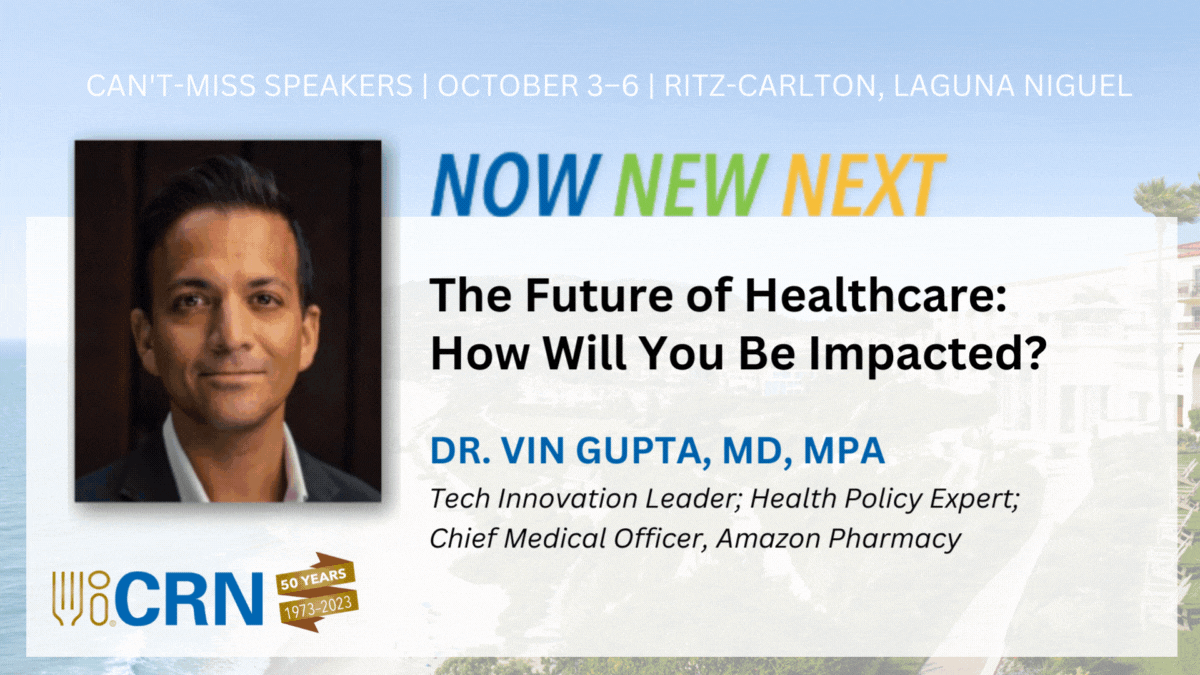 "CRN welcomes industry leaders in the supplement space to join us for discussions that will empower our businesses to thrive and innovate, continuing the dynamic growth our member companies have led over the past 50 years," CRN President & CEO Steve Mister said. "This year's 'Science in Session' and 'Now New Next' lineups will offer unique, cutting-edge perspectives, and actionable solutions to assure our industry's long-term impact."
Science in Session, CRN's day-long deeper dive into nutrition research, themed, "The Evolution of Science on Dietary Supplements: Past, Present, and Future," will take place Tuesday, Oct. 3, immediately prior to Now New Next. Speakers include:
Regan Bailey, Ph.D., R.D., associate director, Precision Nutrition Institute for Advancing Health Through Agriculture, Texas A&M University
Jeffrey Blumberg, Ph.D., FASN, FACN, CNS-S, research professor, Friedman School of Nutrition Science and Policy, Tufts University
Paul Coates, Ph.D., former director, Office of Dietary Supplements, NIH (retired), adjunct professor, School of Public Health, Indiana University Bloomington
Registration and additional event details, including networking opportunities and group activities, are available at www.crnusa.org/2023events.
The Council for Responsible Nutrition (CRN), founded in 1973, is a Washington, D.C.-based trade association representing 200+ dietary supplement and functional food manufacturers, ingredient suppliers, and companies providing services to those manufacturers and suppliers. In addition to complying with a host of federal and state regulations governing dietary supplements and food in the areas of manufacturing, marketing, quality control and safety, our manufacturer and supplier members also agree to adhere to additional voluntary guidelines as well as to CRN's Code of Ethics.  Follow us on Twitter @CRN_Supplements and LinkedIn.