DECEMBER 15, 2022
Nutrawise/YouTheory's General Counsel Tara Martin to Chair CRN's Board of Directors

WASHINGTON—The Council for Responsible Nutrition (CRN), the leading association for the dietary supplement and functional food industry, is pleased to announce that Tara Martin, general counsel, Nutrawise/You Theory, will serve as the association's new board of directors chair beginning in January 2023. Ms. Martin succeeds Barry Ritz, Ph.D., chief scientific officer and vice president, professional R&D and regulatory affairs, Nestlé Health Science, who has served in the role for the past two years and will continue to serve on the board as its Immediate Past Chair. Martin will serve as chair for the next two years.
Martin has been employed at Nutrawise/YouTheory for the past six years and has been a member of CRN's board since 2019, most recently as its Chair-Elect. As General Counsel for Nutrawise Health & Beauty Corporation, a manufacturer and distributor of high-quality dietary/nutritional supplements which are sold and marketed worldwide under the YouTheory brand, she provides strategic and day-to-day legal and business guidance to senior management and staff on a broad range of business and legal matters including regulatory compliance, intellectual property, employment law, contract management, corporate governance and compliance, sales practices, and risk management and loss mitigation.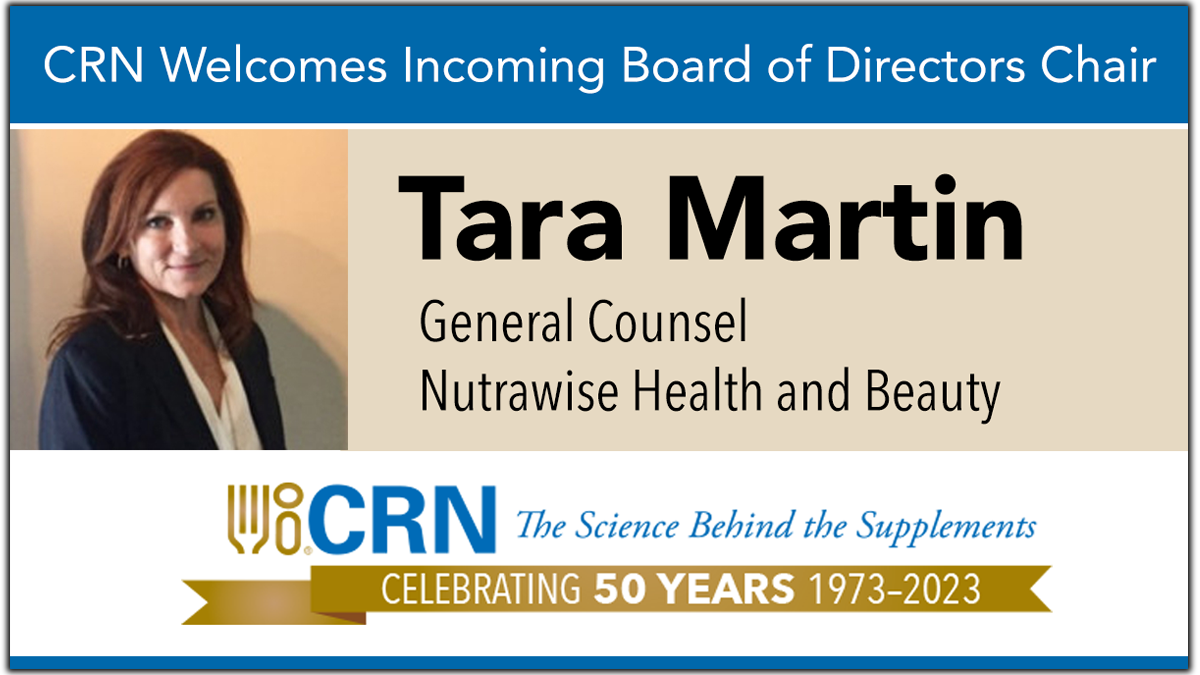 "We are pleased to announce Tara Martin's tenure as CRN board of directors chair in 2023," said CRN President and CEO Steve Mister. "As a board member, she has been essential in steering CRN decision making on critical issues affecting the dietary supplement and functional food industry. I look forward to working closely with her during the next two years. I also thank Barry for his leadership, particularly around the #Act4Access initiative, which raised awareness of how CRN members are actively working toward access to nutrition and nutrition education for all and helped mobilize more members in the fight against hunger."
Joining Martin as elected officers of the Board are:
Bruce Brown, vice president and general manager, nutrition and supplements, Kerry (Chair Elect); 
Mandy Kraynik, vice president, innovation, Nature's Way (Treasurer); 
Mark Walsh, CEO, MeriCal (Secretary); 
Barry Ritz, Ph.D., Nestlé Health Science (Immediate Past Chair); and 
Harvey Kamil, Piping Rock (Chair Emeritus).

In addition to the appointment of officers, the following individuals will serve as members of CRN's Executive Committee for 2023-24 – Aaron Bartz, Ortho Molecular; Aaron Bennett, Vytalogy; Christine Burdick-Bell, Pharmavite; Eric Choban, DSM; Mike Finamore, Gemini Pharmaceutical; Jennifer Holahan, Haleon; Lisa Pankiewicz, Clorox; Michelle Stout, Amway; Karen Todd, Kyowa Hakko; and Mike Yatcilla, Ph.D., Herbalife Nutrition. 
CRN's membership elected five new members of the Board of Directors. Joining the Board as representatives of the Finished Product Marketers/Manufacturers segment are Doug Brown, vice president, Americas, Sirio Nutrition Co. Ltd.; and Andrew Shao, Ph.D., senior vice president, global scientific and regulatory affairs, Chromadex. Elected from the Ingredients Suppliers segment are Justin Green, Ph.D., director of scientific affairs at Embria Health Sciences (re-elected); John Helfrick, director of human nutrition, BASF Corp. (re-elected); and Deshanie Rai, Ph.D., vice president, global scientific and regulatory affairs, OmniActive Health Technologies. All were elected to three-year terms.
"We are looking forward to the contributions of Doug, Andrew, Justin, John and Deshanie on the Board," Mister offered. "CRN has an ambitious program of work as we continue to advance a more favorable climate for our members to develop, source, manufacture, and market science-backed products for better health and nutrition. Our Board plays a critical role in developing and guiding that agenda."
The Council for Responsible Nutrition (CRN), founded in 1973, is a Washington, D.C.-based trade association representing more than 200 dietary supplement and functional food manufacturers, ingredient suppliers, and companies providing services to those manufacturers and suppliers. In addition to complying with a host of federal and state regulations governing dietary supplements and food in the areas of manufacturing, marketing, quality control and safety, our manufacturer and supplier members also agree to adhere to additional voluntary guidelines as well as to CRN's Code of Ethics. For more information, visit www.crnusa.org. Follow us on Twitter @CRN_Supplements and LinkedIn.