Association provides comprehensive evidence that FDA has information, tools needed to regulate the ingredient now

AUGUST 18, 2023 —WASHINGTON – The Council for Responsible Nutrition (CRN), the leading trade association representing the dietary supplement and functional food industry, has submitted its responses to a Congressional RFI (Request for Information) seeking comprehensive information from key industry stakeholders on CBD in order to develop "a regulatory pathway for non-intoxicating hemp-derived cannabinoid products that prioritizes consumer safety and provides certainty to the U.S. markets." 
The market for CBD products has grown into a multi-billion dollar one since the passage of the 2018 Farm Bill, but the industry has languished, due largely to a lack of national standards from FDA inaction that has hurt American hemp farmers, CBD manufacturers and the millions of consumers who use CBD and experience a variety of health benefits from these products. It was originally anticipated FDA would immediately regulate hemp-based products under the Dietary Supplement, Health and Education Act (DSHEA), which provides for the legal marketing of other botanical ingredients.
FDA has spent the past five years ignoring not only Congress' directive to regulate CBD, but also the credible, well-conducted research that demonstrates the safety of well-made CBD products. FDA's failure to establish a regulatory pathway for CBD has forced states to enact their own disparate policies to protect consumers. This has resulted in a patchwork of laws that is detrimental to the industry and should be unified by federal intervention.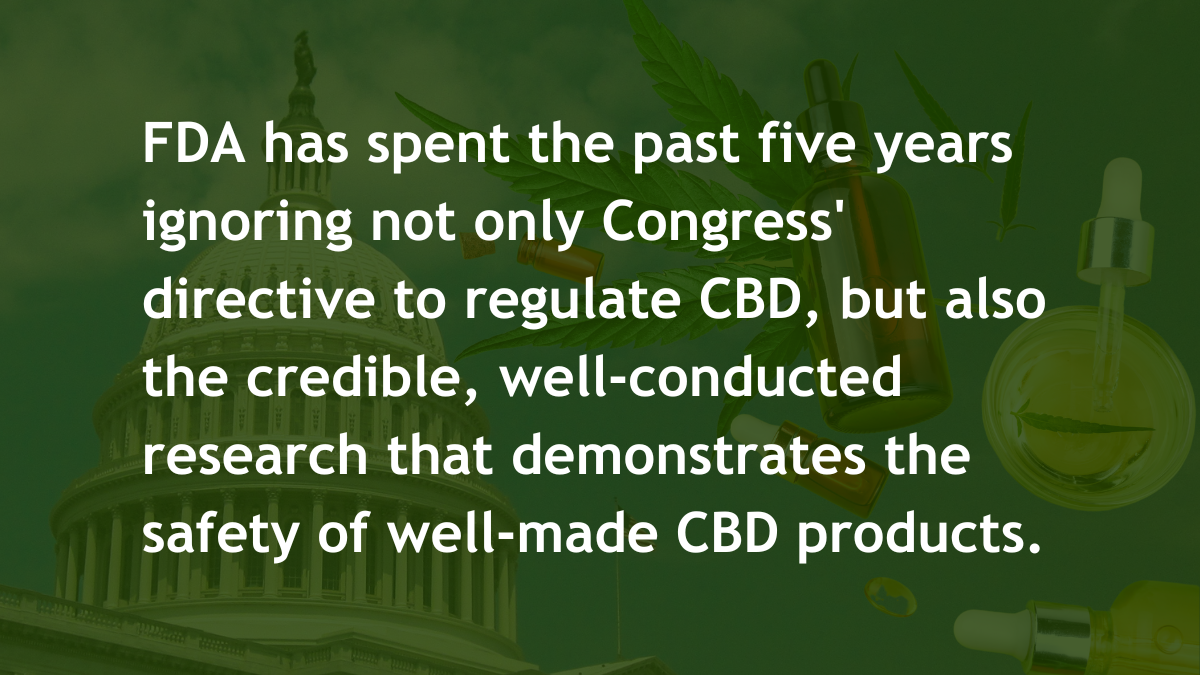 In 1994, Congress enacted DSHEA, giving FDA the authority to oversee the manufacturing and marketing of dietary supplements, defined to include "an herb or other botanical, concentrate, metabolite, constituent extract or combination." CRN points out that dozens of commonly used botanicals such as cranberry, aloe vera, garlic, ginseng, turmeric/curcumin, echinacea and green tea extract are all regulated under the provision. 
"Congress is asking the right questions, because they created in DSHEA a framework that could accommodate CBD, and their reasonable expectations for the FDA around this ingredient were not met," said CRN President and CEO Steve Mister. "Meanwhile, despite an overwhelming amount of safety data the industry has already presented to FDA, the agency continues to place an entire industry in innovation-stifling limbo, and consumers at continued risk in a needlessly unsupervised environment."
The full submission with CRN's comments and recommendations can be viewed here.
The Council for Responsible Nutrition (CRN), founded in 1973, is a Washington, D.C.-based trade association representing 200+ dietary supplement and functional food manufacturers, ingredient suppliers, and companies providing services to those manufacturers and suppliers. In addition to complying with a host of federal and state regulations governing dietary supplements and food in the areas of manufacturing, marketing, quality control and safety, our manufacturer and supplier members also agree to adhere to additional voluntary guidelines as well as to CRN's Code of Ethics.  Follow us on Twitter @CRN_Supplements and LinkedIn.