Methodology of Analysis Flawed, Confuses Adult and Pediatric Products
APRIL 25, 2023
Washington – The Council for Responsible Nutrition (CRN), the leading trade association representing the dietary supplement industry, has responded to a newly published research letter ("Quantity of Melatonin and CBD in Melatonin Gummies Sold in the U.S.") appearing in the Journal of the American Medical Association (JAMA), which suggests that clinicians should "advise" parents that the levels of melatonin in gummies are "unpredictable." 
Melatonin is often used for sleep support, with products labeled either for adult use or for use in children. According to the National Center for Complementary and Integrative Health at the National Institutes of Health, "…melatonin supplements at normal doses appear to be safe for most children…" This research letter raises unnecessary concern about these products and evidences a complete lack of understanding of the federal requirements for dietary supplements as well as the strong safety profile of melatonin among users of all ages.
Almost all of the 25 products sampled contained adult servings and are expressly labeled for use in adults, yet the authors conflate their findings with pediatric data. More concerning, they erroneously applied the FDA's drug standard for overage/underage of ingredients (+/- 10 percent) for ingredient levels. The FDA's regulation of dietary supplements requires companies to ensure that the products they sell meet 100 percent of label claim throughout the product's shelf life. To do this, companies determine an appropriate and safe amount of ingredient overage that would provide at least the labeled per serving amount of each ingredient over time as degradation naturally occurs. This practice is permitted by FDA regulations.
"This report does a complete disservice to a safe product when it is used according to manufacturer's instructions," said Steve Mister, President and CEO of the Council for Responsible Nutrition. "Parents know how to take care of their own kids, and, often in consultation with their health care providers, have been safely giving the pediatric versions of these melatonin products to their children for years."
After reviewing the letter, CRN also noted that no data was presented in the findings to suggest any children were harmed by pediatric levels of melatonin given as directed. Instead, the study authors conflate the issue by attempting to connect poison control center data capturing unintended ingestion of presumably "overdose" levels of melatonin by children, with the potential overage amount of an ingredient a child could hypothetically be given in a single recommended serving of the product being used as intended.
"Supplement companies go to great lengths to ensure their products contain safe and consistent levels of dietary ingredients, as labeled," added Mister. "And while there may be some variability in overages as companies adhere to the FDA's requirements regarding shelf life and potency, it does not mean there is a risk in taking these products as intended. It's a misleading comparison to look at scenarios where kids, for example, got their hands on an entire bottle of adult gummies and became ill after eating multiple servings, versus having slightly more of an ingredient in a single serving that, if taken as directed, would pose no harm."
The letter also compared the labeled amounts with levels of CBD found in some of the sampled gummy products. Although it is clear to CRN that several, if not most, of the products sampled were not intended for pediatric use, CRN advises parents who do give their children melatonin, or other dietary supplements, to do so in consultation with their health care provider, and to keep all supplement products out of the reach of their kids.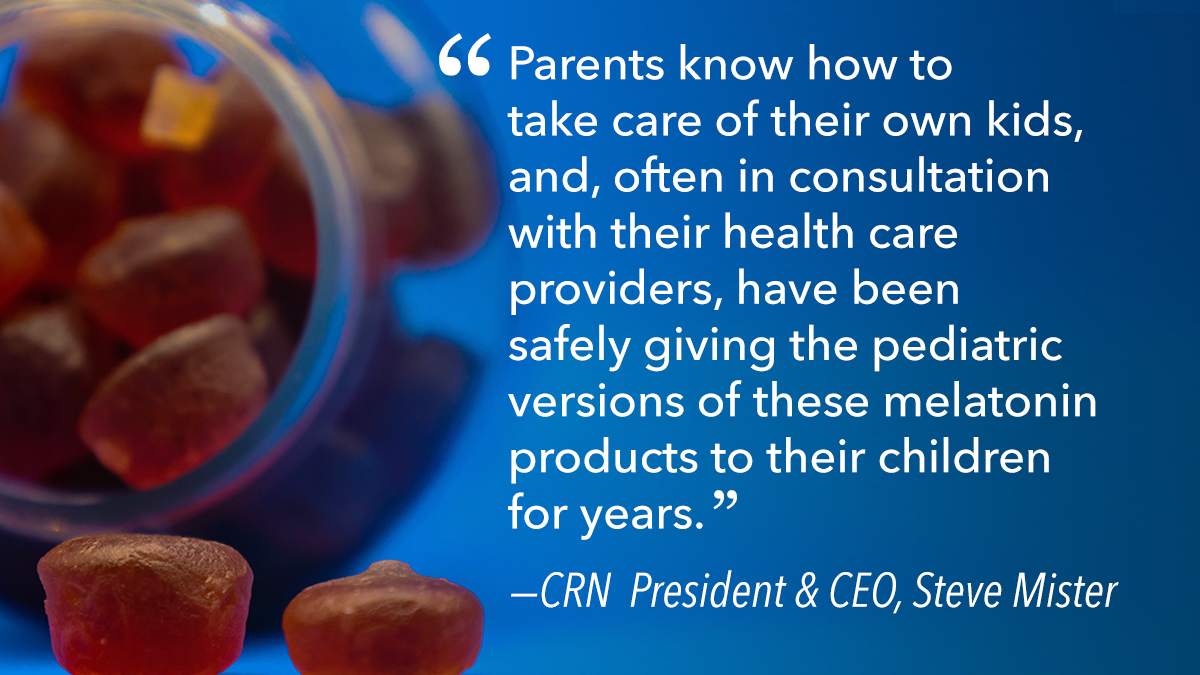 ---
The Council for Responsible Nutrition (CRN), founded in 1973, is a Washington, D.C.-based trade association representing more than 200 dietary supplement and functional food manufacturers, ingredient suppliers, and companies providing services to those manufacturers and suppliers. In addition to complying with a host of federal and state regulations governing dietary supplements and food in the areas of manufacturing, marketing, quality control and safety, our manufacturer and supplier members also agree to adhere to additional voluntary guidelines as well as to CRN's Code of Ethics. For more information, visit www.crnusa.org. Follow us on Twitter @CRN_Supplements and LinkedIn.