APRIL 11, 2022
Council for Responsible Nutrition (CRN) and the American Conference Institute (ACI) have teamed up once again to deliver the industry's annual Legal, Regulatory & Compliance Forum on Dietary Supplements (ACI-CRN Dietary Supplements Forum.). This year's conference will return live and in-person on June 29–30 at the Westin Grand Central hotel in New York City.
"It's such an important time to come together for in-depth discussions of the legal and regulatory challenges our industry faces," commented Steve Mister, CRN President & CEO, and this year's conference co-chair. Mister further elaborated that "Our ability to innovate and to deliver on growing consumer demand for safe, effective, and beneficial dietary supplement and functional food products depends on being able to maneuver the changing legal and regulatory landscape as well. This conference always delivers the latest advice, strategic insights to guide decisions, provocative conversations and the camaraderie that comes from exchanging ideas and learning with your colleagues."
Tara Falsani, General Counsel, VP at Nature's Way, who is also co-chairing this year noted that "Legal and regulatory issues are front and center for our industry, affecting supplements used for decades like n-acetyl-L-cysteine (NAC) and newer formulations such as hemp derived cannabidiol (CBD) alike, with the potential to affect other ingredients. Our agenda will help participants prepare for what's ahead."
This year's ACI-CRN Dietary Supplements Forum will be a comprehensive two-day conference—with an additional workshop day covering international and advertising and social media concerns for the industry.  The event will also have opportunities for networking and benchmarking on the latest developments affecting "products intended to supplement the diet." Live streaming option also available.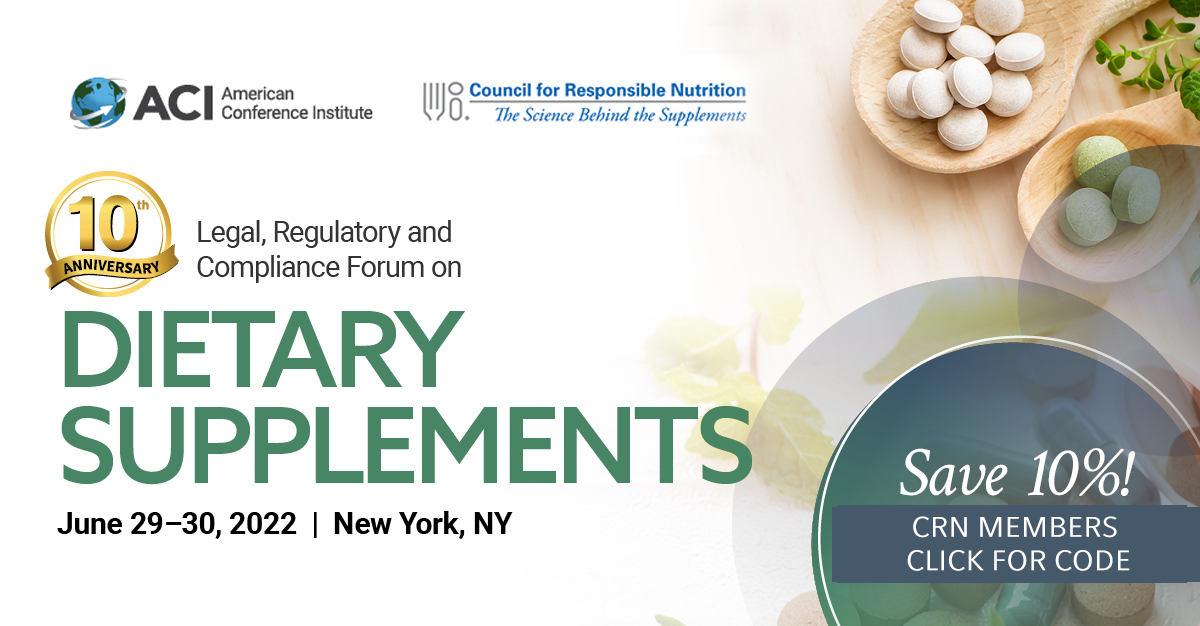 The Council for Responsible Nutrition (CRN), founded in 1973, is a Washington, D.C.-based trade association representing 200+ dietary supplement and functional food manufacturers, ingredient suppliers, and companies providing services to those manufacturers and suppliers. In addition to complying with a host of federal and state regulations governing dietary supplements and food in the areas of manufacturing, marketing, quality control and safety, our manufacturer and supplier members also agree to adhere to additional voluntary guidelines as well as to CRN's Code of Ethical Principles. Follow us on Twitter @CRN_Supplements and LinkedIn.
 A unique organization, American Conference Institute is devoted to providing the business intelligence that senior decision-makers need to respond to challenges both here in the US, and around the world. Staffed by industry specialists, lawyers and other professionals, American Conference Institute operates as a think-tank, monitoring trends and developments in all major industry sectors, the law, and public policy, with a view to providing information on the leading edge.