NOVEMBER 3, 2023
But CRN Remains Optimistic Balance Will Eventually Be Achieved
WASHINGTON – The Council for Responsible Nutrition (CRN), the leading trade association representing the dietary supplement and functional food industry, expressed disappointment with yesterday's FDA delay in responding to CRN's Citizen Petition submitted May 9, which requested the agency officially clarify its interpretation of the drug preclusion clause within the 180 days prescribed by law. In an "Interim Response," provided to CRN, the FDA attributed its failure to reach a decision on the petition within the statutorily prescribed timeframe to "competing agency priorities." Nevertheless, CRN remains optimistic that FDA is carefully evaluating the matter and receptive to restoring the balance between drug and dietary supplement innovation.
In its simplest terms, the drug preclusion clause—a provision in the 1994 Dietary Supplement Health and Education Act (DSHEA)—excludes an ingredient from use in dietary supplements if that ingredient was in a drug that was "first-to-the-market" or if the ingredient was previously studied for drug uses despite it otherwise qualifying as a lawful dietary ingredient. FDA is increasingly invoking this provision to exclude ingredients from supplement use, even in cases where the ingredient has been in the supplement market for years without FDA objection. 
In its petition, CRN contended the drug preclusion clause has been, and would likely continue to be, misapplied to dietary supplement ingredients, thus threatening future innovation. Among one of the most concerning issues raised in the CRN petition is FDA's interpretation that confidential Investigational New Drug (IND) application information can serve as the basis for preclusion, robbing supplement companies of the ability to fairly determine what ingredients FDA would consider blocked by this clause.  This lack of transparency can result in the supplement company spending millions of dollars to research the effectiveness and safety of a product that is ultimately destined to be removed from the market by the FDA. FDA's interpretation is legally invalid and contradictory to Congress' intent.   
At CRN's annual industry conference, held last month in California, Commissioner Robert Califf acknowledged the need for transparency on the issue, "…If you're going to innovate, you've got to have a set of rules that ensure that the innovations that you're making are actually beneficial and not detrimental," he said to 200 industry leaders attending a fireside chat between him and CRN President and CEO Steve Mister.  "And so, what those rules should be will be a topic of discussion. We're in favor of innovation."
"We remain committed to helping the FDA understand how vital this issue is to our industry and public health, and how important it is to level the playing field between pharmaceutical companies and supplement manufacturers when it comes to creating incentives for innovating first-to-market products," said Mister. "If the FDA is truly in favor of innovation, a thorough, if not timely, analysis and response to our petition, would be a great place to start. And if FDA continues to believe the current statute is unclear or lacking a balanced approach, we call on the agency to work with us and Congress to address these issues in legislation."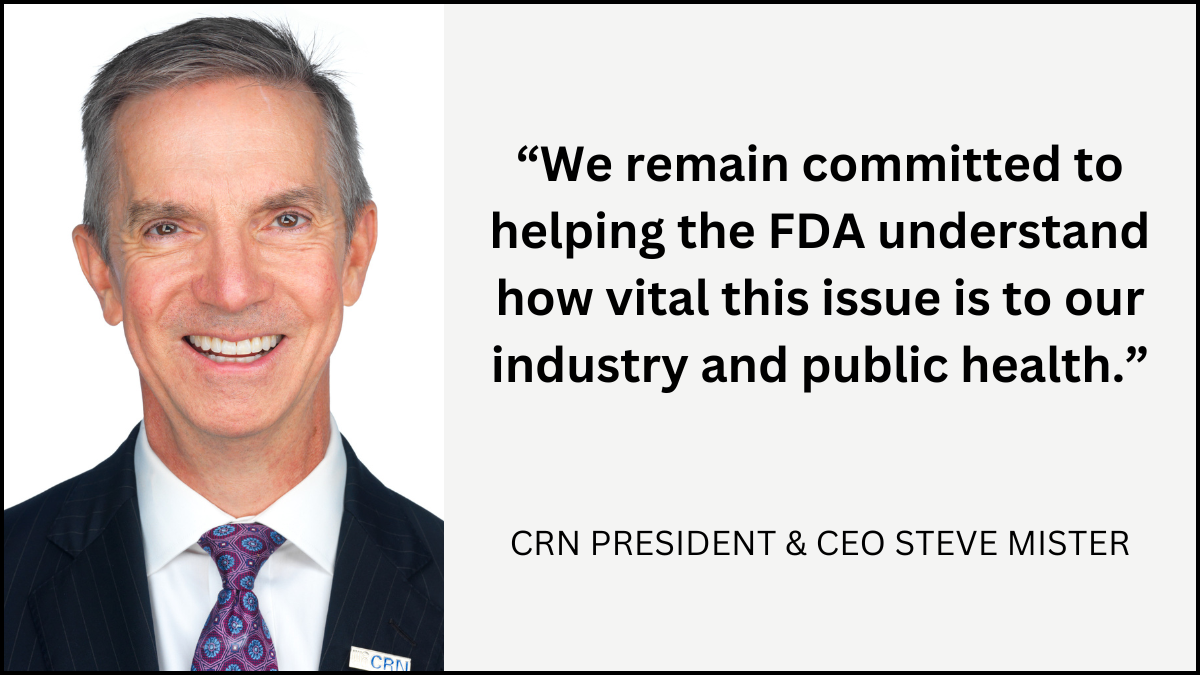 The Council for Responsible Nutrition (CRN), founded in 1973, is a Washington, D.C.-based trade association representing 200+ dietary supplement and functional food manufacturers, ingredient suppliers, and companies providing services to those manufacturers and suppliers. In addition to complying with a host of federal and state regulations governing dietary supplements and food in the areas of manufacturing, marketing, quality control and safety, our manufacturer and supplier members also agree to adhere to additional voluntary guidelines as well as to CRN's Code of Ethics.  Follow us on Twitter @CRN_Supplements and LinkedIn.