OCTOBER 5, 2023 | ACCESS INFOGRAPHICS
Survey analysis paints a picture of a 'new consumer' interested in optimizing their wellness 
WASHINGTON—The Council for Responsible Nutrition (CRN), the leading trade association for the dietary supplement and functional food industry, today announced findings from its anticipated annual survey of U.S. adults, conducted by Ipsos. Topline data from the 2023 CRN Consumer Survey on Dietary Supplements confirms the mainstream status of supplements and the important role they play in the lives of most Americans, with 74 percent of U.S. adults taking dietary supplements, and 55 percent qualifying as "regular users."    
Further analysis of the data reveals that people are using supplements not only to fill nutrition gaps they acknowledge persist, for example, when they can't always eat the recommended servings of fruits and vegetables every day without fail, but to support their more active and healthy lifestyles and their aspiration for optimal wellness. Immunity, still among the top reasons, has declined slightly as a reason users give for taking supplements. 
Of note, 92 percent of users agree that dietary supplements are essential to maintaining their health, according to responses to a new question included this year in the survey.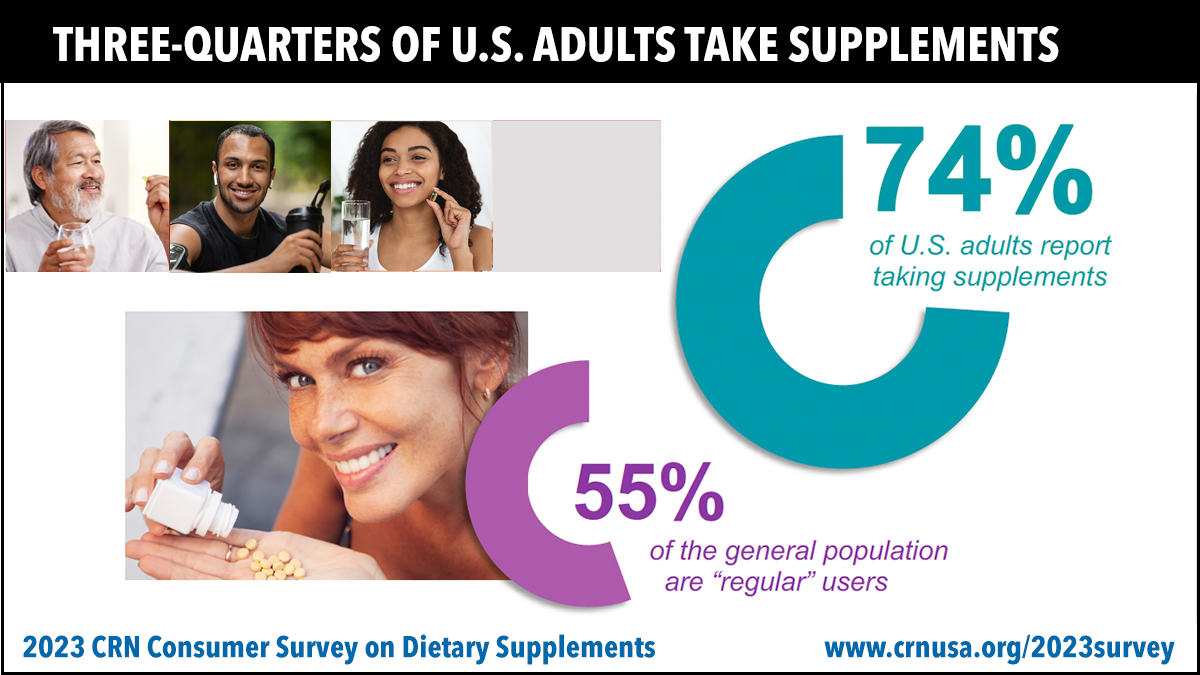 "Dietary supplements have become a non-negotiable component of so many Americans' health habits—and this year's survey data illustrates a consumer who recognizes that dietary supplements are vital to living the life they want to live," said CRN President & CEO Steve Mister. "Today's dietary supplement consumer is confident in their decision to take supplements and reports that using supplements empowers them to take charge of their health and wellness—whether their supplementation habits include supporting their weekly basketball pickup game with products for energy, hydration, or joint health, addressing their need for better sleep with melatonin, or maybe taking a daily probiotic to help make sure their mornings run according to their schedule instead of being dictated by irritable bowel syndrome." 
Conducted annually since 2000, the CRN Consumer Survey on Dietary Supplements serves as the leading resource for statistics on usage of the products. In 2023, the survey was conducted online between Aug. 9–14, among a nationally representative sample of 3,192 U.S. adults age 18+, including 2,328 adults who reported consuming dietary supplements seasonally, occasionally, or regularly.  
The CRN survey, available for purchase via CRN's website (www.crnusa.org/2023survey) to members and the public, has become a widely relied-upon bellwether around consumer behavior and attitudes, used by leading supplement companies to inform marketing campaigns and the direction of strategic planning. The data helps companies understand who exactly buys supplements, why and how they use the products, and their overall perceptions of the industry.  
---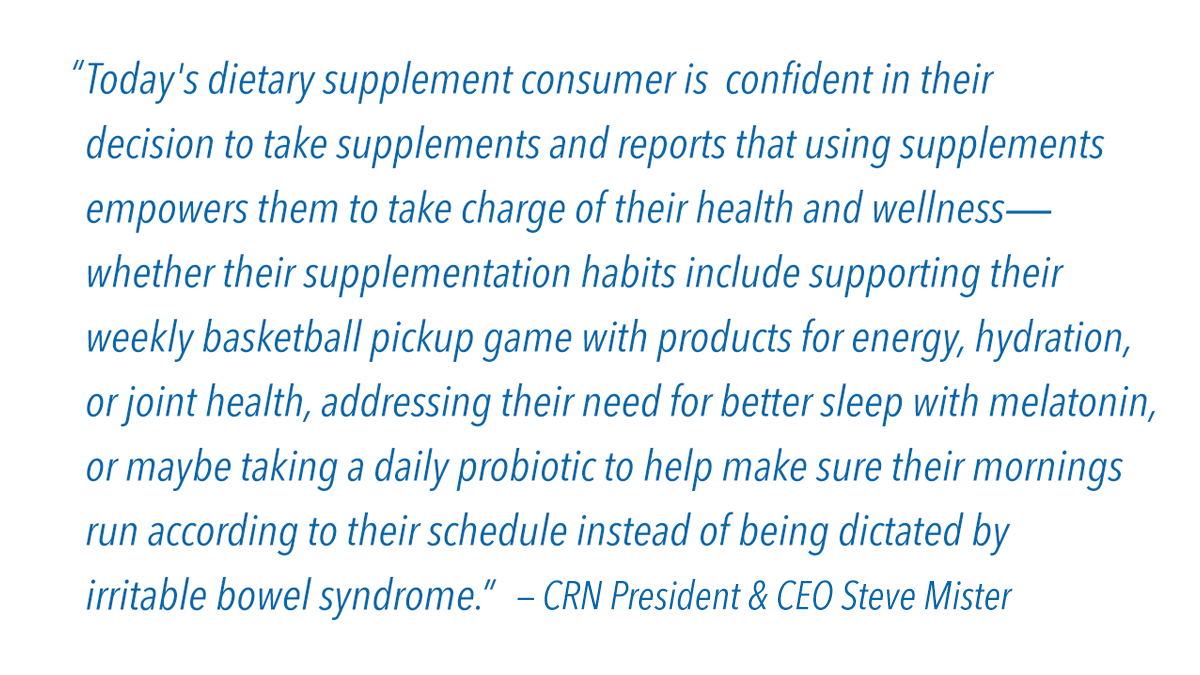 ---
Several of the key trend lines observed in 2022 showed continuity and stability in the market this year as well; however, a deeper dive into the data provides insights into a changing post-pandemic mindset of consumers, potential growth opportunities in several product categories—as well as some weaknesses—and insights related to an array of demographics. The survey results are generalizable to the U.S, adult population, and as in 2021 and 2022, there is oversampling of Black, Hispanic, and Asian/Pacific Islander respondents to ensure there would be sufficient supplement users in the survey to draw conclusions across specific demographics. 
The 2023 CRN survey also reveals changes in consumer views around trust and efficacy, as well as spending habits, and presents actionable data that companies can leverage when strategizing about Q1 marketing budgets and long-range planning through 2024.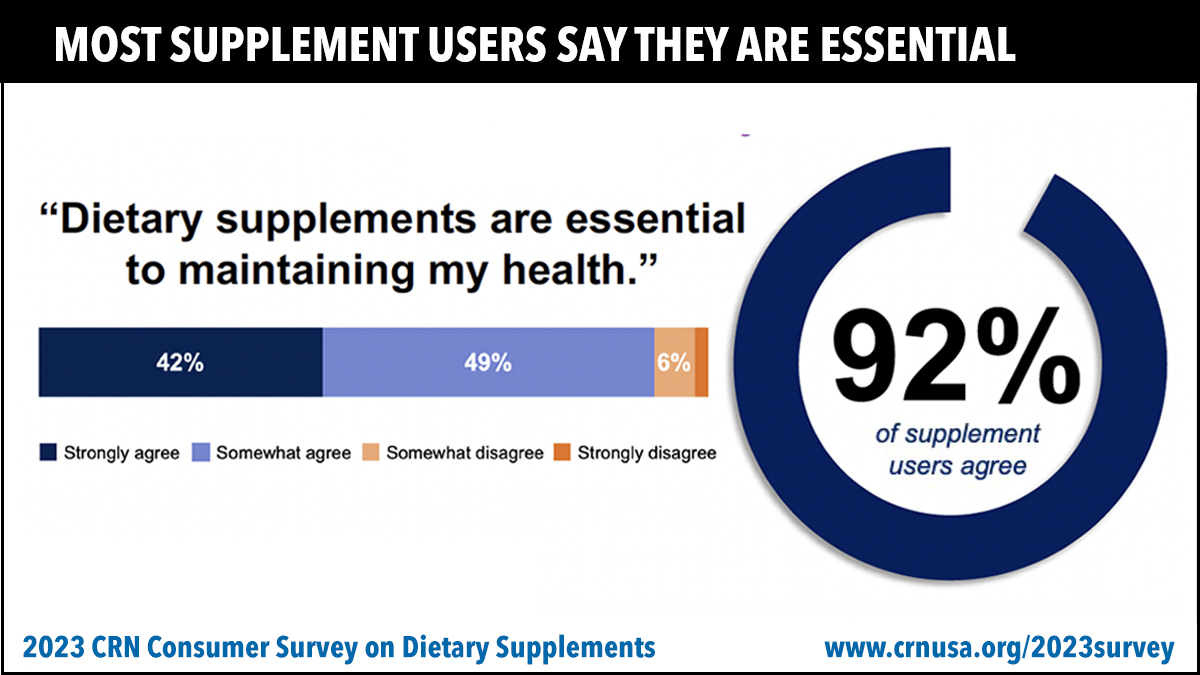 For example, supplement users' confidence in sports nutrition supplements and weight management supplements increased—both in safety/quality and effectiveness. Among supplement users, confidence in the perceived safety and quality of sports nutrition supplements went up by five percentage points to 66 percent from last year, and by four percentage points in the weight management category, to 56 percent from 2022. Overall, most Americans, including those who do not use supplements, say they trust the dietary supplement industry (74 percent), with an even higher percentage of dietary supplement users affirming their trust in the industry (83 percent), consistent with recent years. 
"The CRN Consumer Survey is more than just a random pulse-taking of consumer sentiment, or a bunch of data points pulled from sales numbers," added Mister. "The strategic advantage inherent in this tool leverages a one-of-a-kind lineage that allows companies to witness transformation over time, to make strategic adjustments, and to better connect with their customers in an extremely noisy and competitive landscape." 
About the Council for Responsible Nutrition 
The Council for Responsible Nutrition (CRN), founded in 1973, is a Washington, D.C.-based trade association representing more than 200 dietary supplement and functional food manufacturers, ingredient suppliers, and companies providing services to those manufacturers and suppliers. In addition to complying with a host of federal and state regulations governing dietary supplements and food in the areas of manufacturing, marketing, quality control and safety, our manufacturer and supplier members also agree to adhere to additional voluntary guidelines as well as to CRN's Code of Ethics. For more information, visit www.crnusa.org. Follow us on Twitter @CRN_Supplements and LinkedIn. 
About Ipsos 
Ipsos is one of the largest market research and polling companies globally, operating in 90 markets and employing over 18,000 people. Our passionately curious research professionals, analysts and scientists have built unique multi-specialist capabilities that provide true understanding and powerful insights into the actions, opinions and motivations of citizens, consumers, patients, customers, or employees. Our 75 business solutions are based on primary data from our surveys, social media monitoring, and qualitative or observational techniques. Our tagline "Game Changers" sums up our ambition to help our 5,000 clients navigate with confidence our rapidly changing world. Founded in France in 1975, Ipsos has been listed on the Euronext Paris since July 1, 1999. The company is part of the SBF 120 and the Mid-60 indexes and is eligible for the Deferred Settlement Service (SRD). ISIN code FR0000073298, Reuters ISOS.PA, Bloomberg IPS: FP www.ipsos.com