Read how CEO Jeff Boutelle of CRN member Pharmavite transformed the company by defining its purpose, investing in innovation, and reinforcing its commitment to quality and science.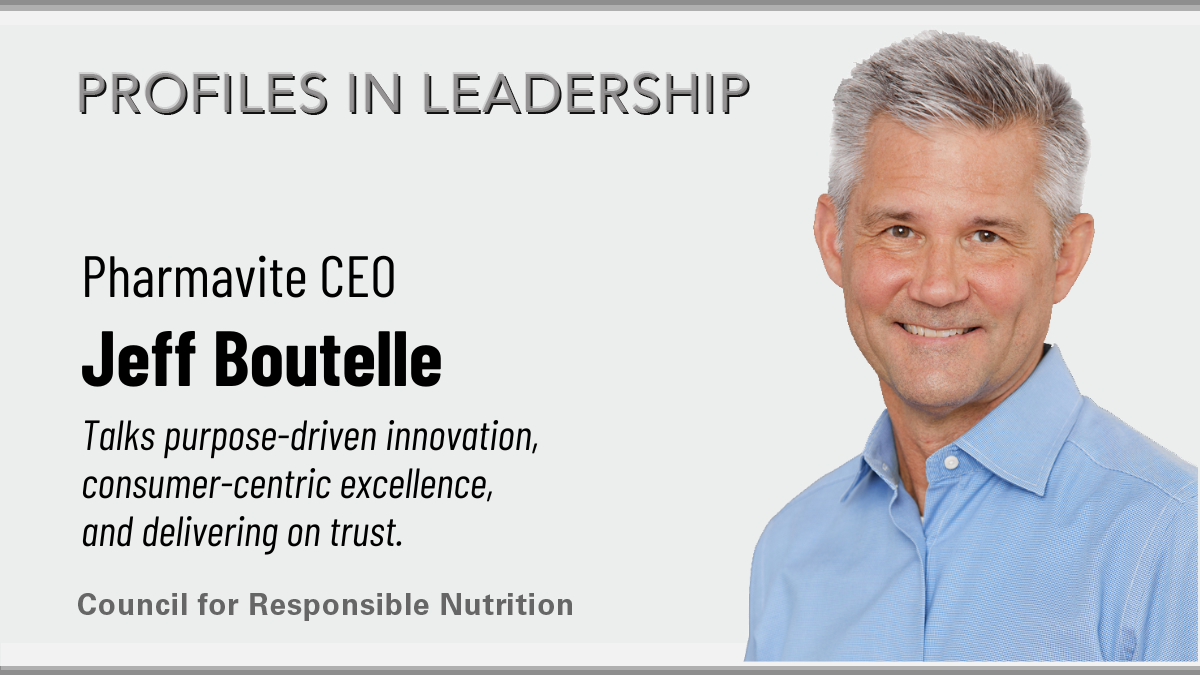 It feels like we are entering a post-post COVID phase. Do you think the focus on nutrition and personal health influenced by the pandemic was temporary, or is it here to stay, and why? 
Jeff: Historically, universally experienced life events have always had a hand in shaping how different generations view and approach their day-to-day life, and the pandemic is no different.  
Society has revolved around staying healthy and consumers have done everything under the sun to keep themselves and their loved ones safe for the past three years. That instinct doesn't just go away overnight, especially when it's having a positive impact. 
In our industry specifically, that translated into increased commitment to consumers' supplementing routines. While the pandemic may have initially prompted consumers to add immunity-focused products into their routines, they quickly recognized the value of investing in their overall wellness and started exploring more holistic approaches.  
Even as the category right-sizes following its growth during the pandemic, Nature Made has established a new base-level that seems to be sticking, and it's our non-immunity portfolio where we are currently experiencing the strongest performance. 
You've been described as "progressive." What does that mean, and why is that characteristic valuable as it relates to the supplements industry in which we find ourselves today? 
Jeff: Pharmavite has been a pioneer in the health and wellness industry for over 50 years so, to me, progressive means that we're always in action and doing everything in our power to move the category forward. In today's world, as illustrated by consumers' ever-evolving vitamin and supplement routines, moving the category forward requires agility and the understanding that we need to continuously test, learn, adapt, and grow in order to support our consumers. 
You've talked about the importance of being close to the consumer. Does that become harder in the C-suite of a larger company? 
Jeff: As Pharmavite CEO, staying close to the consumer becomes harder in the same way that it becomes harder to exercise—if it's a priority, you will make time for it.
One of the easiest ways I stay on top of this is through the ongoing work that Pharmavite's Marketing and Market Research teams do to connect with—and listen to—consumers in unique and meaningful ways, as well as the work that our in-house innovation engine, named inQB8 ("incubate"), does to combine scientific and consumer insights. The work of those teams ensures the entire company is equipped with everything needed to support consumers on their health and wellness journeys. 
In addition to the tactical steps taken to keep up with this, it's also an overall mindset we've adopted to remain conscious and curious of the consumer experience every step of the way. A big part of this is getting out into the real world and seeing firsthand how consumers are interacting with our brands in the marketplace. Whenever I'm traveling or in a new area, I make a point of visiting a local store or two to check out the shelf, speak to employees, and ask the pharmacists or in-store experts questions to get a better sense of what our consumers' experiences are with the product. 
The digital world has also made this step much easier. Our consumers and their perspectives and experiences are infinitely more accessible—if you aren't tapping into that, you're missing out on authentic, real-time insights every single day. 
As you have pointed out, a large percentage of the supplements category is occupied by many smaller, premium specialty brand companies with, say, 1% market share. What lessons can a company like Pharmavite learn from them, and what advice would you give to them? 
Jeff: While Pharmavite is now a major player in the space, that's not how we entered the category back in 1971, so we have a lot of admiration for these smaller, specialty brands and their ability to focus and innovate. In fact, as we've grown, we've continued to prioritize many of our core values from the early stages of the company that continue to serve us well and help us make the right decisions for the business and for our consumers.  
What really distinguishes the smaller brands is their expertise and passion for the niche need states they're supporting. Oftentimes, their teams have a deep sense of ownership and affinity for the business, and an intrinsic understanding of their consumers and what they need. This drive and consumer-based approach is something every company in this space should strive to emulate. 
My advice to these smaller—but mighty—brands would be, if you keep leaning into that passion and remain laser-focused on what you're doing well, it will serve you well, just as it continues to do for Pharmavite. Expand smartly, if that's what you want to do, but always keep the high ground and don't be tempted to go off course. That's been our secret sauce. For over 50 years, Pharmavite has maintained a steadfast commitment to quality and doing the right thing, and consumers have recognized this and rewarded us with their trust.  
When you joined Pharmavite, how did you build a foundation that supported forward-thinking goals of growth and evolution while remaining conscious of the company's strong heritage? 
Jeff: Six years ago, we embarked on a transformation. The world was rapidly changing, and we needed to prepare the company to compete and grow. So, we put together a roadmap and indeed we've transformed Pharmavite, and that transformation continues. 
The first thing we did was define our Purpose. We worked tirelessly to pinpoint the values that differentiated Pharmavite and contributed to our success over the last 50 years and redefine them in today's terms to set ourselves up for future success. This allowed us to reaffirm the organization's Purpose and beliefs, which now translate into everything we do and guide our decision making each day. 
We invested heavily in two key priorities: innovation and supply chain. Six years ago, category innovation was devoid of a true connection between science and consumer need (one could argue we still see a lot of that today with many brands). We developed a unique approach to innovation, creating multifunctional teams to focus on nothing but innovation, marrying science and consumer insight at the outset. We now have a strong innovation capability, pipeline, and programs covering short-, medium-and long-term horizons. We also invested heavily in overhauling our supply chain to ensure it's reliable, resilient, and agile. 
We've also invested in building strength in medical channels to reinforce our leadership in science and quality, and to create awareness and educate HCPs, pharmacists, and consumers. Today we've made the shift to become a consumer-led company, one that has a deep sense of Pharmavite's special heritage which has been an unwavering commitment to quality and science. 
What is the biggest mistake a company in the supplements space can make right now? 
Jeff: In a marketplace that is so crowded with options, abandoning values to chase trends or chase shortcuts—especially if it involves bad science—for the sake of short-term gains is the biggest mistake a supplement company can make. 
You've talked about consumer trust. It's something we talk a lot about at CRN. How, as an industry, do we maintain that trust? 
Jeff: You can't have trust without truth. That is one of Pharmavite's core beliefs within our purpose statement and it serves as a constant reminder to prioritize transparency and communication at all levels—especially with consumers. Not all players in the space share our sentiments towards quality and transparency, so we collectively must prioritize holding them accountable or they'll cause serious damage to the industry, which is reliant on consumer trust in our products.  
You market some 450 SKUs. Do you feel like you have your bases covered, or do you sometimes feel dangerously distracted? 
Jeff: There's a reason for every one of those SKUs, so I'd go as far as to say that I don't think it's enough! Pharmavite takes our retail partners' on-shelf real estate extremely seriously and we're always working with our retail partners to optimize every shelf we sit on to ensure we're delivering what retailers and consumers need. 
Nature Made has been leading the charge for broadline brands for over 50 years, and with such a vast base of loyal consumers that turn to our products for their daily VMS needs, it shouldn't come as a surprise that we have such a strong assortment.  
As consumers remain invested in their health and wellness, Pharmavite continues to prioritize expansion to support their ever-evolving vitamin and supplement routines. Building on the efforts of our successful portfolio of brands, which includes MegaFood, Uqora, EQUELLE, and more, our ambitions have our eyes on further movement into the specialty brands space over the next several years. 
If there was one secret to successful omnichannel marketing, what would it be? 
Jeff: Meet your consumers where they are and listen to what they're saying. It's how your organization interprets that insight and integrates it into your strategy that makes all the difference. 
As a collective, as opposed to individual companies, should the industry do more to market itself to the American public? 
Jeff: At the root of marketing anything—whether it be a product, brand, organization, or industry—you're marketing a benefit. Historically, since the VMS industry is so broadly defined and encompasses such a wide range of different brands and products, it's been easier for each company to market their own benefits to consumers in the most direct way. If the industry had to pinpoint one benefit that all players in the space should be marketing, the common denominator would be trust. Unfortunately, the VMS industry can't do that until every company within the category is delivering on trust. 
Jeff Boutelle assumed the role of Pharmavite CEO in August 2017. He is an accomplished executive with extensive CPG and global experience. Most recently, he was CEO of Beech-Nut Nutrition where he led the reinvention of their baby food business. His career spans numerous well-regarded companies, including Abbott, Nestle, and Procter & Gamble. Globally, his general management and brand responsibilities have encompassed 40+ countries across Europe, the Middle East and Africa.
In his time at Pharmavite, which has been a pioneer in the health and wellness industry for over 50 years, Jeff has led the expansion of the organization's portfolio through the acquisition of cutting-edge urinary tract health brand Uqora in 2021, the launch of hyper-personalized vitamin packs brand Nurish by Nature Made® in 2020, the launch of innovative scientifically-designed Nature Made Wellblends™ in 2022, and more. Through these innovations, as well as its Nature Made®, MegaFood®, and Equelle® brands, Pharmavite is dedicated to helping people live healthier, more vital lives.
Under Jeff's leadership, Pharmavite broke ground on a new production facility in New Albany, Ohio earlier this year to support continued business growth and be the site of Pharmavite's Gummy Innovation Center of Excellence.
Jeff holds a Bachelor of Science in Accounting and Management Information Systems from Bowling Green State University, and received a Master of Business Administration from Duke University.