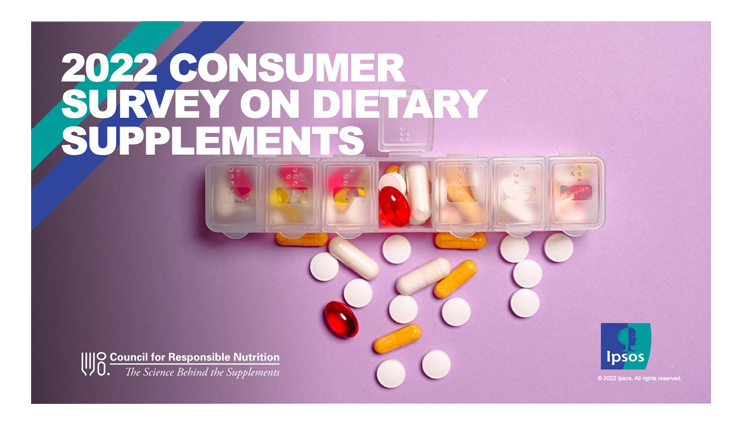 For more than two decades, the CRN Consumer Survey on Dietary Supplements has served as the leading source for data on the attitudes and behaviors of the dietary supplement consumer.
Invest today to access data on usage of specific dietary supplements within categories of:
Vitamins & Minerals
Herbals & Botanicals
Specialty Supplements (probiotics/prebiotics, omega-3 fatty acids, collagen, etc.)
Sports Nutrition and Weight Management 
---
---
Learn: 
Reasons for taking supplements
Purchasing factors
Delivery form preferences
E-Commerce habits
Omni-channel shopping habits
Confidence and trust in industry
And much more—thousands of datapoints
Inclusive survey design
Oversamples of Black, Hispanic, and Asian/Pacific Islander respondents are included for the second year in a row to ensure significant sample sizes of supplement users of color to provide deep insights into the groups' motivations, attitudes, and purchasing habits.
Demographics include:
Gender
Age
Household income, 
U.S. geographical region
Political party ID
Urban, suburban, or rural area residence
Children in the household
Employment status
Marital status
Race


"...We've been able to measure the pulse of the dietary supplement industry and track changes over time. Anyone who purchases the data has immediate access to the latest consumer insights..."
Learn more about the survey from CRN Consumer Survey Subcommittee Chair Tom Druke of Balchem
---
 $7,500
CRN Member price $5,000 with code
---
MORE ABOUT THE SURVEY
PRESS RELEASE: CRN Reveals Survey Data from 2022 Consumer Survey on Dietary Supplements
The survey package includes searchable data spreadsheets, plus an executive summary explaining key takeaways as well as a 40-page review of the findings with sections on:
Lifestyle & Supplement Usage
Attitudes & Sources of Information About Supplements
The Role of Healthcare Practitioners
Purchase Habits
SAMPLE OF DATA FROM THE SURVEY USED IN CRN CREATED CONTENT


For example, 84% try to eat a balanced diet—compared to 74% of non-users. Learn more about the healthy habits of dietary supplement users...