advocating
2021 Annual Report: ADVOCATING
2021 REPORT | EXECUTIVE SUMMARY | ADVOCATING | DEFENDING | STRENGTHENING | COMMUNICATING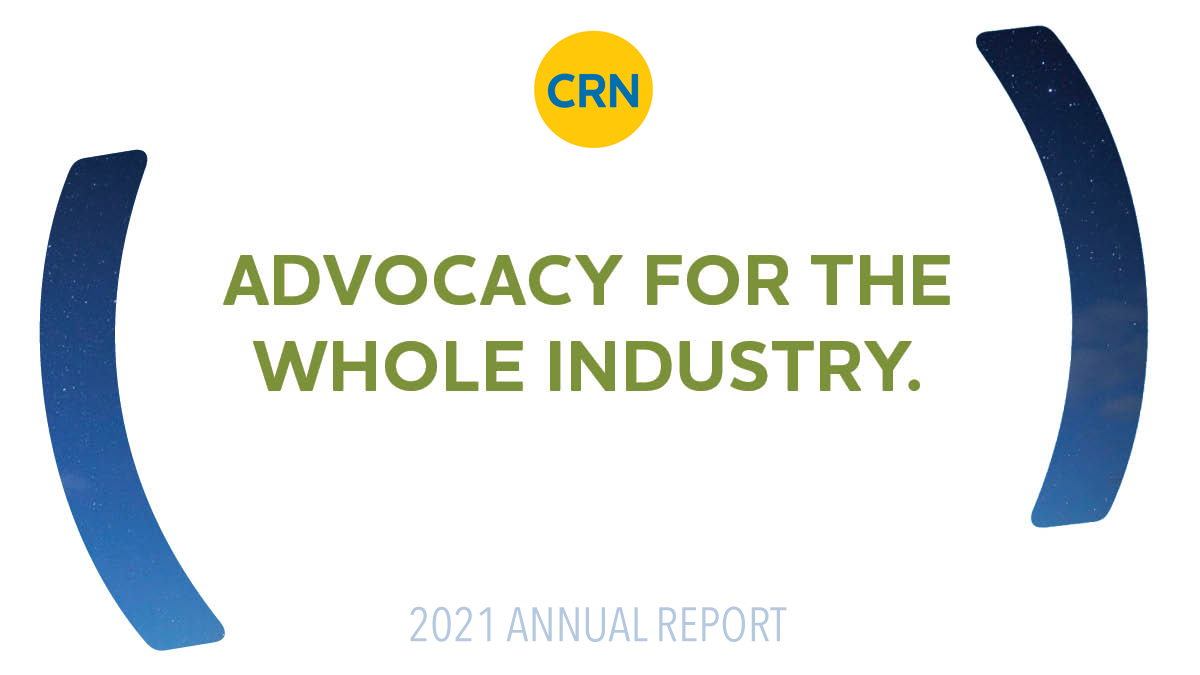 CRN advocated for new tools to strengthen FDA, while preserving the fundamental principles of DSHEA that built this industry—and being mindful of what's possible in the current political environment. 
Mandatory product listing is coming. CRN strongly supports the creation of a mandatory product listing for dietary supplements in the U.S. market, housed at FDA, to provide transparency to regulators, retailers and consumers alike. CRN advocated for mandatory product listing while aggressively representing our members' interests to prevent inclusion of burdensome provisions in the bill—such as reporting requirements for claims beyond those on the label, a potential listing of all ingredient suppliers, and a catch-all provision that would have invited regulatory creep from FDA. While advocating for a balanced mandatory product listing, CRN spearheaded the voluntary Supplement OWL product label registry as a model demonstrating the feasibility of industry participation.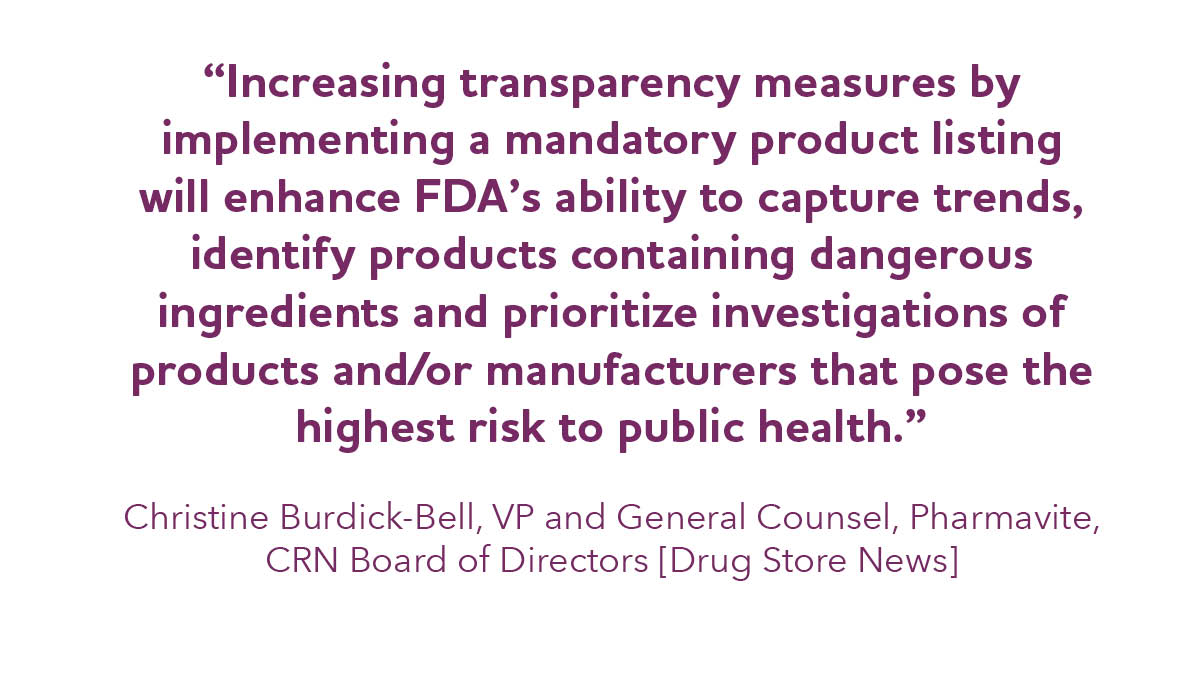 CRN conducted meetings in May with FDA Acting Commissioner Janet Woodcock and her team, encouraging the advancement of top supplement issues, including:
A regulatory pathway for CBD in dietary supplements
FDA's blueprint for a mandatory product listing for dietary supplements
Final guidance on New Dietary Ingredients (NDIs)

CRN worked to increase annual FDA appropriations with funds directed specifically to the Office of Dietary Supplement Programs (ODSP).
Regarding NAC (N-Acetyl-L cysteine) and its legal status, CRN aggressively pushed back on FDA's inaction and still is working to defend consumer access to NAC.
CRN expanded its influence on Capitol Hill, conducting virtual meetings with freshman members of Congress and advancing our legislative goals. We continue to work on the policies our members care about most: 
Modernization of supplement regulation, including mandatory product listing
FSA/HSA coverage for supplements
Establishing a federal legal pathway for CBD

CRN reinvigorated its longstanding position in support of proprietary blends. As some groups are calling for the end of proprietary blends, we developed a new "leave behind" defending this provision of DSHEA for our congressional visits on the issue.
We continued our support for a legal pathway for CBD in dietary supplements by adding bipartisan cosponsors to HR 841, the Hemp and Hemp-Derived CBD Consumer Protection and Market Stabilization Act of 2021. In addition, we offered comments on the discussion draft of legislation by Senators Schumer (D-NY), Booker (D-NJ) and Wyden (D-OR) that includes a provision on CBD.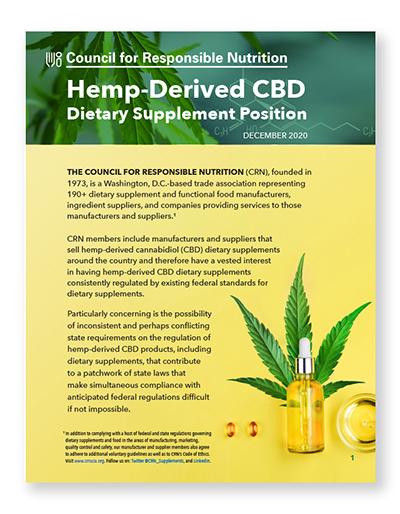 CRN issued a position statement on CBD regulation by the states that reiterates the need for a federal regulatory pathway, and acknowledges that states are impatient to create their own framework in the absence of a clear lead from FDA. CRN calls on states to establish their own requirements that will mimic a federal regime in anticipation of its eventual establishment.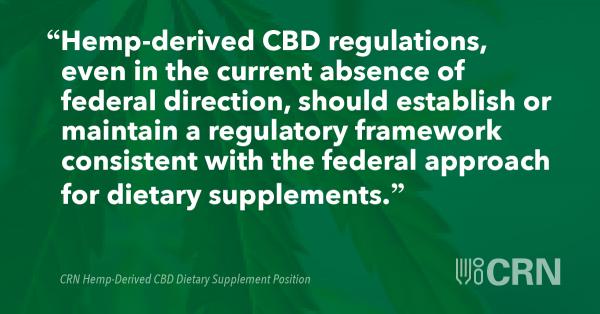 CRN represented our members' interests in HSAs/FSAs allowing for pre-tax purchases of certain dietary supplements by endorsing HR 5214, bipartisan legislation introduced by Rep. Curtis (R-UT) and Rep. Gottheimer (D-NJ). 
CRN connected stakeholders across the globe to promote science-based nutrition policy. Through our CRN-International program we conducted a series of educational symposia attracting regulators from around the world in November and December. The "Nutrition Throughout the Lifecycle" series presented policy makers with new research and perspectives from highly-regarded academics as well as industry scientists who explored nutrition and micronutrient needs across a healthy lifespan.
Highlights of CRN engagement in international policy include the association's advocacy for revisions to new requirements on vitamin D and comments on the safety of titanium dioxide in Europe. In addition, CRN consulted with FDA on development of a portal for U.S. product and ingredient exporters to provide the information newly required by the General Administration Commerce China (GACC).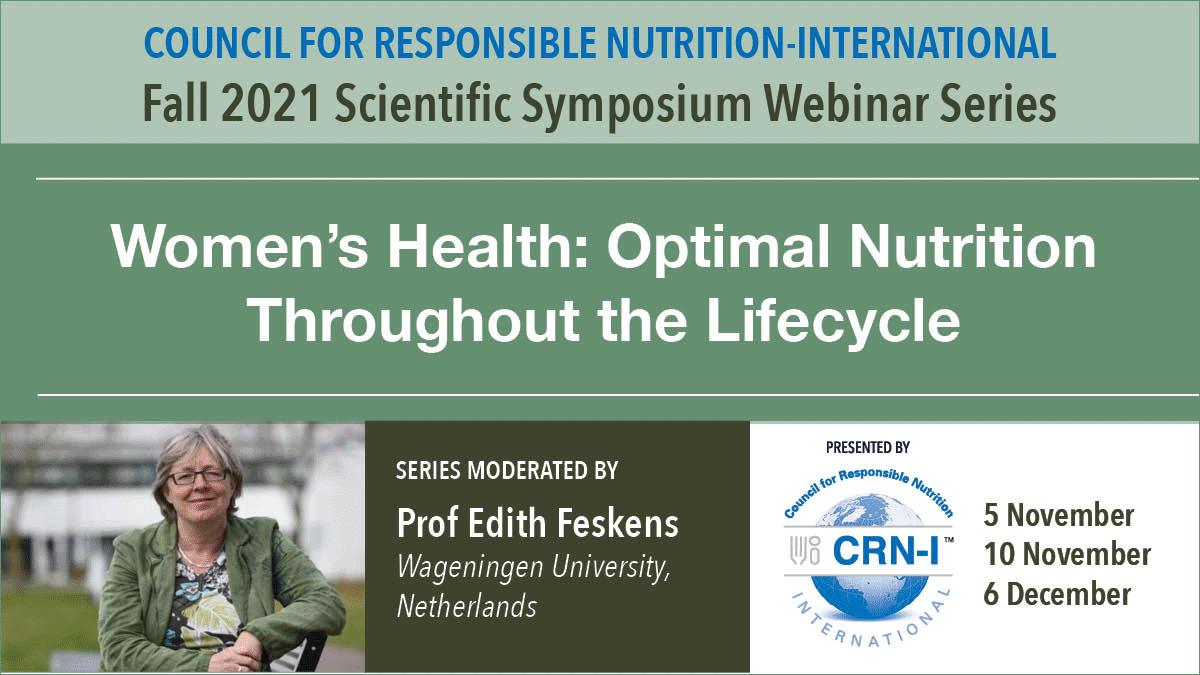 2021 REPORT | EXECUTIVE SUMMARY | ADVOCATING | DEFENDING | STRENGTHENING | COMMUNICATING
If you're not yet a member of CRN, now's the time to join. Get started today at crnusa.org/join or by contacting Carl Hyland, CRN's vice president of membership, at chyland@crnusa.org.