CRN's Chairman's Challenge to #Act4Access may be over, but the call to ACT is ON!
CRN members: Participate in our Nutrition Access Task Force to help shape our future efforts.
It's easy to get involved as an individual or a team with your company—and inspire other CRN members to take action fighting hunger by sharing your experiences.
Volunteer or donate to an organization like Convoy of Hope, Feeding America, Vitamin Angels, or one of your own choosing and share with CRN (please email Comms@crnusa.org) and on your own company social media channels with the hashtag #Act4Access.
---
Understand why dietary supplements should be part of nutrition access programs:
---
Tools to help you share how you #Act4Access
CRN's Nutrition Access Task Force invites you to: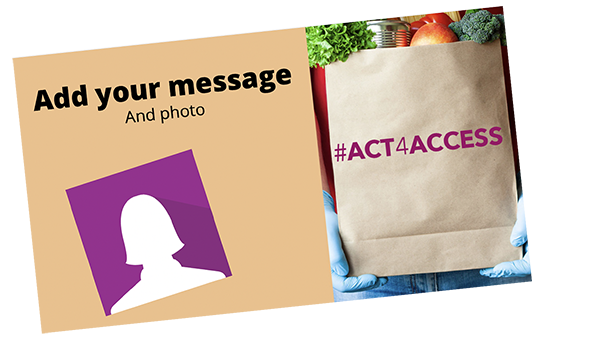 Join these industry leaders...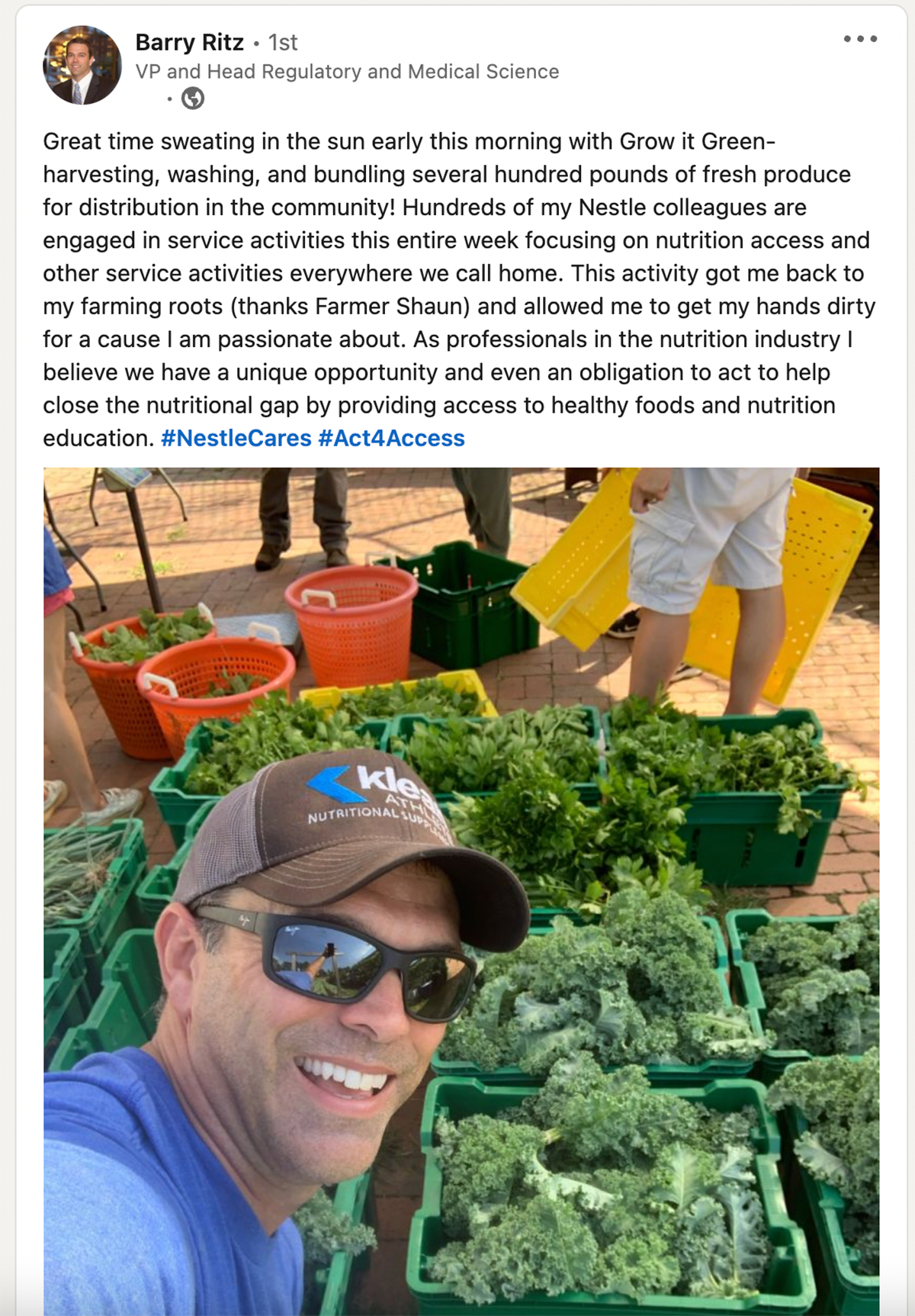 CRN's Nutrition Access Task Force
CRN has launched a new multi-year initiative aimed at improving nutrition and health by increasing access to both dietary supplement products and to information about the connections between supplements/functional food and better nutrition and health. We are developing new programs to provide these products directly to at-risk populations as well as cultivate policy discussions on how to reduce nutrition and health disparities with better access to nutritional products and to education on nutrition and health. Increasing access to dietary supplements and functional food is one of CRN's priorities.
CRN's Nutrition Access Task Force aims to help people live better lives and have better nutrition. CRN VP, Communications Jeff Ventura is a task force staff liaison along with SVP, Scientific & Regulatory Affairs Andrea Wong, Ph.D., staff liaison on nutritional science, working with a Scientific Advisory Board. 
---
Ready to be a part of the solution?
While there are as many different ways to have an impact as there are organizations in this space, three organizations stand out. Each of them is easy to work with, has a long track record, and would be delighted to partner with CRN members on projects large or small—a one-time effort, or a lasting commitment. 

---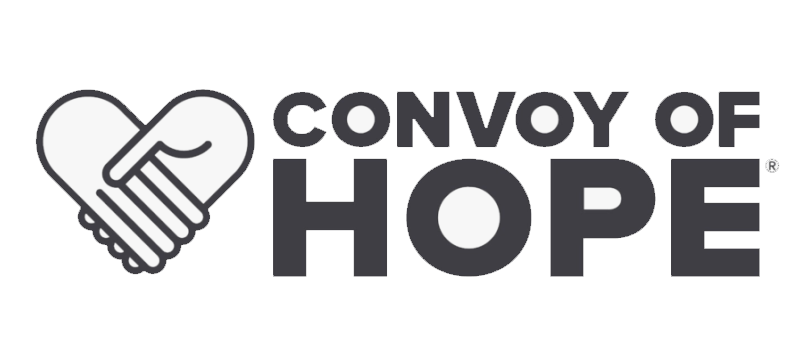 Food insecurity continues to be a major problem in the U.S. and around the world. The pandemic and its effects on healthcare, the labor market, education, financial markets, and inflation has made it challenging to accurately identify how the cycle of poverty has tightened its grip on many Americans in both urban and rural settings.  
In the U.S., Convoy of Hope is focused on community events, rural initiatives, and disaster response/recovery. These events provide immediate help through the distribution of food and supplies to meet immediate needs, and provide hope through education, training, and resources that empower individuals and families to break the cycle of poverty.  Their work is made possible because of the many individuals, businesses, churches, community leaders, and other nonprofits that choose to partner with Convoy of Hope.
Convoy of Hope accepts food and other supplies for use within their programs. Convoy of Hope is always in need of shelf stable items in retail-sized packaging with adequate dating and/or letters of extension provided by the manufacturer. Hygiene items, feminine care items, vitamins/supplements/nutrition enhancements, first-aid supplies, blankets, tarps, water filtration units, and other emergency supplies are also in great need. Donations of vitamins and supplements are welcomed. If there is interest in donating these items for use internationally, 12 to 18 months of dating is required. Convoy of Hope also accepts cash donations for general use or special projects.
The primary distribution center is in Springfield, Missouri, and Convoy of Hope has its own fleet of trucks. Product donations, from multiple pallets to full truckloads, will be picked up from anywhere in the U.S. and transported at no cost to the donor. Products are distributed to people in need at zero cost, and with no agenda or required response. Convoy of Hope has received Charity Navigator's highest 4 Star Rating every year since 2002.
If interested in helping, please contact Michael Olmsted (molmsted@convoyofhope.org), the Procurement Director.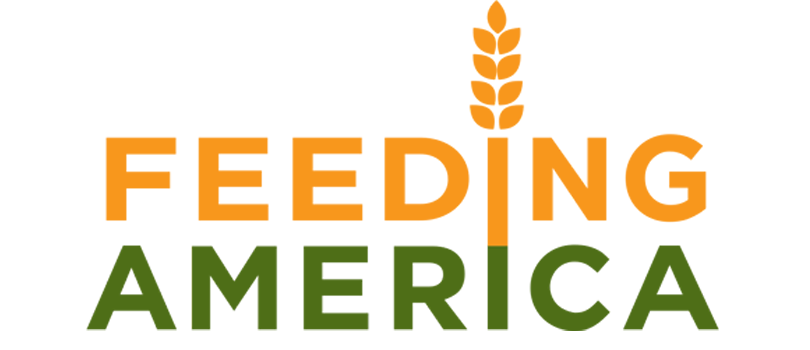 Feeding America is the second largest nonprofit in the U.S. and the largest food-recovery organization in the country. In fiscal year 2021, their network rescued 4.7 billion pounds of good, safe food that would otherwise been thrown away. The loss of food occurs at every stage of the food production and distribution system—from farmers to packers and shippers, from manufacturers to retailers. Feeding America is committed to food waste prevention and recovery, and continues to develop and execute a comprehensive, innovative national food sourcing strategy to more efficiently secure as much food as possible to help the millions of people facing hunger. To achieve the vision of an America where no one is hungry, we must address the root causes of hunger and deepen our understanding of structural and systemic inequities that disproportionately impact marginalized communities and people in need of assistance. Feeding America's more than 40 years of experience, broad national reach and deep local presence thanks to the food bank network give them an unmatched ability to assess these issues and respond with informed and innovative solutions.
Many Feeding America Food Banks accept vitamins/supplements, but some do not. CRN is working to encourage Feeding America to encourage all of its food bank members to do so. All will accept cash contributions toward food.
If interested in helping, the Feeding America Food Bank locator can put you in touch with a local food bank near you to find out how you can get involved, and specifically whether that location can accept vitamins/supplement donations.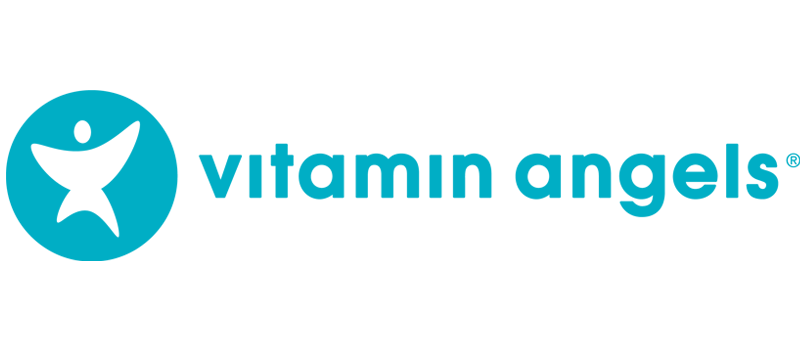 Maternal health is the foundation for healthy communities. By systematically identifying communities most in need in the US and by ensuring that they have access to healthy foods, maternal and child nutrition education, and multiple micronutrient supplementation (MMS), Vitamin Angels contributes to a reduction in the intergenerational cycle of health and economic inequities.
Communities experiencing socioeconomic vulnerability do not have the same ability to access health systems to receive treatment for infectious or chronic disease, so the focus must be on prevention.  Increasing access to evidence-based nutrition interventions (Healthy foods, education, and MMS) among women and children leads to the following impacts:
Reduction in morbidity (disease cases averted – infectious and chronic)
Reduction in mortality (lives saved)
Improved cognitive and social-emotional functioning
Improved academic performance
Increased earnings
Achieving these impacts changes the trajectory of these communities.
There are three proven and powerful nutrition interventions that when delivered individually, or even better in combination, can contribute to improved maternal and child nutrition leading to better health outcomes among underserved populations. They are multiple micronutrient supplementation, promotion of optimal maternal and child nutrition, and supplementary feeding.
Multiple Micronutrient Supplementation (MMS) is a daily multiple micronutrient supplement given to women to support healthy pregnancies, prevent anemia, promote fetal growth and development, and ensure that babies are not born too early or too small.
Promotion of Optimal Maternal and Child Nutrition includes education and behavior change communication to improve knowledge, attitudes, and norms of women and their surrounding communities related to three key behaviors:
Consumption of a "healthy," high quality (e.g. nutrient dense) diet during pregnancy,
Early initiation of breastfeeding (within 1 hour of birth) and exclusive breastfeeding (only giving infants breastmilk between 0 and 6 months), and
Complementary feeding practices (timely introduction of foods, variety, and frequency) for children 6–23 months of age that result in a nutrient dense, high-quality diet.
Supplementary Feeding is a targeted program designed to fill gaps in food access and address poor diet quality and hunger, by connecting food insecure populations with essential vitamins and minerals through food.
Vitamin Angels provides programming and technical assistance in all three proven nutrition interventions, focused on women and children. They work with local partners, local governments, health clinics, and academic institutions in the U.S. to deliver these interventions to scale. 
If interested in helping, please contact Brittany McMeekin (bmcmeekin@vitaminangels.org), the Associate Director of Business Development copy Scott Minger (sminger@vitaminangels.org), the SVP of Business Development. 
---
Thank you to our Board of Directors from the following companies who pledged to #Act4Access at our June 2022 meeting:
ADM/Deerland
Amway/Nutrilite
BASF
Cargill
Chromadex
GSK/Haleon
Healthy Directions LLC
Herbalife
IMCD, US, LLC
Innophos
J&J/Zarbees
Kyowa-Hakko USA
Nutrawise/Youtheory
Pharmavite
Piping Rock
Plexus