WE ARE CRN | ADVANCING | EXPANDING | INFLUENCING | IMPROVING | ENHANCING | GROWING | EXECUTIVE SUMMARY (PDF)
We are enhancing public perceptions.
In 2022, CRN's communications team worked in concert with subject matter experts across its science, regulatory, legal and membership departments to proactively develop and disseminate content supporting the safety and benefit of dietary supplements and nutritional ingredients—both proactively and responsively—as well as positioning the mainstream dietary supplement and functional food industry as responsible and delivering value to people's lives, overall societal health, and the economy.
Promoting science-based supplement benefits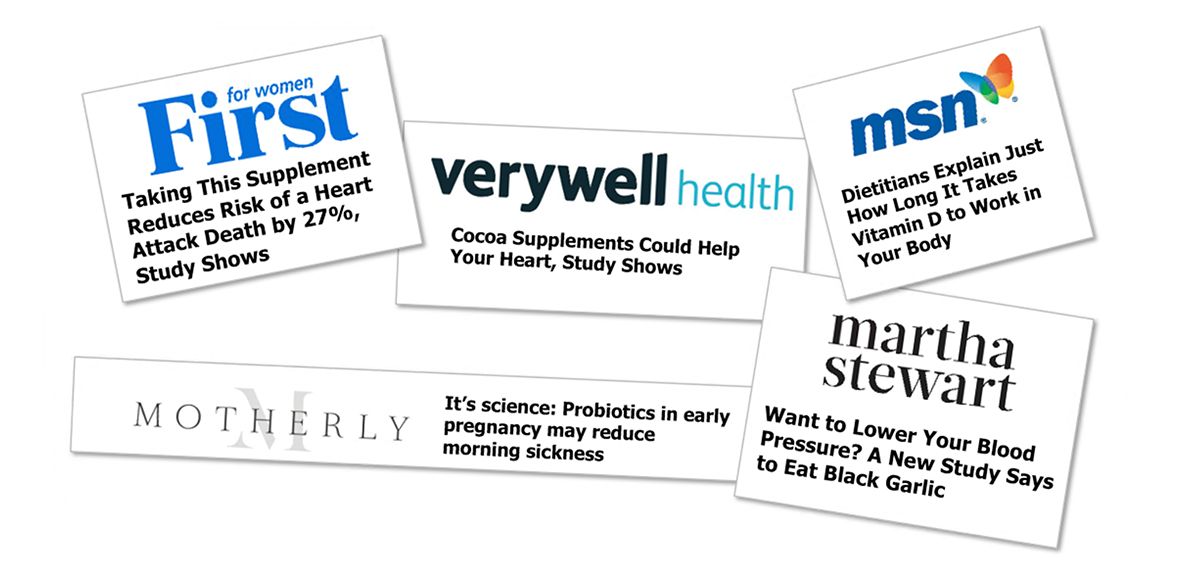 CRN continued its work with external PR consultants to generate science-based positive stories for the supplement industry, with about 100 stories placed each year, with headlines like:
Benefits of lutein for macular degeneration, MedicalNewsToday
Vitamin D Level, Race/Ethnicity Tied to Breast Cancer Risk, HealthDay
Good News—Science Says That Eating Chocolate Really Does Reduce Your Risk of Heart Disease, Martha Stewart Living, Yahoo!Life, and MSN
7 Tart Cherry Juice Benefits That Could Revolutionize Your Holistic Health, Good Housekeeping
And many more
 
CRN proactively amplified news of the results of the Cocoa Supplement and Multivitamin Outcomes Study (COSMOS), as well as vitamin D research via the Vitamin D & Me! website and other dietary supplement regimens in its Supplements to Savings study (see the annual report section on improving consumer access).
CRN's report summarizing topics presented at it 2021 Science in Session symposium, Sex Differences Across the Life Course: A Focus on Unique Nutritional and Health Considerations Among Women, was published in the Journal of Nutrition. CRN Senior Vice President, Scientific and Regulatory Affairs, Andrea Wong, Ph.D., and Vice President, Regulatory & Nutrition Policy, Haiuyen Nguyen, along with presenters from the 2021 Science in Session event wrote about women's unique nutritional needs based on physiological and hormonal changes across the lifespan.
Setting the record straight on inaccuracies
CRN's Dr. Andrea Wong appeared on the Today show twice in 2022: 
CRN's team reached out to Wall Street Journal editors to build a relationship that resulted in increasingly balanced coverage in subsequent stories on supplements, including melatonin in November, and collagen in early 2023.

CRN pushed back on reported of results of the "Supplements, Placebo, or Rosuvastatin (SPORT)" study presented at the American Heart Association Scientific Sessions and published in the Journal of the American College of Cardiology that inappropriately pitted dietary supplements against the prescription drug Rosuvastatin. CRN was prepared pre-embargo with a response released simultaneously with the study results.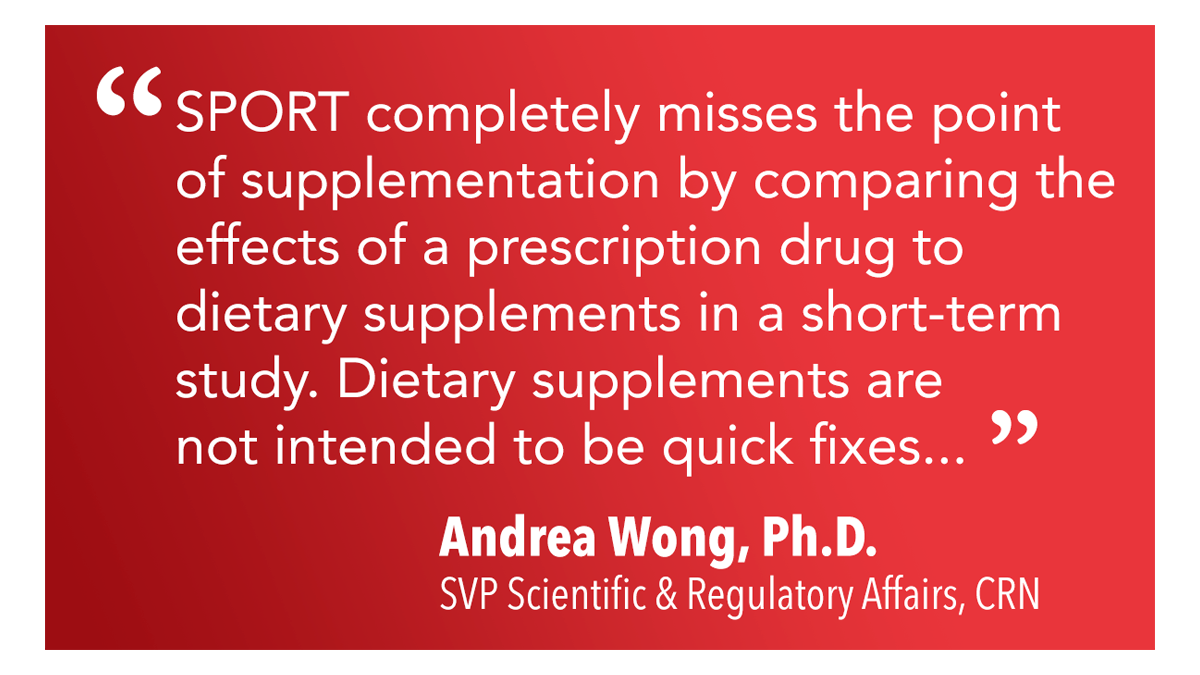 CRN engaged in proactive outreach to consumer and trade press, securing coverage in CNN, HealthDay, and more and published a blog post by VP Scientific & Regulatory Affairs, Luke Huber, N.D., MBA, sharing "An Integrative Healthcare Practitioner's Perspective on Dietary Supplements for Heart Health."
CRN also took the opportunity to highlight data from the Supplements to Savings report chapters on coronary artery disease in contrast to SPORT.
In addition, CRN followed up with a letter to AHA leadership recommending a focus on efforts to educate both healthcare providers and their patients about the range of available approaches to maintain heart health and prevent or treat heart disease, rather than playing a role in promoting questionable research on supplements. 
The SPORT pushback was just one of several CRN responses in 2022, with the team also pushing back on results of an ancillary study of the Vitamin D and Omega-3 Trial (VITAL), a Journal of Clinical Pharmacology article mischaracterizing supplements, debunking inaccurate headlines on melatonin "poisoning" in children, and more. 
Promoting dietary supplements as mainstream, safe, and beneficial through our annual survey data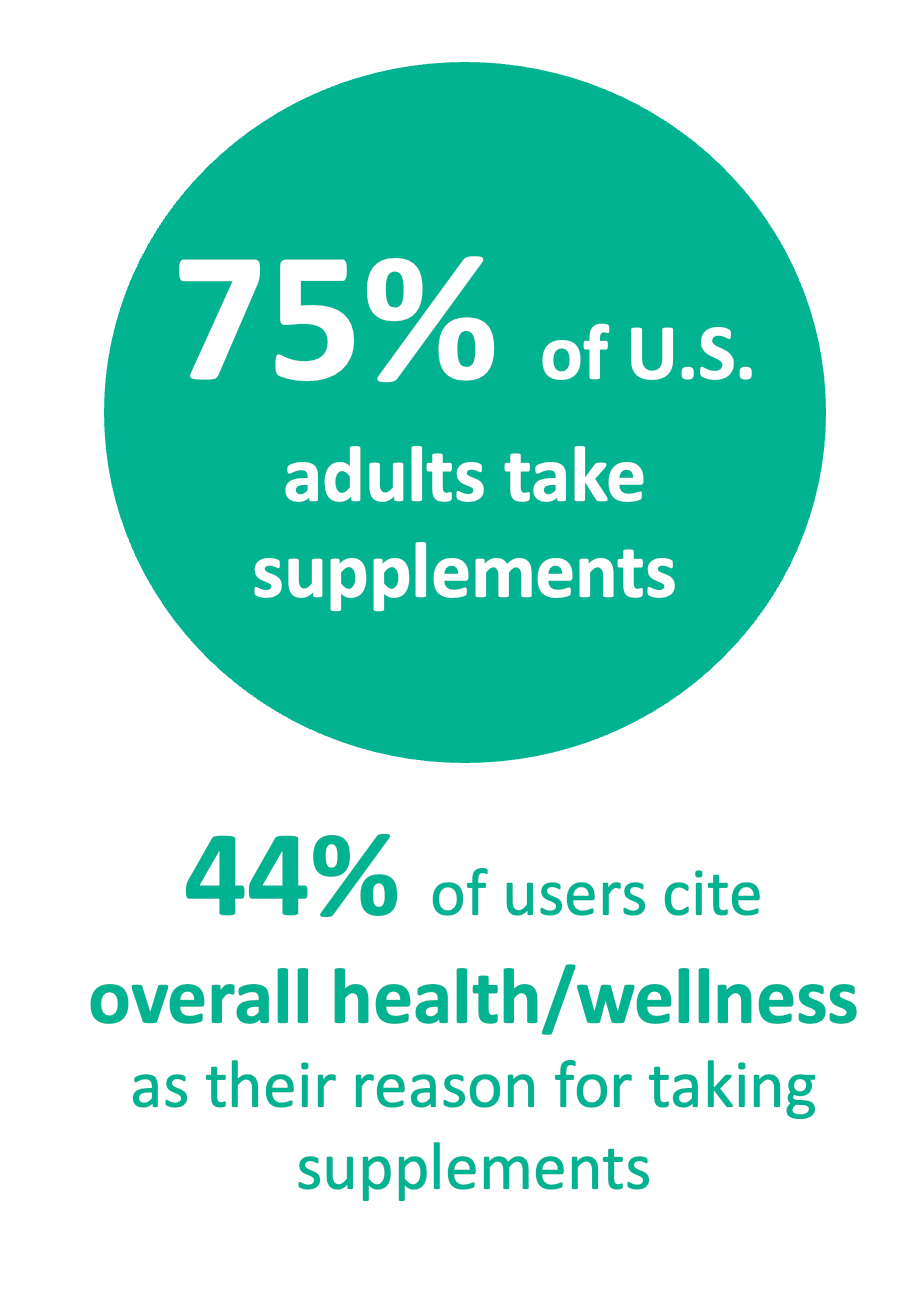 CRN again released topline results of its annual Consumer Survey on Dietary Supplements, conducted with Ipsos Public Affairs since 2000, revealing supplement use back at pre-pandemic levels, with 75% of U.S. adults reporting using a dietary supplement in the past 12 months. CRN made the full dataset available to members at a special price—robust with information on Americans' reasons for taking supplements, purchasing factors, delivery form preferences, shopping habits, as well as confidence and trust in industry and health-related habits. CRN's survey data is regularly cited in industry trade and consumer reporting.
CRN's survey has consistently shown that supplement users report participating in a constellation of healthy habits, including taking dietary supplements—and 2022 was no different.
Both supplement users and non-users reported finding the dietary supplement industry trustworthy.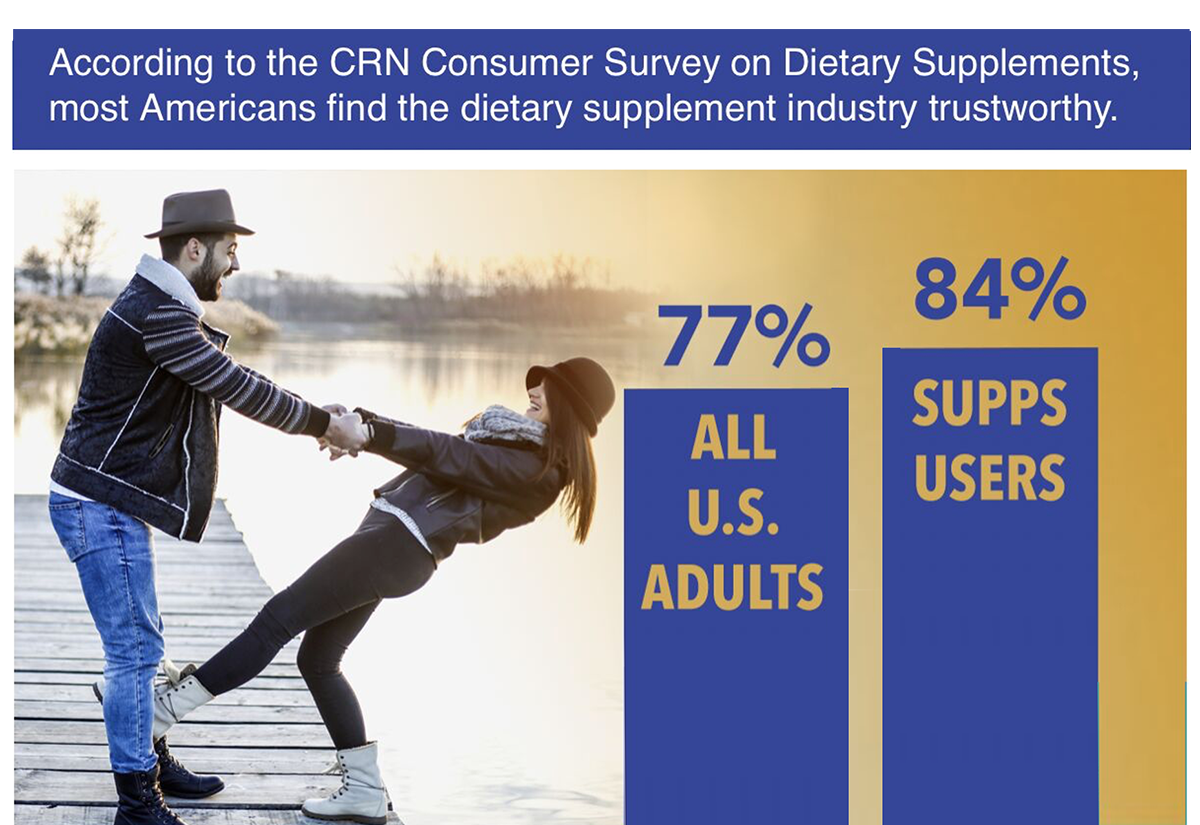 Pushing back on inappropriate FDA characterization of supplements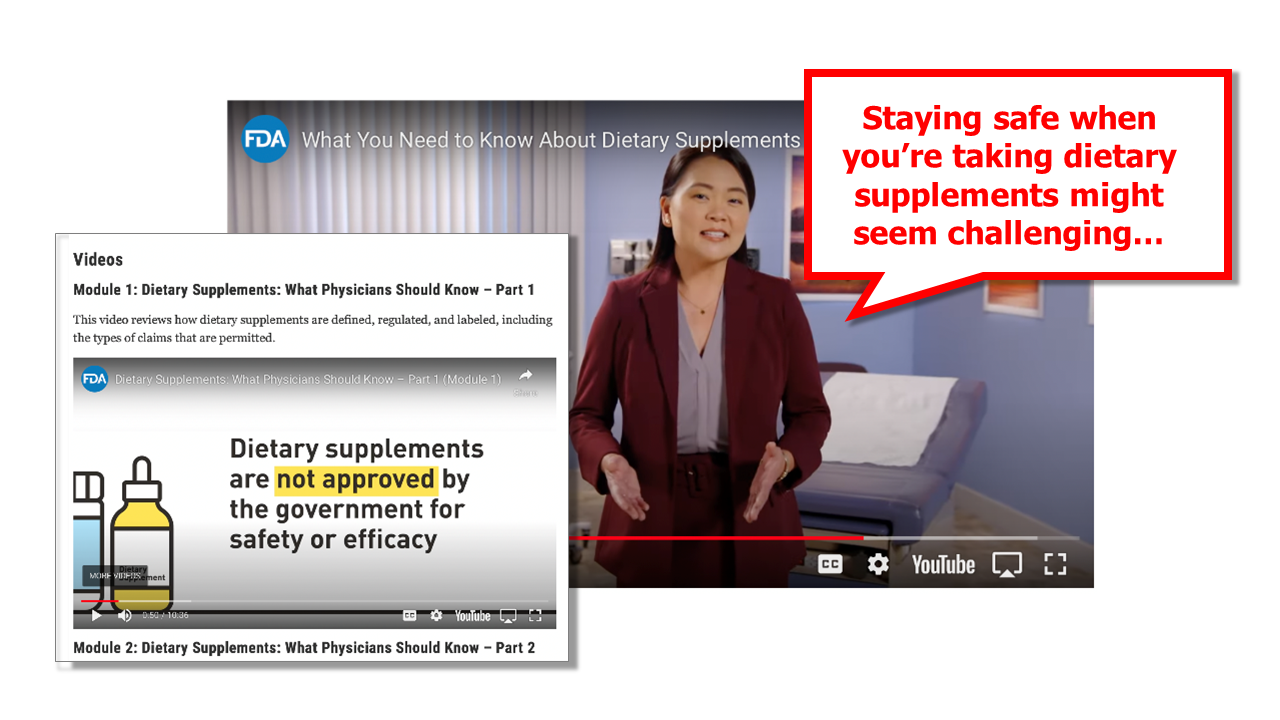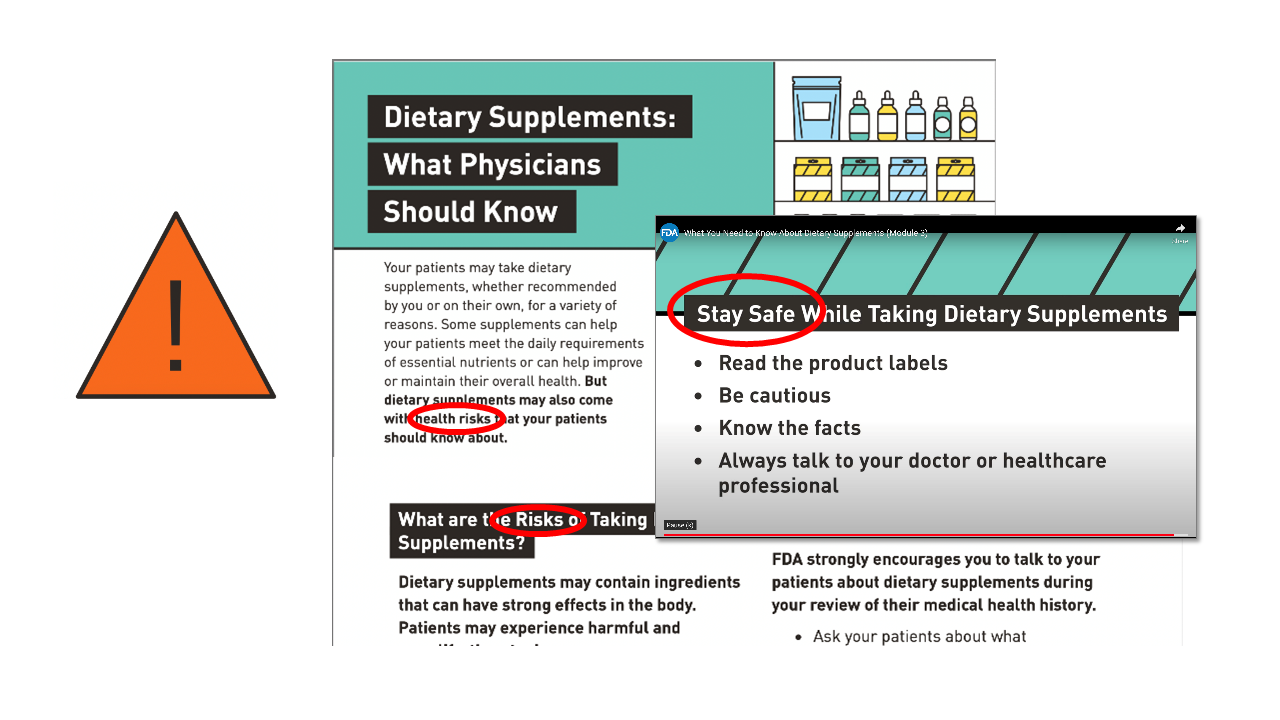 CRN provided feedback to FDA on the agency's "Supplement Your Knowledge" educational content and other dietary supplement information on its website, along with an accompanying summary presentation, following a meeting with Cara Welch, Ph.D., director of FDA's Office of Dietary Supplement. CRN raised concerns about FDA's over-emphasis on risk when characterizing dietary supplements compared with other FDA-regulated products. In addition, CRN noted the agency's lack of collaboration with industry resulted in missed opportunities to better educate consumers to support the public health. For example, noting the benefits of and need for certain nutrients that the Dietary Guidelines for Americans have called out as under-consumed and a cause for public health concern. During a follow-up meeting Dr. Welch and agency staff responded to CRN's comments, noting there is no specific timing planned for update to the content, but CRN's comments would be a helpful resource for future consideration. In addition, the FDA team acknowledged CRN's value as a resource.
Supporting tomorrow's influential nutrition science leaders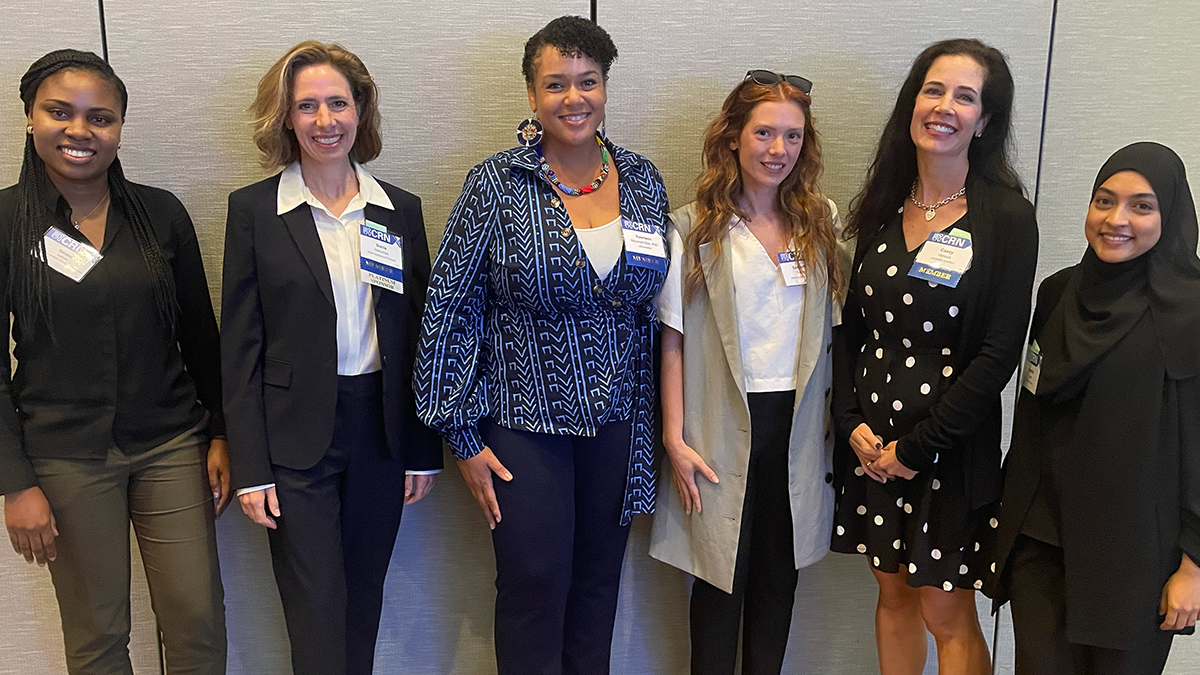 CAPS awardee Doreen Larvie with mentor Dr. Sonia Hartunian-Sowa, DSM Nutritional Products; mentor Dr. Yasmeen Nkrumah-Elie, ChromaDex with CAPS awardee Samantha Fessler, Arizona State University; mentor Dr. Casey Vanous, Herbalife Nutrition, with CAPS awardee Samiha Azgar, Cornell University.
CRN again partnered with the American Society for Nutrition Foundation (ASNF) to support educational opportunities for the next generation of nutrition scientists and practitioners through the CRN and ASNF Program for Scholars (CAPS) Award. Part of CRN's efforts to support the nutrition research community and enhance awareness of the role dietary supplements play in nutrition, CAPS awards students selected by ASN based on their academic record and commitment to research. Winners receive funding for travel expenses and a complimentary registration for Science in Session. CRN also provided ASNF with annual grants for nutrition researchers through the Mary Swartz Rose Awards.
Addressing Department of Defense actions related to supplements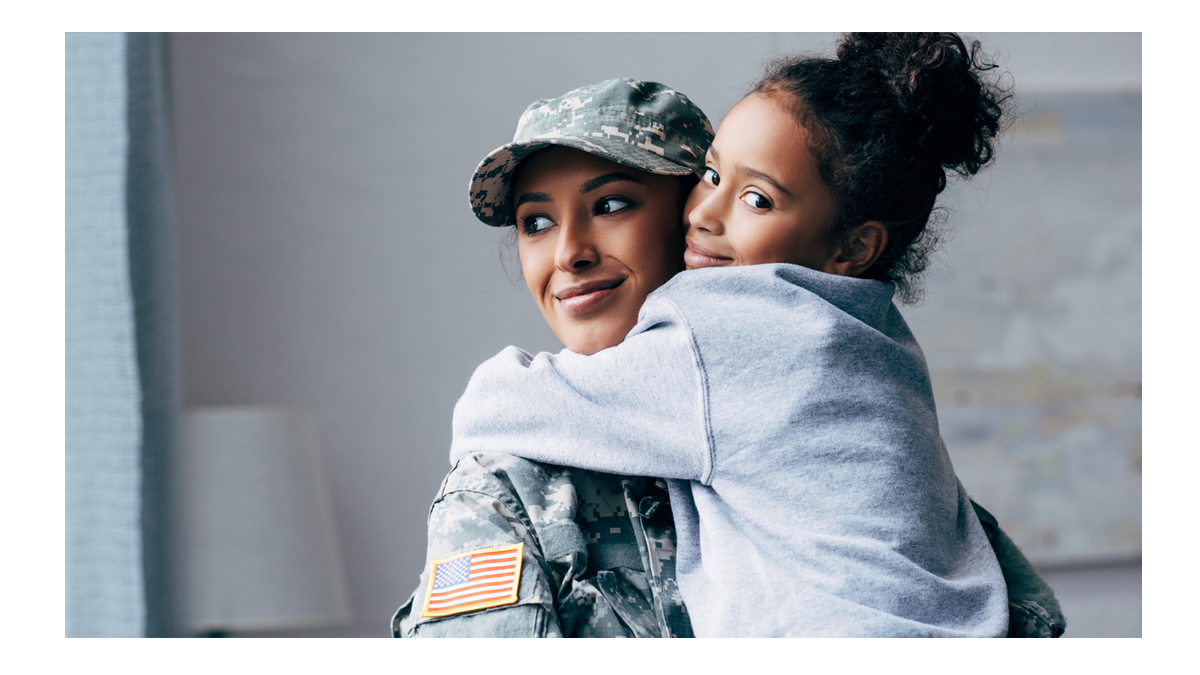 CRN met with Department of Defense (DoD) contacts regarding "Instruction 6130.06, Use of Dietary Supplements in the DoD (DoDI)," signed in March, with guidelines to establish an official Prohibited Dietary Supplement Ingredients List and identify the dietary supplement resource website "Operation Supplement Safety" (OPSS) as the "go-to for DoD's program for dietary supplement use." CRN expressed concerns with some of the OPSS content particularly the "Check Your Supplement" scorecard, designed in such a way that it could result in low scores for many legitimate, mainstream dietary supplements and deter service members from using them. CRN recommended that the website clearly convey that the scorecard is meant to be a tool for assessing dietary supplements and not necessarily the only means for service members' decision making about the products they take. CRN also wrote to FDA Commissioner Robert Califf, M.D., regarding the DoDI.
Regarding a separate adverse event reporting system for service members, CRN advised that it would be duplicative and an inefficient use of federal resources, and could lead to both over and under reporting of the same adverse events. In addition and denies FDA of control over a single repository of adverse event reports associated with dietary supplements to detect early signals of potential health concerns.
---
Access CRN's 2022 Annual Report Sections:
WE ARE CRN | ADVANCING | EXPANDING | INFLUENCING | IMPROVING | ENHANCING | GROWING | EXECUTIVE SUMMARY (PDF)
---