WE ARE CRN | ADVANCING | EXPANDING | INFLUENCING | IMPROVING | ENHANCING | GROWING | EXECUTIVE SUMMARY (PDF)
We are improving consumer access.
In 2022, CRN initiatives to improve access to nutrition—including dietary supplements—and nutrition education ranged from the hands-on work of our members activating in their communities across the U.S. and globally, as well as the development and distribution of science-backed messaging to support policymaking. The CRN Foundation released new data in its "Supplements to Savings" report, detailing billions of dollars in potential savings in U.S. healthcare costs from the selective use of certain dietary supplements and its "Vitamin D & Me!" website helped educate practitioners and consumers about the importance of this essential nutrient.
Emphasizing nutrition and nutrition education with White House Conference on Hunger, Nutrition, and Health leadership
CRN urged leaders of the White House Conference on Hunger, Nutrition, and Health to consider how to increase intake of essential nutrients among all socioeconomic groups and to address nutrition disparities that lead to chronic disease and missed opportunities to reduce these illnesses. CRN staff engaged in the conference process, participating in listening sessions, attending stakeholder meetings, and submitting comments addressing the conference's proposed pillars.
CRN's comments included recommendations for the federal government to include multivitamins in Supplemental Nutrition Assistance Program (SNAP) benefits, and for adequate resources to regularly update the Dietary Reference Intakes (DRIs) and develop new DRIs for nutrients and bioactives as needed. CRN shared data demonstrating low-income and food-insecure adults are at greater risk of nutrient shortfalls. Additionally, CRN signed on to the Food and Beverage Issue Alliance (FBIA) comments.
CRN also highlighted its "Act for Access" initiative that challenged all members to volunteer or donate to non-profit organizations from June through September (read more below).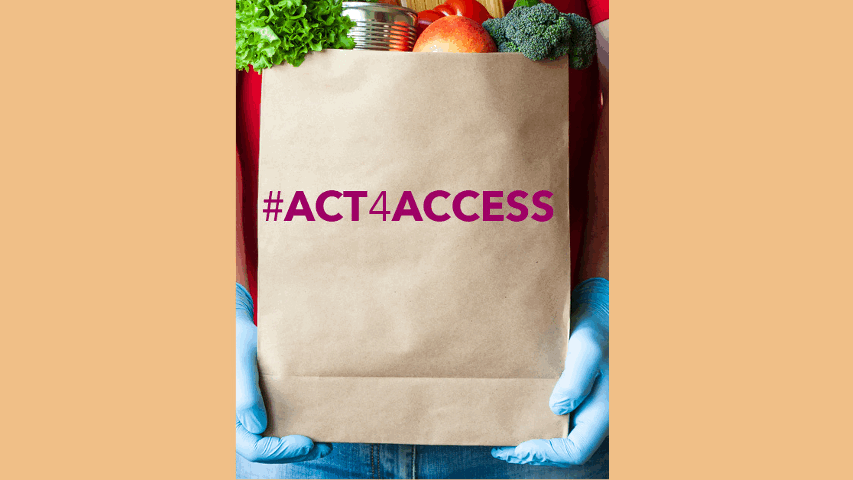 Inspiring members to #Act4Access to better nutrition and nutrition education for all
Under the leadership of CRN's Nutrition Access Task Force with board chair Barry Ritz, Ph.D., the team engaged members the "Chairman's Challenge" to  #Act4Access and volunteer or provide donations from June through the end of September, marking Hunger Awareness Month. Sharing member updates throughout the challenge to inspire others, CRN saw robust engagement among members for this preliminary effort, with plans to build on the momentum in 2023.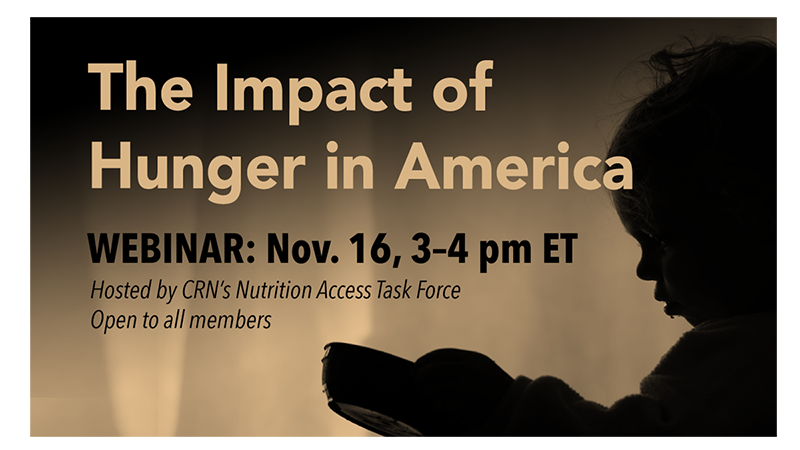 The Nutrition Access Task Force also presented a webinar, "The Impact of Hunger in America," that underscored the significant disparities in access to nutrition and nutrition education among Americans that are linked to structural violence and racism. Keith Miller, M.D., FACS, associate trauma medical director and professor, University of Louisville, and vice-chair of the Kentucky Committee on Trauma presented, along with representatives from Convoy of Hope shared their informed perspectives.
In addition, with the task force's Scientific Advisory Board—Regan Bailey, Ph.D., MPH, RD, CPH of Texas A&M University; Jeffrey B. Blumberg, Ph.D., FASN, FACN, CNS-S of Tufts University; and Nana Gletsu Miller, Ph.D., of Indiana University—CRN developed content about why dietary supplements should be part of nutrition access programs:
Building the case for HSA/FSA inclusion of dietary supplements
CRN continued to advocate for consumers to be able to use their Flexible Spending Accounts (FSAs) and Health Savings Accounts (HSAs) to reimburse dietary supplement purchases "qualified medical expenses."  See the annual report section on influencing public policy for more.
Reporting on supplement regimens that improve quality of life and save billions in health care cost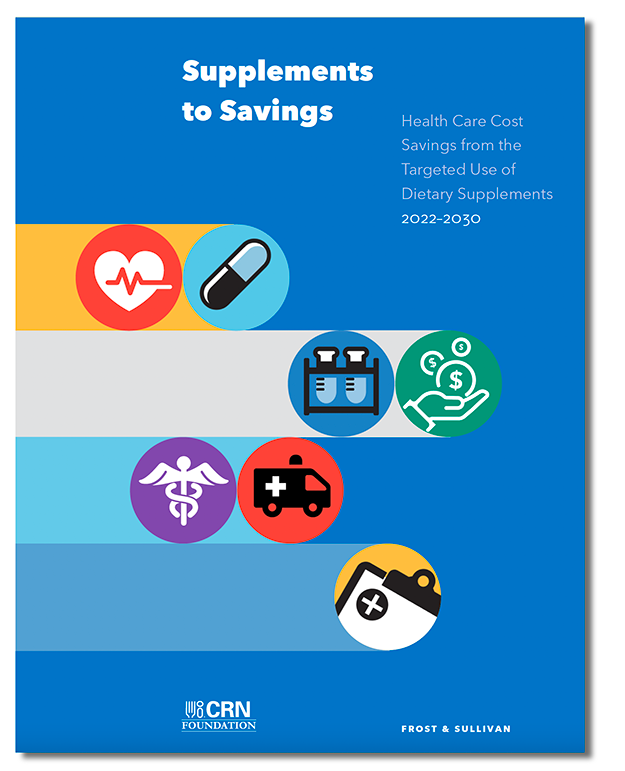 The CRN Foundation released new research detailing billions of dollars in potential savings in U.S. healthcare costs from the selective use of certain dietary supplements, promoting its Supplements to Savings report.
Using that data, CRN's government relations team reinforced the need for policy that increases consumer access to dietary supplements with House and Senate offices, focusing especially on key groups including the House Energy & Commerce Committee, Senate HELP Committee, and the Dietary Supplement Caucus. The team also reached out to agencies within the executive branch and partner associations as well as other policy stakeholders with the results of the study. 
CRN's communications team highlighted content from the report's chapters in conjunction with national observances and other opportunities to connect the regimens with related coverage.  For example, CRN highlighted the chapter on calcium and vitamin D in conjunction with World Osteoporosis Day October 20 and B vitamins and cognitive decline during Alzheimer's awareness month's increased attention to cognitive health.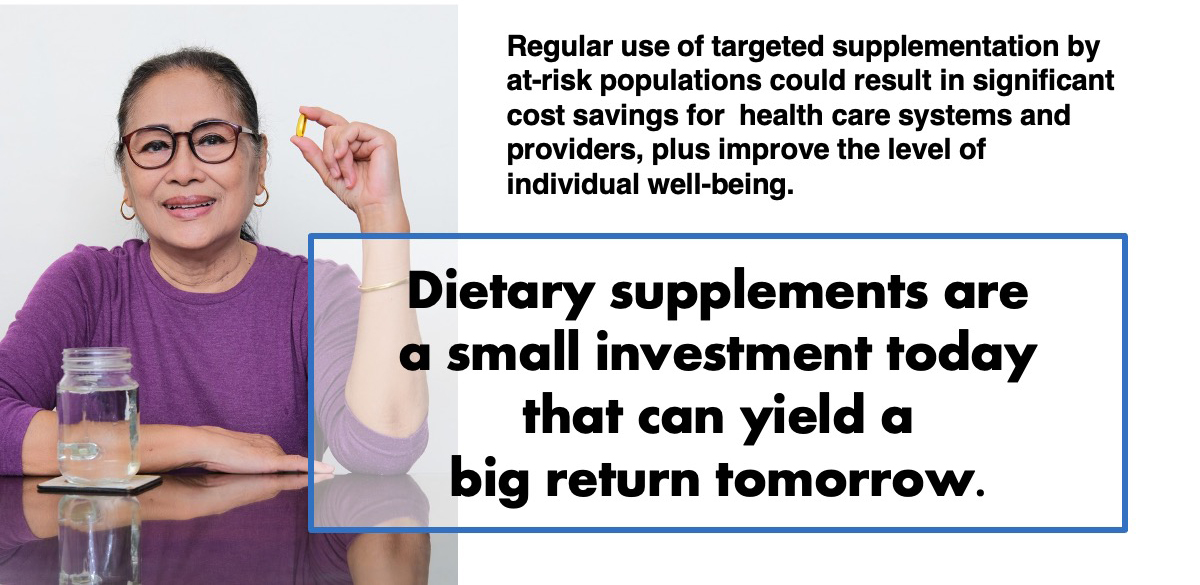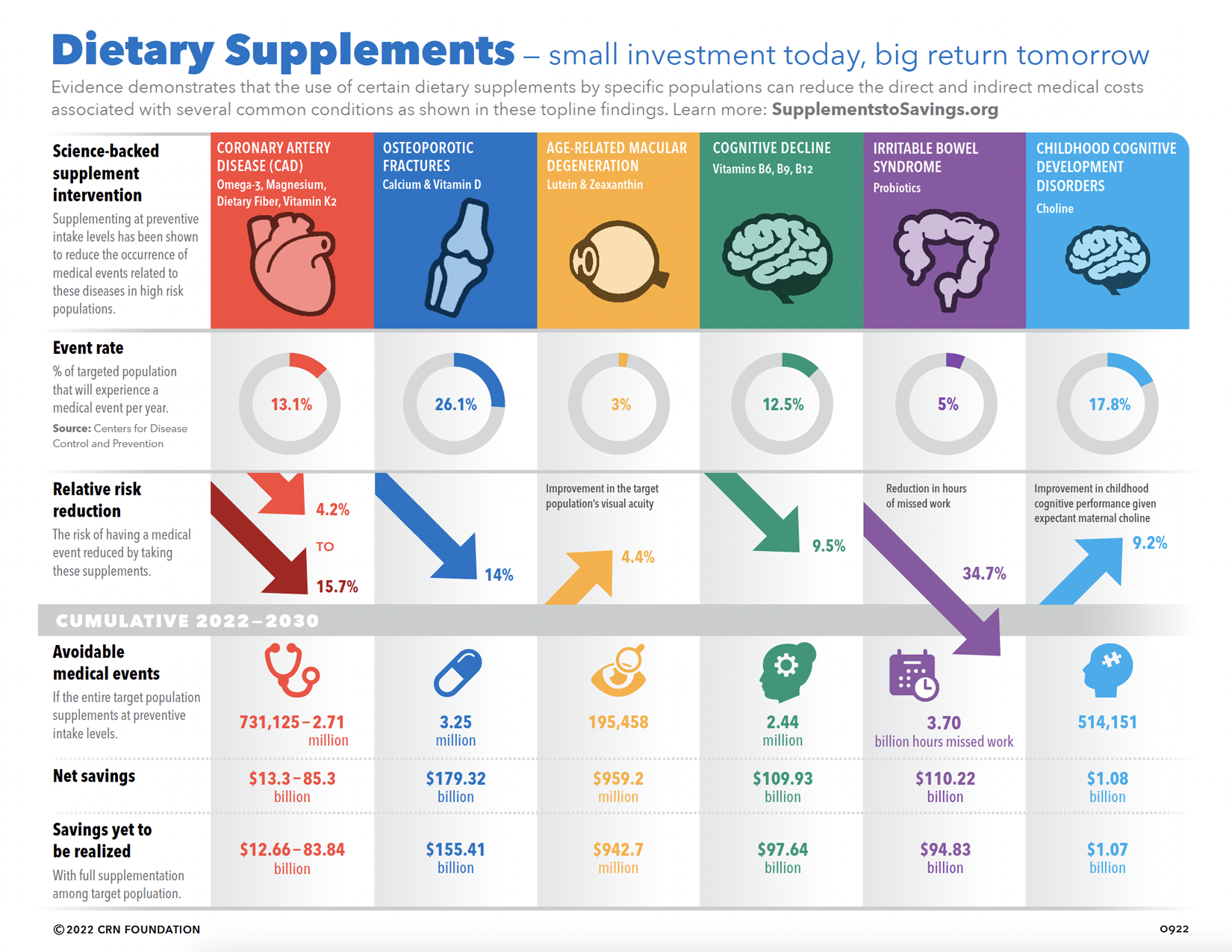 Educating practitioners and consumers about the value of vitamin D
The Vitamin D & Me!™  education initiative of the CRN Foundation continued its impact with new study summaries added to the site and outreach to health care practitioners.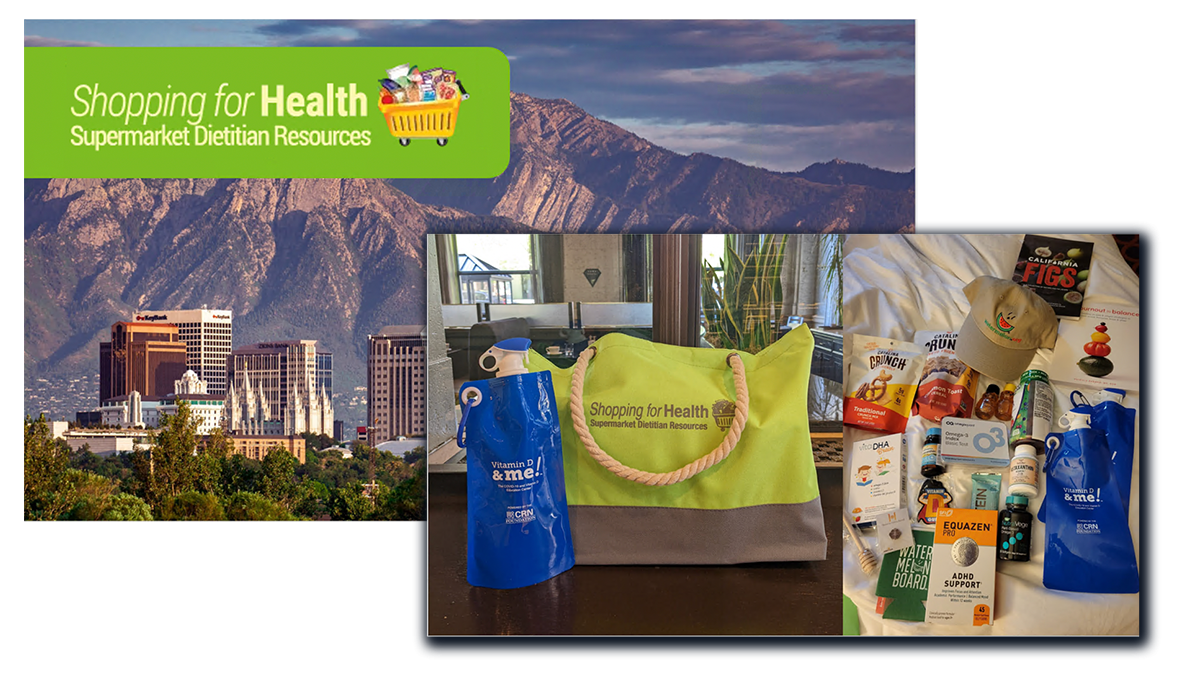 The CRN Foundation sponsored "Shopping for Health" an annual event for grocery store registered dietitians (RDs) from national and regional retailers and executed a coordinated digital outreach campaign. Susan Hewlings, Ph.D., RD, director of scientific affairs at Nutrasource and key contributor to the "Vitamin D & Me!" website along with a delegation of CRN staff connected with approximately 30 RDs, with a presentation on "Vitamin D Levels and COVID-19: The Case for Supplementation." The presentation began with data from CRN's 2021 Consumer Survey on Dietary Supplements about increased supplement usage during the COVID-19 pandemic, introduced the "Vitamin D & Me!" website, why it is important, and what makes it different from other endeavors—a science-driven message. Dr. Hewlings drove home how deficiencies or suboptimal status in micronutrients like vitamin D negatively affect immune function and decrease resistance to infections.
Vitamin D & Me! was honored with the 2022 NutraIngredients-USA Editors Award for Industry Initiative of the Year.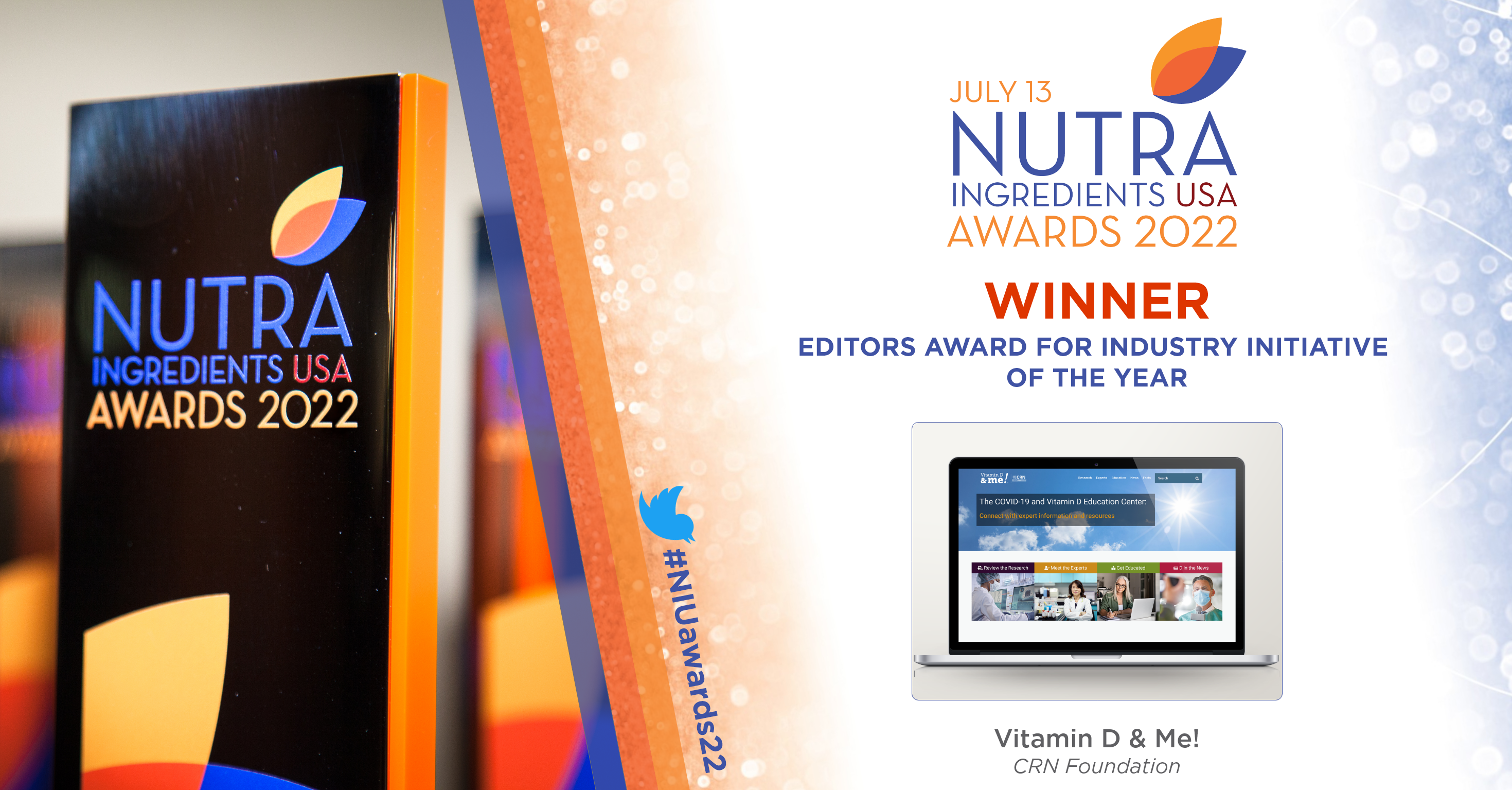 Committed to a shared mission
Hear from Balchem Human Nutrition's Susan Lewis, who observes how her company and CRN "work really hard to understand consumers' health needs and to help CPG companies develop innovation to meet those needs..."
---
Access CRN's 2022 Annual Report Sections:
WE ARE CRN | ADVANCING | EXPANDING | INFLUENCING | IMPROVING | ENHANCING | GROWING | EXECUTIVE SUMMARY (PDF)
---